Here's the thing…I could see The Lonely Ones live, over and over again. And I have! Every show is different. You never know what surprises are in store. For example, the last shows I attended we got to hear 3 incredible unreleased songs and I got the privilege of shooting my first live show on my own, ever!
The venue was The District Bar in Rockford, IL. I'd never been there before but I liked it. Fantastic food, cool stage, and decent drink prices. The lighting for my pictures wasn't ideal, but oh well, it was a learning experience!
First Things First
There seems to be a lot of confusion over who The Lonely Ones are and how they are related to Bobaflex. So, here's a quick tutorial. In 2019, Shaun McCoy (brother to Marty McCoy and co-lead singer) decided he wanted to spend more time at home and not tour with Bobaflex anymore. Bobaflex disbanded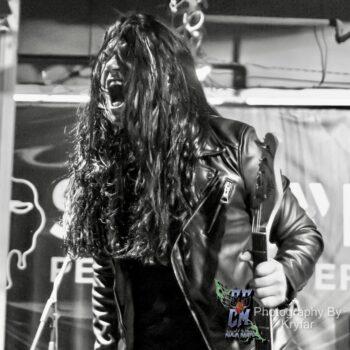 and the rest of the guys Marty McCoy (lead singer), Jymmy Tolland (bass/now lead guitar), Tommy Johnson (Drums) and Jake Early (former lead guitar) continued on as The Lonely Ones.
Recently, Jake left, Jymmy took over lead guitar and Tru Payne Roberts was brought in on bass. So, that's who they are. A question I often see asked is "Do The Lonely Ones play Bobaflex songs live?" No, they don't. They have their own growing catalog of amazing new tunes that have a different vibe and sound but with some echoes of Bobaflex, if that makes sense. Another often-asked question is "Does Bobaflex still do shows?" Yes! They do but on a much more limited basis and they even have some new releases. Still confused? Pay attention to Jymmy! If he's on the bass you will be hearing Bobaflex songs. If he's playing lead guitar you're at a The Lonely Ones show! I hope that cleared things up!
The Show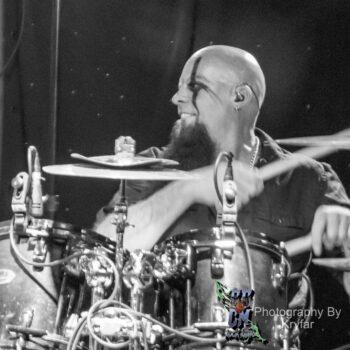 After 3 excellent openers, The Lonely Ones blasted onto the stage with their first single "Eternal Sadness" and then (Holy Shit!) they went into the unreleased (but should be) "Time Bomb"! This song kicks ass! I was so happy to hear it again. It's been too long.
The show was nonstop energy. Marty connects with the crowd while belting out the songs. Jymmy shreds the guitar while groovin' and boot-scooting all over the stage. Tru is up there keeping the beat and looking like he's having a blast. Tommy sits back there being the cool cat hitting the drums like he has 8 arms, must be the reason he keeps a stuffed octopus on his kit, right?

When Marty and Jymmy grab their gold guitars you know you are about to be treated to The Lonely Ones' incredible cover of Queen's "Flash". Hell, even Brian May of Queen said it was a "fantastic cover" and star of Flash Gordon, Sam J Jones said "It's one of the best covers I have heard and seen". It truly is brilliant and must be seen live.
When their newest release "Bedroom Door" started the guy behind me came up closer to the stage and said it was his first time hearing this band and that they are awesome. I totally agree!
The surprises kept coming, they played two more unreleased songs "My God" and "Gucci Bag" both were great, I'm looking forward to them being released so I can hear them again.
Last Things Last
They closed out the night with their self-titled banger "The Lonely One" and a cool outro before they tell you that they "are…..and don't you Fuckin' Forget It!" And, you won't because you will already have been looking at tour dates for your next chance to see them live.
It's not always over when the show ends. They are a fans' band and most shows will hang out for a bit after, to chat, have a drink, take pictures, sign stuff, whatever. They do really seem to enjoy getting to know the crowd which is a rarity for bands these days.
So go check them out. You won't regret it!
Check out more of my reviews here. Kryfar.