The Band
Ash of Ashes is an Epic Skaldic (Viking) Metal Band from Germany.  Formed in 2014, current label is Kalthallen Tonträger/Lichtpfade.
Skaldir – vocals, guitars, keyboards, bass
Morten – lyrics, vocals
Stryx – drums
Sethras – guitars
*see track listing for guest artists
The Album
Ash Of Ashes "Traces"
Track Listing:
"Beyond White Waters" (instrumental)
 "Under the Midnight Sun"
 "Into Eternity" (feat. Lars Jensen)
 "The Eternal Traveler"
 "Evermore"
 "Vem kan segla förutan vind" (trad., feat. Thomas Clifford)
  "A Lion Guards Our Names"
  "Southbound"
 "To Those Long Forgotten"(feat. Rúnahild & Christopher Rakkestad)
The Rundown
Traces is Ash of Ashes 2nd full-length recording.  It will take you on a grand voyage through life, death and beyond.  Each song on the Traces is unique in sound and tells its own tale with masterfully thought-out lyrics written by Morten.
In an interview, singer Skaldir described the image of the album as:
"It's not a concept album in a strict sense, but the main concept behind this album was the term "journey". That was at least the idea before we started working on it. Journeys to new grounds, and into death. What are the traces we leave behind, what will stay, what will fade. Those are some of the topics" (High Wire Daze)
Certainly, journey into death is a huge and difficult concept to tackle but Ash of Ashes does it extremely well with great vocal talent and also flawless musicianship.
The Songs
Guest vocalist Lars Jensen sings "Into Eternity" the first release off Traces.  It is a beautiful poem about having to say goodbye to a dying friend.  It is, surprisingly, an altogether lively and upbeat song that promises of meeting again.  Upbeat turns into an emotional slightly melancholy instrumental mid-way through then after that, back to upbeat again for the ending.  It is a perfect celebration of life song.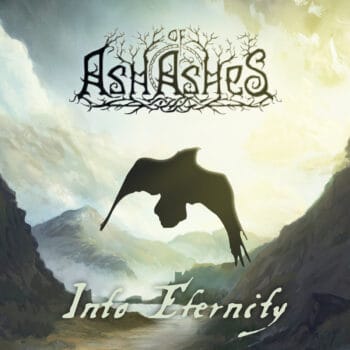 "Evermore" is one of my favorite tracks on Traces.  It paints a vivid image of a soul moving on to roam in  Evermore.  The tale is told with a marching drum beat & a guitar solo that tells a story of its own, then ends in a crescendo.
"A Lion Guards our Names" and  "Southbound" bring out the heavier side of Ash of Ashes.  Both songs are a great mix of rough & melodic vocals.
Guests
The final song on the recording is "To Those Long Forgotten" it is such a brilliant opus that they added 2 guest vocalists Rúnahild and Christopher Rakkestad and guest guitarist Sindre to make it complete.  It sings a story of a mother and father whose child is off to war and (spoiler alert) ends up probably perishing.  It is a song about heroes and those they leave behind.  The song alternates perspectives between mother and father, then all join in for the haunting refrain.  It is powerful, it is emotional.  The guest musicians were perfect for their parts.  "To Those Long Forgotten" is an amazing hymn that feels so appropriate for these times.
Additionally, one of the vocalists Christopher Rakkestad is also the artist for the gorgeous album cover.
Ash of Ashes master the art of Skaldic Metal, in Traces.  I look forward to hearing more from them.
Make sure to check out all of my CGCM reviews here. Kryfar
[embedyt] https://www.youtube.com/watch?v=K_HBVkGN8B4[/embedyt]