I caught up with The Rumours in Pryor, Oklahoma after they opened the Saturday festivities for Rocklahoma. The band kicked off Saturday at 11:00 A.M., but the GA gate wasn't opened until 11:10. I still caught enough of The Rumours 30 minute set to be blown away. They enticed a crowd eager to stake their claims in other prime locations to come in, under the tent, and rock out. By the final song of the set, the crowd was really getting into it. The Rumours set a very high bar for all the following bands to match.
I chatted with singer and lead guitarist, Carli Foxx, drummer Daniel Kluiter (aka Nädiel McDoer), and Lincoln on bass, filling in for Ela Rose, who is taking some time off to attend to things.
Dave: So tell me about Rocklahoma. Is this your first time?
Carli: It is, yeah. Oh, yeah. Well, this is our first time playing it. We came last night to kind of get some stuff prepared for today because I loaded up early and we didn't want to be too late. Right now we're trying to figure it out. We got the lay of the land last night. But yeah, this is our first time otherwise.
Dave: You opened Saturday but the gates were closed until after your show started. How did it start off with just a couple of people?
Daniel: Yeah, there were a few people at first, and then throughout our set, it kept getting more and more. And it was a pretty good crowd.
Lincoln: …and the guitars and drums, the bass, and the guitar kick in, and people just get drawn to it.
Carli: Once I hear a bass guitar playing, I'm like, "Oh! that's the way I must go."
Dave: So how often are you guys the best band from Iowa at a festival this size? (Slipknot is playing)
Carli: Well, we're usually the only band. Unless there's another band…what are they called? Saul. They do a lot of big festivals. Obviously Slipknot. 
Dave: How do you describe your music?
Carli: Rock 'n' roll meets punk. Rock and Punk had a baby and you got The Rumours!
Lincoln: Just the attitude. Yeah. Punk attitude. Yeah, thriving rock beats. It's a great mix. 
Carli: The best!
Dave: Your usual bass player Ella isn't here today. You're filling in nicely, Lincoln. Tell us about yourself.
Lincoln: I'll let her (Carli) be the judge. I'm just doing what I can. I just make noise. I don't even know what I'm doing. They found me at Wal-Mart. They're like, "Are you going to come along?"
Carli: We've known him for years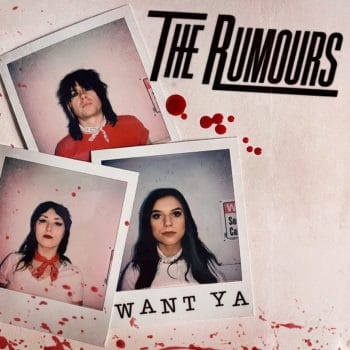 Dave: You guys played "Want Ya" today, which is a great song, we play it on our station all the time. In your intro, I learned it was about a serial killer. Tell me about it.
Carli: During COVID, like during the lockdown, I pretty much did nothing but watch the show, Dexter. I developed this weird crush on Michael C. Hall and I was like, I do listen to a lot of true crime about serial killers. So, I'm like, "do I have an issue here? You know what? I'm gonna write a song about it." And I was like, "hmmm what would Micahel C. Hall do? I'm OK with that. "So basically, that's what we wrote the song around, and we have a nice music video for it. And it kind of puts that whole killing vibe into play.
[embedyt] https://www.youtube.com/watch?v=IEnxDGATxiY[/embedyt]
Dave: You also introed the song "Caroline Brown," and said it was about someone from Tennessee. Can you tell me more about that?
Carli: I was actually told not to write the song…
Dave: Should we not talk about this?
Carli: Oh, we're gonna talk about this. So I won't name too many names, because if you listen to the song you'll be able to figure it out. There was this guy that I was into — this was before I knew how drummers were. And, you know, I found out later on that he had a girlfriend and I was like, "what the hell?" So I wrote a song named after her, and kind of to spite him. But I did end up meeting her in Nashville one time and I was like "she has no idea that I wrote a song about her or titled after her." So that was kind of a spicy incident, but she had no idea. But he knows.
Dave: The song "Phone Calls," does it have a story?
Carli: Well, that was the drummer also. He didn't have too many girlfriends, he just wanted no girlfriend. 
Daniel: All the songs are about drummers and bass players.
Carli: Yes. The rhythm section. This dude, I would text him drunk all the time, and I'm like "what the fuck, he doesn't reply to me." He led me on a little bit and I thought, oh hell, I'll write a song about you too.
Daniel: You used to do it in your solo acoustic set.
Carli: Yeah, I wrote it for the band, but I wrote it on a Fender. I thought it'd be a Liz Phairish song, but no, we're going to do it.
Dave: (To Daniel) as a drummer, do you feel like it's your obligation to bring the heat to the show, be the energy, get people fired up?
Daniel: I'm on 100 the whole time.
Carli: The hardest-hitting drummer I've ever seen.
Daniel: Yeah. Once we click it off, it's fucking game on. That's how I approach every show. I try to get the crowd involved, you know, and all that shit.
Dave: Tell me more about the music you released this summer. Is an album in the works?
Carli: Yeah, we wanted to, you know, give something to the people while we're trying to figure out what the plan is. We're gonna be doing another single soon. We're going to do a video for that as well. Nice. So then, you know, we're going to compile some of the songs and put them into a new album. We'll get some more vinyl ready to go.
Daniel: Vinyl is where it's at.
Dave: How do people get ahold of your music?
Carli: We actually have a merch store. You can go to therumours.square.site or the therumoursband.com. Either one of those will redirect you to that, but it's just right there. So you just put in your order, and then it will get sent to Daniel who packages it.
Daniel: Yeah. Yeah, CDs, vinyl, T-shirts, whatever. And we have all kinds of stuff on it. Buttons, CDs, CDs… Oh yeah, we have special towels.
Carli: We have the Put Your Love on my Face towel. Yeah. Yeah.
Dave: People should follow you on Facebook. You guys always have awesome, hilarious pictures with your posts. But so who's your photographer? Who decides who comes up with the idea?
Carli: The ideas are random. It's the alcohol.
Daniel: Yeah, when we're at shows or on tour, we just always get our phone set up. We try to take interesting stuff, you know, get people to catch the eye right now, so. All right.
Dave: Well, anything else you want to let CGCM readers and listeners know?
Carli: We will be playing in Gainesville, Wisconsin next Friday. Is a good bar to go to. People party in Wisconsin. So if you're there, check it out.
—FYI, this article was published after this show happened. I apologize for not getting this posted sooner – Dave—
Carli: Then we play at Rockford, Illinois, on the 25th. We never played Rockford before. We're playing with a band called The Pimps and they're from Rockford. It should be a great show.
Lincoln: Isn't there a Milwaukee?
Carli: There was but it got cancelled. The dude who booked the show is like impersonating being people's managers. Trying to get more money.
Dave: So that makes me ask, what's your weirdest cancellation story?
Carli: This one time in Chicago, we pull up to the Liars Club — which is our favourite place to play in Chicago — and we roll up and they're like, "Yo, they took our liquor license." So we end up playing at this, like tiny little like local pub called Reed's Local. Yeah. And everybody got in there and somebody ran the board for us and it was a pretty good show.
Dave: That's awesome! So you were able to just make a switch on the fly?
Daniel: Yeah!
Dave: Did you just call up somebody and say, "Hey…"
Carli: My friend Dominique actually does karaoke there — she runs karaoke and bartends there. So she set up the show and it was like, "all right, there you go, guys." It was still a good show. Kind of odd with my ex-boyfriend's parents there. And they have never heard our songs. And I was like, "Oh, you suck, baby and I want to…."
We wrapped up the interview on that note with a lot of laughing about Carli's awkward evening at Reed's Local.
Definitely check out The Rumours on all of their socials. If they're in town, it's a must-see show.