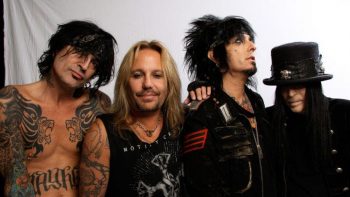 Sometimes, I will avoid reviewing a new release simply because everyone has done it. Who wants to read something that is almost the same over and over again right? Well as much that has been published about Motley Crue –The Dirt Movie, and soundtrack, I barely read anything about one glaring omission. I'm here to try to correct that.
My "Motley" History
I have loved Motley Crue from the first moment I heard them. That moment was Theatre of Pain. I dove head first and absorbed as much Crue as I could. Found each solo CD, from all the members over the years. I devoured Brides of Destruction, SIXX AM, all of Vince Neil's solo efforts. In time, I even found a copy of Nikki Sixx's 1958 album. Can't honestly say I loved them all, but I enjoyed most. Within time I faithfully started going to the concerts as soon as I was old enough, starting with the Dr.Feelgood tour. Yours truly even makes a brief appearance on the Cruefest DVD!
I've read the Heroin Diaries probably enough times to have to replace it, and since I was always into reading Rock Biographies, when The Dirt hit the shelves I was there waiting with anticipation. Without a doubt, it was the BEST Rock autobiography I've ever read to this day! I always said to anyone that would listen that it should be a movie! Finally, I was proven correct.
The Movie
Instantly I loved the bio pic. They liberally changed some time lines, and skipped a lot, however the music was still killer! With the soundtrack however, The Motley boys reunited to record four new tracks. Yes, a lot of their greatest hits are here, and even a guest appearance by Machine Gun Kelly on the first single, "The Dirt (Est.1981)". I heard this and instantly loved it! The others, for me are just okay. I'm still not sure on the Madonna cover they did with "Like a Virgin," but hey, that's the Crue. They go by the beat of their own drum.
However there is a scene in the movie that shows Nikki's descent into Heroin Hell, and he hides in his closet (literally). Playing in the background is a mesmerizing version of "Live Wire." I loved it instantly. Something about it made me really want to get my grubby Cruefan hands on the soundtrack. Looking online, I was very disappointed to find it wasn't included! I couldn't believe it!
The Album
The other three new Motley Crue songs, "Ride with the Devil," "Crash and Burn," and "Like a Virgin" are okay to listen too, but none of them made the hair on my neck stand up like that "Live Wire" cover. I soon found out it's by a female artist named Megan Kabir. I found it online. With the power of I-tunes, I personally added it to my collection, and added it in as an extra bonus track on my copy of The Dirt Soundtrack. Now I feel it's a complete album! I've added a video below to help you all "complete" your soundtrack.
If you haven't heard of the movie, or even the music of Motley Crue, first I ask, "Where have you been over the last three decades?" and "What are you waiting for?" Time to relive your youth, the fun, the debauchery, the rebellion against all, and just great music. Go get it, watch it, and enjoy it!
Peace!
BUY: AMAZON.CA / AMAZON.COM
Check out all my reviews! Trevor's Reviews
Trevor "Psychoone" McDougall
Email Me @ psychoone40@hotmail.com
Tracks:
The Dirt (Est.1981) (Feat. Machine Gun Kelly)
Red Hot
On With The Show
Merry-Go-Round
Take Me To The Top
Piece Of Your Action
Shout At The Devil
Looks That Kill
Too Young To Fall In Love
Home Sweet Home
Girls, Girls, Girls
Same Ol' Situation (S.O.S.)
Kickstart My Heart
Dr. Feelgood
Ride With The Devil
Crash And Burn
Like A Virgin
[embedyt] https://www.youtube.com/watch?v=QfenIwtoQzk[/embedyt]
[embedyt] https://www.youtube.com/watch?v=uB2RPKPfyY4[/embedyt]