Toronto
Kamelot, Battle Beast and Xandria Live at The Opera House Toronto ON Canada Aug 22nd, 2023
Shawn "Animalize" Irwin of CGCM Podcast was back in Toronto for the first time since December 2019 to see a live concert:
It is hard to believe it has been almost 4 years since I've been to a concert in Toronto. That last time was when I caught Lindsay Schoolcraft, just before Covid shut the world down.
On August 22nd, 2023, at the Opera House American band Kamelot headlined with Finnish band Battle Beast and German band Xandria opening the show. I've seen Kamelot twice so far including 2 months ago in Sweden at Sweden Rock. They put on such an amazing show then, I knew I really wanted to see them here in Toronto. This would be the fourth time seeing Battle Beast. I loved this band and back in 2019 our editor Rich Dillon and I made the trip to Ottawa to see them headline their only Canadian show with them as the main act. To hear so many tracks was epic. As for Xandria, I did catch them opening for a couple of bands in 2014 and felt it was just a tease with only 5 tracks. In 2017 Xandria headlined a show in Toronto, and that was awesome.
Debate
I was debating going to this event ever since it was announced. A Tuesday night with Toronto traffic/construction is never fun driving into town. Those who have done this trek know what I mean. Teaming up with my newfound friend Josh, with our connection in our taste in music, arrived just before the doors were to open and the lineup was long. It didn't take long to get in and I had the chance for a quick hello with Noel Peters. Peters confirmed with me the day before that Kamelot approved my media/photo pass. He is the owner of Inertia Entertainment – an amazing concert booking company which was founded in 1996. Peters has booked countless concerts throughout the Toronto area for years and is well-known in the local hard rock music scene.
Getting into the hall, of course, it was time to check out the merchandise. I stayed strong, but it was hard not to purchase some of those amazing shirts. If you are like me and have been to many shows, like to collect concert shirts, you have drawers and closets full of these shirts that you hardly wear.
I introduced Josh to fellow CGCM photographer Brian Ronald and a couple of alumni friends from the Monsters of Rock Cruise Amanda & Andrew. Music and concerts bring so many people together.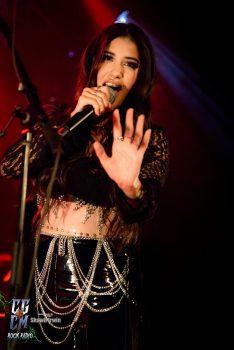 Xandria
While getting set up near the photo pit to start off with Xandria, the crowd kept coming. This ended up being a packed house. Xandria hit the stage with "You Will Never Be Our God" from their 2023 release Reborn. New singer Ambre Vourvahis sounded awesome. Looking back at the crowd, you can see Xandria has some loyal fans as it has been 20 years now of putting out music.
They also played "Reborn" and "Ghosts" from the new album, but, I was excited to hear the track that got me into the band, "Nightfall". Vourvahis did the song justice with her alluring symphonic vocals which this track demands. They closed their short set list with the 2012 hit "Valentine". Even though we couldn't find a bass player on stage with the band, they still put on a great set and hope they make it back to Toronto with a                                                                            longer set.
Battle Beast
Up next was Battle Beast in support of their 2022 release Circus of Doom which just happened to be the opener. Battle Beast released their first album in 2011 and their fan base around the world keeps growing. I am shocked that they are not headlining their own tour. Like the 3 times before, their energy and power had the fans dancing and pumping their fists up high to the bombastic vocals of lead singer Noora Louhimo.
The hard-hitting drumming of Pyry VikkiI and the rest of the band's intensity had the crowd cheering for more than the 8-song set. They may have not played my favourite "Touch in the Night", but I was not disappointed in this set.
They did 4 tracks from the new album but the highlights for me were hearing "Straight to the Heart", "Master of Illusion" and the closing tune, "King for a Day". Completely a 10 out of 10 for another Battle Beast performance, Brian, and I both felt we were satisfied and could go home, but that was not happening. I was looking forward to seeing Kamelot again on this tour. I recently picked up their new CD The Awakening and I feel this may be their best release, but I have not dug too far into their catalogue of music.
Kamelot
Lead singer Tommy Karevik from Sweden has been in the band since 2012 and since his recent marriage to Kobra Paige from Canada, Tommy announced that he is now Canadian. The band opened with "Veil of Elysium" with Melissa Bonny of the band Ad Infinitum sharing the vocals. As expected, the guys with Bonny sounded flawless on stage. Seeing this show in Sweden 2 months prior with the huge stage and thousands of fans, I was thrilled to be a part of this intimate evening.
With a much longer setlist than the Sweden show they were able to play music from 7 of their releases and going back to 2001. Having put out albums since 1995 it is never easy to make a setlist of 16 tracks.  During the drum solo, we hear Rush's Tom Sawyer which is always great for us Canadians. The encore consists of 3 tracks, with "Liar Liar (Wasteland Monarchy)" closing out the evening. Melissa Bonny
was impressive with her breathtaking vocals and then lunges into her dynamic growls. I may not know Kamelot as much as Battle Beast and Xandria, but this outfit sure knows how to rock and put on a spectacle for their devotees and new listeners.
Traffic
In the end, even with battling traffic in and out of Toronto, this night was exactly what the Doctor ordered. 3 outstanding bands, friends and of course, taking photos.
The show ended just around 10:30, which is great as those late-night shows might not be in the cards as often for this guy.
Check out the music videos below for the latest releases of each band. Next time any of these groups are around your town, I recommend checking out their live show to keep supporting live music.
Shawn "Animalize" Irwin
Xandria Setlist.
You Will Never Be Our God
Reborn
Nightfall
Ghosts
Valentine
Battle Beast setlist.
Circus of Doom
Straight to the Heart
Eye of the Storm
Where Angels Fear to Fly
Wings of Light
Eden
Master of Illusion
King for a Day
Kamelot setlist.
Veil of Elysium (with Melissa Bonny)
Rule the World
Opus of the Night (Ghost Requiem) (with Melissa Bonny)
Insomnia
When the Lights Are Down
Vespertine (My Crimson Bride)
New Babylon (with Melissa Bonny)
Karma
Sacrimony (Angel of Afterlife) (with Melissa Bonny)
Song for Jolee
NightSky
Drum Solo
March of Mephisto (with Melissa Bonny)
Keyboard Solo
Forever
Encore:
Phantom Divine (Shadow Empire) (with Melissa Bonny)
One More Flag in the Ground
Liar Liar (Wasteland Monarchy) (with Melissa Bonny)
Check out the band's and promoter's websites and Facebook pages.
Inertia Entertainment
Xandria
No Description
Battle Beast
No Description
Kamelot
No Description