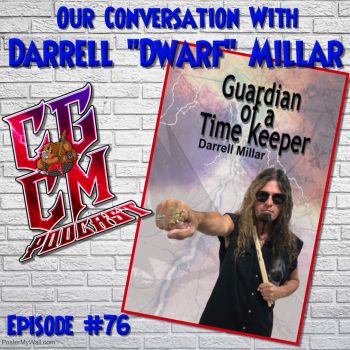 "GO DUNK". It's time for another episode of the Canadian Geeks Chatting Metal Podcast! This week the hosts sit down for a very entertaining chat with special guest, Darrell "Dunk", "Dwarf", "Darnell", "the Rock n Roll Pirate" Millar.

A true Canadian Rock Icon. When Darrell is not pounding drums with the KiLLeR DWaRfS or singing vocals with Automan, you might just find him tapping away at an old fashioned typewriter. It seems he has now added "Author" to his impressive resume. His first book "Guardian of a Time Keeper" is available now.
Not exactly a typical Rock n Roll biography, it seems that our Rock n Roll Pirate has had more than his fair share of "near death experiences". Guardian of a Time Keeper is a collection of these near misses in graphic detail. All told with the all too familiar Dwarf sense of humour.
Episode 76 – Darrell "Dunk" Millar
Darrell has survived multiple near drownings, horrific automobile accidents, fires, natural disasters, terrible falls and being interviewed by the Canadian Geeks! It's really quite absolutely crazy. The Meister and Wallygator dive in and discuss the book. They also take some time discuss the Dwarfs, Automan, his connection to Steppenwolf, Laidlaw, Kick Axe and parenting in today's world.
Most importantly the CGCM Podcast is given an exclusive! Listen in as Darrell tells the abbreviated but very entertaining story of how he ended up with the nickname "DUNK". It's an hour of stories, lots of laughs and some fantastic music including the brand new Automan track, "Street Urchin"
Get your own autographed copy of Darrell's Guardian Of A Timekeeper here.. http://www.darrellmillar.com/pirateshopwork.htm
Be sure to check out the new Automan tune! Street Urchin…
[embedyt] https://www.youtube.com/watch?v=pofnxsPsNYQ[/embedyt]
Feel free to like and share, but most of all if you like what you hear, support the artists and buy the albums! AMAZON.ca / AMAZON.com. To continue the mayhem check out our Audio Episodes and rate us on Podchaser!Furthermore, the CGCM Podcast is proudly sponsored by The Farm Rehearsal Studios/Farm Rocks Build-A-Band Program in Markham, Ontario. And by Cloven Hoof Rum in Brighton and Hove, UK. In co-operation with King Art Music Management/Promotion, in Helsingborg, Sweden.