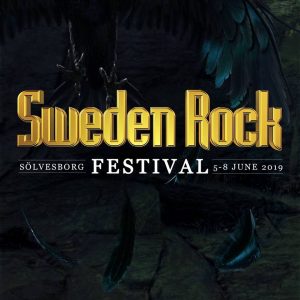 From a SWEDEN ROCK 2019 Press Release translated via Google Translate (with slight edits):
Together with Studiefrämjandet Musik, the eight Nemis bands are presented today, which this summer will have the chance to show off for the Sweden Rock audience.
Today we have the pleasure of presenting the eight new bands that this summer get the chance to show off at the country's largest rock festival. For the 14th year in a row, the Studiefrämjandets scene Nemis – New Music in Sweden – is arranged at Sweden Rock Festival.
This year's Nemis start field offers everything from melodic metal, metalpunk and visual kei to death metal and thrash.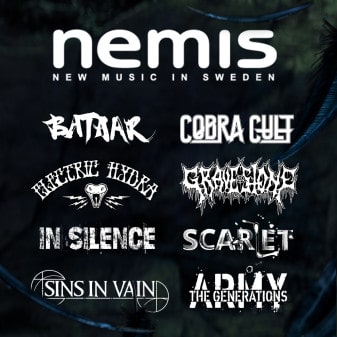 "We are pleased to once again be able to present a really exciting line-up of Nemis bands on Sweden Rock," says Martin Forssman, promoter at Sweden Rock Festival. "This year, it was gratifying enough for the Student Union's jury to screen out the eight bands, we had received lots of interesting applications in different subgenres. The future of rock and metal in Sweden looks really bright!"
Half of the selected bands would, according to this year's plan, consist of at least 50% female members or be fronted by a woman, a goal that is now being met.
"Together with the initiative on the Sweden Rock package that we also do together, we think that this sends a signal that the hard rock is for everyone, whether you want to stand on stage or in the audience." That is what Emma Heimersson, development manager for the music business of the Studiefrämjandet, says.
NEMIS band at Sweden Rock Festival 2019:
BatAAr
BatAAr is a "visual kei" metal band from Gothenburg with over 500,000 total followers on Twitter, Instagram and Facebook and over one million views on YouTube. The band has toured in both Japan and Europe and had with their music in the big game Tekken 7. The last two years, all the band's release has debuted directly as #1 on iTunes Swedish rock list. Join the BatAAr world and experience a mix of musical and visual impressions that you didn't think existed!
Cobra Cult
Cobra Cult was formed at the end of 2015 and a lot of gigs around the country have followed since then. 2018, the self-titled debut album was produced by Tomas Skogsberg (Sunlight Studios) and Joel Grind (Toxic Holocaust). Cobra Cult is based in Stockholm and names its music as "Rock'n'rollish metalpunk" – a mix of The Misfits, Monster Magnet and L7.
Electric Hydra
Electric Hydra from Stenungsund was formed in late 2017 and has during 2018 had a whole lot of plays, including at Göteborgs Kulturkalas and as support for the band Lucifer. 2019, new singles will be released digitally and a seven-vinyl is scheduled to be released on Moondawn Records. Recommended for those who think that Kyuss could be a little more flurry, or that Hawkwind isn't is heavy enough.
Gravestone
Raw and swinging death metal in the spirit of the punk! Gravestone's EP Rotten Kill (2017) spread quickly in the underground circuits and last year released the debut album Sickening which was ranked high in reviews and has been praised by Trevor Strnad from The Black Dahlia Murder among others. After just a few gigs in Germany, the Netherlands and the home town of Växjö, it is now time for festival debut in the home country.
In Silence
Since its inception in 2016, this Karlstad city band has begun to create a reputation as an innovative, modern metal band. Melodic elements, powerful and heavy songs with some calmer parts and strong female singing result in an atmospheric mix. New music comes in 2019.
Sins In Vain
Inspired by the precision of In Flames and the clarity of Evanescence, Sins In Vain says she wants to fight for everyone's equal value and tear down restrictive notions that metal must mean a hard surface and a certain type of listener. The band, which was started in 2005, instead wants to appeal to both pop lovers and intrigued hard rockers with a modern, melodious metal that is equally powerful and gentle.
The Generations Army
From Höör in central Skåne comes the young band The Generations Army. Since the influences are bands like Metallica, Slayer and Exodus, it is of course thrash metal that applies, with fleshy guitar riffs, double pedals, lacking bass and song reminiscent of a young James Hetfield. In early 2017, the debut album Still Screaming was released and a year later the EP came Voices and Visions with associated music video. A new full-time reader is scheduled for 2019.
Scarlet
On stage is a mix of dance, theater and music. Think Alice Cooper firmly with vampires and not as excerpt. Scarlet has released three singles in 2018 and until the summer of 2019 her first EP is released.
60 out of a total of 82 acts until the 2019 Sweden Rock Festival are presented, including, among others, Kiss, Ritchie Blackmore's Rainbow, Def Leppard, ZZ Top, Slayer, Tenacious D and Disturbed.
Both the 3- and 4-day tickets for 2019 have long been over, as are the 1-day tickets for Friday, June 7th. There are still some Thursday and Saturday tickets left, as well as some 4-day VIPs.
Sweden Rock is Scandinavia's largest hard rock festival. Every year, visitors from about 50 countries are attracted to Sölvesborg, where they are offered over 80 concerts in a mix of classic rock, hard rock, southern rock and metal. Sweden Rock is known for maintaining a high level of service, and the friendly atmosphere has become one of the festival's foremost signs. In addition to the annual festival, Sweden Rock has now collected a magazine magazine, drinks and lifestyle products under its brand.
OFFICIAL FESTIVAL WEBSITE / FACEBOOK
The Sweden Rock Festival is held in Sölvesborg on 5-8 June.
Furthermore, check out the previous Announcements for SWEDEN ROCK: First Wave of Bands / NEMIS Stage Applications / Second Wave of Bands / Third Wave of Bands / 10 More Bands / One-Day Ticket Release
Cheers,
The Meister
CGCM Podcast / Meister on Facebook / Meister on Instagram / Meister on Twitter / Meister's Email