Change of Plan
The Halloween Party at AJ's Bar and Restaurant was Plan B
It turned out to be the better choice.
My friend and I were supposed to go to Sharks Grill and Bar to go see this cover band.  When we were told that we had to buy a meal, my friend Sonja canceled. There was no way I was going to pay a $35.00 dollars plate to be seated and watch a tacky cover band.
Sonja had told me that The Brie Face were playing at AJ's it was a bit out of the way but at this point, we wanted to go out, put on our costumes and just have fun.
The show had started at 8:00 pm but we got there around 8:45 pm
I was stuck by my car putting on my costume which took about 20min to put on.
If you think Rich takes forever with his boots you should see mine.
As I walked into the bar Ruby Slipper was on stage cranking their tunes.
I know the second my head bops to the beat that I'm enjoying what I'm hearing. There is something special about local bands that the big bands don't have, or lost along the way.
When the local bands play the local bars there is something raw and real, they are not untouchable, they are down to earth. Being there on stage with big dreams of making it big or not, they play the stuff they are inspired by in their own way. They want to share their music with the audience, they connect with them in a better way that made bands don't have anymore.
Fun
Sure it's fun to go to a concert in an arena or a stadium filled with people. The insanely large stages the fireworks, the flames throwers, the light effects, the laser show, the perfectly tuned sound. Yeah, they deliver a great show!
"What's missing?" You ask yourself. You are watching a spectacle, you are entertained, it's bigger than you can imagine. At the end of the show, the rock stars go backstage take pictures with meet and greet fans that paid $500 to $800 they have a chat and that's that. These guys go to the next show, they forgot who you are, it's normal when you are that popular there is too many people are after you. I'm sure they just want to escape. So what's missing…? I believe what's missing is the connection with the people.
When you go to a bar and there is a local band playing you feel like you just discovered something new. You love that feeling and you are surprised how you enjoy the show. The best is meeting the band members after the show, they are more than happy to talk to you, and are very grateful for you having shown up and enjoyed the show it makes their day.
Now let me go back to the Beginning
I entered the bar and Ruby Slipper was on stage. Jessica was belting out her songs and I was intrigued by how she sounded like Courtney Love. I look my right and noticed the guitarist Francis Denis. I took a second glance and I told myself I know this guy. It turns out I worked with him for a few months. The world is indeed small.
Ruby Slipper consists of Jessica Ruby on guitar and vocals, Francis Denis on bass, and Francis Coderre on drums. They formed in 2019.
Young
This young band led by Jessica who's inspirations are obviously Hole and Nirvana, (also Brody Dalle, Sonic Youth, Babes in Toyland, The Wytches, Surfbort, Radio Head, Bikini Kill and a few more), are pretty busy since the world re-set and started re-opening, from the dreadful Covid-19.  They are finishing their shows in December and hitting the studio to record new material. We should expect something new stuff from the dynamic trio in 2022.
If you like Nirvana, Hole, etc then Ruby Slipper is right down your alley.
They have good energy and are fun live.
Let's spread the word and the songs of Ruby Slipper. Support your local band and get them to a higher level. You can buy the EP at Band Camp
Also, check out Ruby Slipper on Insta
The Brie Face
After Ruby Slipper was done, the band The Brie Face came on.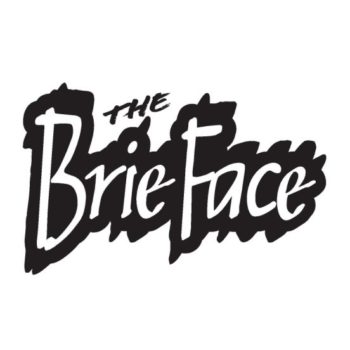 My friend had told me about The Brie Face, that I would enjoy the show and It would be a good idea to write a review on them. Well I wasn't disappointed at all. The Brie Face is a pretty good punk band, I had a lot of fun and I was really entertained. So yeah my friend was right I had to do a review for CGCM Rock Radio after hearing them.
These boys and the one lady rocked the bar and I didn't see one person sitting down or bored behind the costumes everyone was smiling.
After a few technical difficulties at the beginning the band were solid and tight and you can see plain as day they were having fun on stage, I particularly liked when they decided to play a cover of Poison's "Talk Dirty to Me". It was not perfect but it was so much fun, everyone was dancing to that one.
They belted out one song after another of pure fun, I didn't know any of their material and I was enjoying it. For sure I will go see them again live at one point.
Revsoul
The Brie Face are Mark Paraschuk aka Revsoul on vocals and guitar, Mike Nastas on bass, Stessie Detcheverry on drums and Aaron James on lead guitar.
This Funtastic Quatro Group are a shock to the system. Once they get going its party time, and they don't let up.  Their cover of  "Talk Dirty to Me" was was very entertaining.  After the show I got to talk to Mark and Mike, pretty chill dudes
I purchased their CDs after the show to get a good idea what they sounded like on a studio album.
I wasn't surprised that I really enjoyed both albums if I had to pick my favorite song it's pretty hard to do. I'll give an edge to "Coffee Shop".
I'm positive that many of you will enjoy The Brie Face, give them a chance. Support them at your local bar. You'll have a great time.
You can purchase their music at Bandcamp
Also, check them out on Facebook
That's all for me
Doctor Tardis Out!
Check out my other articles and reviews here, Doctor Tardis