For those that remember the band Slash Puppet, you already know. For those that missed this amazing Toronto band, you need to listen up now! Oh, and you're welcome for the introduction.
Slash Puppet literally burst onto the scene in 1989, their debut live performance at Toronto's infamous Rock and Roll Heaven. They unleashed a rude, aggressive glam metal on par with Skid Row and Guns and Roses. The perfect blend of melody, grit and sleaze.
They had the look, the drive and most importantly the fucking songs. When they signed a management deal with SRO (Rush/Max Webster) everyone expected huge things were on the horizon and it was only a matter of time until Slash Puppet would be a household name on a global scale. Except it never happened and this might just be one of music's biggest travesties. Personally, I get physically ill when bands like Pretty Boy Floyd were signed to a major deal and it never happened for Slash Puppet!
One thing that did happen, however, is the fans have kept the memory of this great band alive. Almost cult-like, those that remember share the stories and memories and the songs live on. Problem is copies of either the self-titled 93′ CD or 2007's No Strings Attached have been hard to come by. This is all about to change with the announcement of Slash Puppet – Studs and Gems.
MIF sits down with the Canadian Geeks…
Mif stops by CGCM to spill the news about this amazing compilation. Stories, memories and a special announcement for the fans!!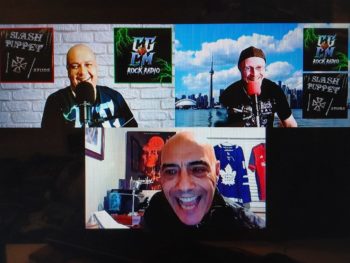 Feel free to listen, like and share, but most of all if you like what you hear, support the artists and buy the albums! To continue the mayhem check out our Audio Episodes and rate us on Podchaser!
Furthermore, the CGCM Podcast is proudly sponsored by Iron Maiden Beer Canada, The Farm Rehearsal Studios/Farm Rocks Build-A-Band Program in Markham, Ontario. And by Cloven Hoof Rum in Brighton and Hove, UK. In co-operation with King Art Music Management/Promotion, in Helsingborg, Sweden.