Legendary
Anytime I get invited up to the corporate office in Chicago I always check the concert calendar up there to see who is playing while I am in town. With Guns n Roses playing the legendary Wrigley Field the day after a work event, AND face-value tickets available for great seats it was a no-brainer to stay the extra day and go to the show.
I spent the time in between acquiring show tickets and making travel arrangements thinking this was only going to be my second time seeing the bad boys of rock, but in actuality, it was to be my third time. That makes sense because the first time I saw GnR was in 1987 when they opened for Mötley Crüe and when we bought those tickets we asked "…who the hell is Guns and Roses?!?!" And they kicked so much ass that night we all bought their debut studio release Appetite for Destruction the next day. So that was pretty epic which overshadowed the second time I saw them which was the infamous show where we were kept waiting so long in between the opening band (Soundgarden) and Guns n Roses taking the stage that I had friends that left the show.
Brutal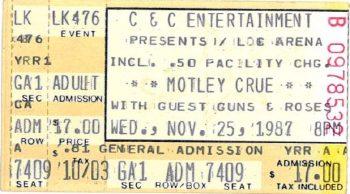 Somehow the brutal Florida heat and humidity followed me up north and the afternoon of the outdoor work event the heat index was one hundred twenty degrees with an air temp at ninety-eight. This heat continued the next day as I met up with a friend (Vinny) for lunch, an IT metalhead like myself, he goes by the Minister of Sinister! We had a great chat over some great burgers and got back to the hotel just in time to meet up with his friend (Dean) and the brother of my friend here in Florida, The King of Chicago! We bestowed Dean that name as he has the ability to park literally anywhere he desires in and around the city. Long story and more of an inside joke, but a great social media pre-show post titled exactly that; The Minister of Sinister and The King of Chicago!
Argument
Dean and I headed off toward the venue with plenty of time to park in this outer lot and take provided buses to the venue itself and be there in time to see The Pretenders. Along the way, we had quite the spirited conversation about whether or not Appetite for Destruction is indeed the greatest debut rock release in history, as that is an opinion I hold. While Dean had strong arguments to try and sway my opinion, I think our conversation on the way back to my hotel after the show solidified my standing once and for all! Also along the way on the drive, we steadily watched the thermometer in the truck rise up to one hundred-six degrees.
Just as the day before the heat was nearly oppressive and upon arrival inside the ballpark we saw that the section where our seats were was still in the sun so we grabbed a couple of open seats in the shade and just sat and chilled for a little bit. Apparently, The Pretenders were due to start at 5:30PM, however with the stage still in full sun and the heat index very near where it was yesterday the start time was pushed back. And even so, with only two bands were they really going to start at 5:30?
The Pretenders
The Pretenders hit the stage and the crowd was still filling in. Dean made an early comment about how he always thought this was more of a punk band with talent and I have to agree after the fact. I surprised myself by recognizing more songs than I expected out of their eleven-song set. For being seventy-one years old, Chrissie Hynde still has an absolutely amazing voice and in no way needed the crowd's help to carry any of her vocals.  The band live has a much heavier, guitar solo-centric sound than I recall from songs of theirs on the radio, but it was a fantastic performance and left the crowd completely primed for the main event.
Right about 7:30 we heard the crowd behind and to the left of us start cheering and everyone looked around to see what the commotion was about. Then about thirty seconds later this cool breeze finds its way down to the field and we know what the cheers were for. Granted, the 'cool' breeze was probably ninety degrees, but was still a huge relief in the heat.
Guns n' Roses
Right at 7:45 the Guns n Roses spaceship graphic on the video screens behind and to the sides of the stage started counting down and soon the engines fired and the ship lifted off and the band hit the stage to "It's So Easy". Easily one of my favorites of theirs, as it is a debut album song, and immediately I am taken back to 1987 for a moment. Axl Rose still has a powerful and commanding presence on stage and his voice still holds up night after night of these now legendary three-hour performances that I had read about before the show.
In full disclosure here I had not really followed Guns n Roses' music after the Use Your Illusion I and II double release but I must say that the band's newer material that I heard this night that I was not familiar with was pretty damn good and has me making a note to go back and give it a listen and a chance.
As with every show I attend, I take in the demographics and must say this was a little less multi-generational than I expected. I thought there would be more parents bringing their teenage kids, or younger, and while there were a few that I saw, what did catch my eye was how multi-national this show was. Whether it be being in a larger city like that, but I counted at least six different nationalities just in our area and section alone. Rock and roll knows no boundaries!
Epic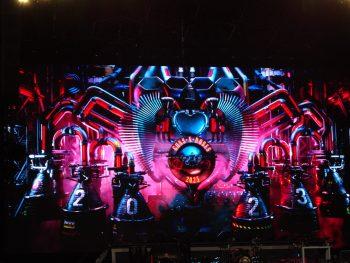 It was such an epic TWENTY-EIGHT song set that seriously did last every minute of three hours and with their monster breakout song, "Welcome to the Jungle" so early in the set I knew we were in for one hell of a night. Nearly forty thousand of us in unison screaming "…I wanna hear you scream!" still gives me goosebumps as I write this, just as it did to sing it there.
The standout songs for me were all seven of the ones played off Appetite for Destruction. Their cover of Bob Dylan's "Knockin' on Heaven's Door " was also transformative back thirty-six years ago as I specifically remember them playing that in 1987. "November Rain" was simply amazing and I really connected with their cover of the UK Subs' "Down on the Farm"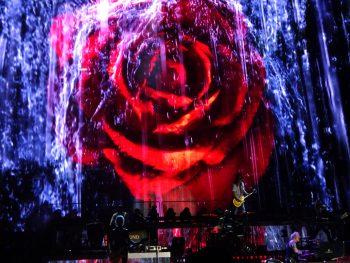 The band also did four songs off of each Use Your Illusion release and closed the show with a three-song encore. Of the three, the last two stole the show for me. "Patience" just takes me away to a different world mentally, both backwards and forwards in time. Closing the night with "Paradise City" I do not think there was a single person in their seat for this anthemic party song, again with the entire crowd strong alongside Axl:
"Take me down to the paradise city
Where the grass is green and the girls are pretty
Take me home (oh, won't you please take me home)"
Wow, what an ending to an absolutely epic show!
Kick-Ass
My only slight complaint of the show is someone needs to invent some sort of elevated seating for field-level seats. Heads, hands and phones could so easily be alleviated by being just a few inches inclined over the row in front of me. The giant video screens are obviously helpful and had some wild displays that left me zeroing in and focusing on it for portions of songs. For the price of the tickets and the quality and length of the show we just witnessed it was worth every cent paid.
Exiting the venue Dean and I easily found our way to the bus pick-up area and before you know it we are in his truck trying to find a White Castle. Of course, once we did find one the drunkest guy you can imagine stumbles in and wants to start talking about the show. First off, dude, how did you even get here and second off, glad you had fun man, but we are hungry and I have an early flight tomorrow.
Once we got back in the truck, discussion was centered around how awesome of a show we had just had and once I bid the King of Chicago farewell I had to make the decision whether to try and sleep for two hours and pray that four set alarms wake me up at 4:15 am or just staying up all night like I used to do back in my prime. Well, the first of the four alarms worked and I made my flight and returned back to Florida and reality with the memories of a kick-ass show and trip!
\m/
Randude