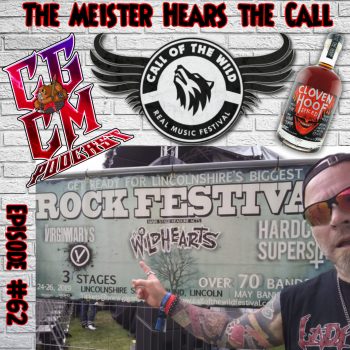 Ever wonder what it's like to hang with The Meister on one of his worldwide festival trips. On this audio episode of the CGCM Podcast, Rich "The Meister" Dillon checks in from the Call of the Wild Festival with a full contingent of impromptu interviews done on location with artists during the event.
You'll hear segments from bands like New Generation Superstars, The Erotics, Trucker Diablo, Kickin' Valentina, Bai Bang, The Idol Dead, and Bigfoot. Coupled with that are comments and chats from regular festival attendees, Jim Taylor, Hugo Greaves, Ricky Hoybach/Roberto Orellana/Charlie Brown, and Jo Crosby. The boys from Cloven Hoof spend a few moments as well as Call of the Wild organizer, Raz White. Many of these interviews were facilitated by my lovely assistant and fellow festival attendee Charlie Glam! Thanks, Charlie. It's a glimpse into this awesome new festival, confirmed for year #2! For a little more, read below some of my thoughts and notes on the event as well.
CGCM Podcast EP#62-Meister Hears the Call of the Wild!
To continue the mayhem check out our Audio Episodes and rate us on Podchaser! And as always: buy the albums! AMAZON.ca / AMAZON.com
Furthermore, the CGCM Podcast is proudly sponsored by Rhythm & Brews Brewing Company in Cambridge, Ontario. By The Farm Rehearsal Studios/Farm Rocks Build-A-Band Program in Markham, Ontario. And by Cloven Hoof Rum in Brighton and Hove, UK. In co-operation with King Art Music Management/Promotion, in Helsingborg, Sweden.
CGCM's full Call of the Wild coverage
Call of the Wild – Festival Report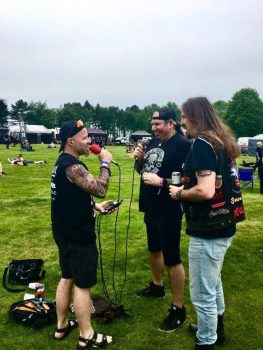 And so the inaugural Call of the Wild Festival has wrapped up in Lincolnshire, UK. BTW, that's pronounced Lincoln -sheer, as I was corrected a few times. This event sort of popped up out of nowhere on the events calendar and I got pretty into it early on. Three full days of multi-genre bands totaling over 70 stormed the Lincolnshire Showgrounds in sleepy Lincoln.
Prior to the journey across, I did my due diligence homework on as many of the "new to me bands" as I could. There were some great discoveries and even more during the event. I missed a few bands that I'd wanted to catch. Caught a few that weren't on my radar at all. I made new friends with festival goers and met band members alike. And I drank an excessive amount of Cloven Hoof Zombie Cans. All in all, it was a storming success. I've already booked and paid for my space at nearby Bridleway B&B for Call Of The Wild 2020!
The layout of the grounds and the organization and thought that had gone into this event was heavily evident from first hitting the entrance gates. Although, we quickly noticed the oversight of lack of trash bins, especially at the entrance gates. But spirits were high. The buzz was like a tangible electricity flowing through the air. The press/media area seemed extremely well laid out and certainly a quiet place to conduct interviews with the artists. I, however, had a different plan in mind. The first day was already earmarked as my "party day". Well, my top band of the weekend, Trucker Diablo, was on stage today. Plus, being a first-year event and regardless, my first time on site I left my equipment back at Bridleway, planning to get acclimated to the setup, and runnings of the fest. Quickly seeing how smoothly everything went, I regret not packing gear.
Thanks to my assistant
Over the next two days, while still "party days", (I mean c'mon, it is me after all), were planned for on the spot impromptu interviews with bands, organizers and festival attendees to culminate in a "Call of the Wild Experience" podcast for CGCM.
I had truly fantastic assistance from my festival companion and manager, Charlie Glam. Aside from excellent company, she was instrumental in securing some of the speakers you'll hear in the podcast. While I'd be speaking with one artist or fan, she was behind the scenes setting up and securing the next. At one point on Saturday, she had me a lineup waiting to speak to the CGCM audience! She also documented the impromptu chats with photos during the recording. Thank you so much, Charlie, you have no idea how much help you were! You're already fully hired for next year as a part of the CGCM team for covering the Call of the Wild Festival 2020.
A special thanks to not only the artists, organizers, and fans that I was able to speak to, but each and everyone involved in the entire event. The bands all brought their A game. The fans did too, (Paul from Cloven Hoof was basically sold out by the very end!) rocking and drinking! Get your tickets early for next year now at Call of the Wild website. If you're not into camping reach out to Jane at Bridleway B&B, an approx 20 minute walk away. Or one of the local hotels in Lincoln!
Get your 2020 Call of the Wild tickets here or here