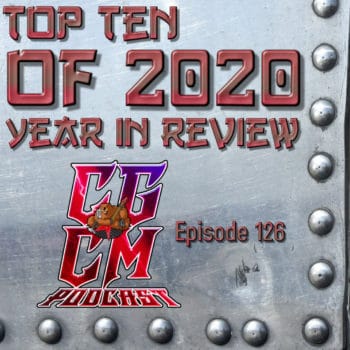 Looking back at the year 2020, there is certainly lots to discuss and reflect upon. A year of challenges is an understatement. A year of political turmoil it certainly was. It was also, a year of amazing music being released around the globe.
Grab a cold one, make yourself comfortable and join the Canadian Geeks in this annual tradition. Wallygator and the Meister dive in and countdown their personal top ten albums of the year 2020.
It was reported by one of the CGCM staff that over 600 rock and metal albums were released this year. So a top ten finish is quite an accomplishment. Hours and hours of painstaking delibertation and bleeding ear drums have gone into each of these lists.
CGCM Podcast's Top Ten Of 2020!
Consider this part one of our deep dive into the music of last year. Please join us next week for part two as we deliver the Team Top Tens! Rock is alive and well on the CGCM airwaves.
The CGCM Podcast is now on CGCM Radio!
3 Ways you can listen to CGCM Radio
Go to http://www.cgcmpodcast.com click play on the embedded player near the top of the page and crank it up! http://player.live365.com/a81635
Go to http://www.live365.com search for CGCM Radio, hit play and crank it up!
Download the LIVE365 App for your iphone or android, search CGCM Radio and crank it up!
Feel free to like and share, but most of all if you like what you hear, support the artists and buy the albums! AMAZON.ca / AMAZON.com. To continue the mayhem check out our Audio Episodes and rate us on Podchaser!
Furthermore, the CGCM Podcast is proudly sponsored by Iron Maiden Beer Canada, The Farm Rehearsal Studios/Farm Rocks Build-A-Band Program in Markham, Ontario. And by Cloven Hoof Rum in Brighton and Hove, UK. In co-operation with King Art Music Management/Promotion, in Helsingborg, Sweden.