BRFT
Australian rockers Big Red Fire Truck have hit the rock scene with an absolute killer EP.
Trouble in Paradise is out now and I urge you, beg you, to get your grubby mitts on it as soon as humanly possible. Which, let's face it, is only a few seconds….
There is not a great deal of information available on the band so let's get down to the nitty-gritty of the great tracks on offer.
I am always wary of atmosphere-building short first tracks and "Neon Sunsets" proved no exception. It's a simple keyboard riff for 2 minutes and doesn't bring much to the party. However, what follows is ALL party.
The first 'proper' track out of the blocks is the EP's title track and it hits the ground running, like Ben Johnson on steroids. (Oh, he was on steroids? Ah, ok). The opening riff hits you right between the eyes and we're off. The vocals hit the spot and the melody is spot on, rattling on at a fast pace. It's a quality head-nodding, toe-tapping, driving-with-the-hood-down track. What an opener.
Hot on its heels comes "Love Bites" which has a sleazier edge. It's more foot-stomping than toe-tapping. Three and a half minutes of late 80's sleaze for your delectation.
We're back to the smoother, yet just as heavy, side of things on "Psychotropic Thunder". More great pace with top riffs, drum breaks and a rockin' solo. Goosebumps alert!
Skies
"Miami Skies" is the pick of the bunch for me, and it's a very high bar. There's a Volbeat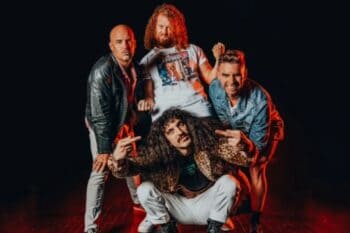 influence here, with the vocals prominent during the verses. "It's not your time to go!" will get the crowds singing and fist-pumping in union I'm sure.
Finishing things off in style is "Hot Summer Nights" where the band channel their inner The Darkness, both vocally and melodically. As the EP opened with a toe-tapping head-nodding winner, and so it closes. 
The way the EP is constructed from the cover to the vocals to the melodies are all designed to make you feel good, uplifted. It worked for me.
Let's hope Big Red Fire Truck go on to bigger and better things and if Trouble in Paradise is anything to go by, it won't be long.
It's a good job the big hitters at CGCM Towers have decreed that EPs are allowed in our Top 10 choices of the year because this banger will be in there, and very near the top.
BUY: Trouble in Paradise
Check out my other articles and reviews here. Sparky.