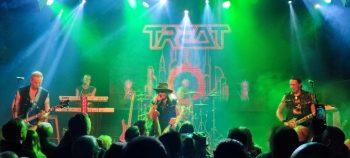 I have been waiting for this show for a long long time. To see TREAT in my hometown again has been a dream and it was a long time ago they played here last time. I saw them for the first time in 1985 and have seen them a couple of times at festivals during the years.
I have told the owner of The Tivoli a dozen times that they should book TREAT but it took some years to finally get it to happen🙂. Although I was nervous before we came in if there were any people, but as soon we entered the room it was crowded and I was so happy both for the bands and for us to be there.
Arkado
The support band ARKADO is a local band from Helsingborg and the singer Philip Lindstrand from Trelleborg. He has also been singing with Nitrate, East Temple Avenue, and Find Me. They play melodic rock or AOR and now have two great guitar players in Patrik Svärd, (ex-Cloudscape), now with Zhiva, Sapphire Eyes, and Tony Rothla. The band sounded really tight and Philip sang really well. They played two new songs from their upcoming album which will come out early in 2024. Check them out!
Treat
Treat started their show with "Skies of Mongolia" which by now is a classic song from them. The audience was in it from the start and it seemed to take the band by surprise. Robert Ernlund (singer) smiled and gave thumbs up.
Anders Wikström had his blue guitar with the motif from the album Organized Crime. He is an amazing guitar player and has a really good sound live. Sometimes there were some glitches as it was wireless but it was really short.
Nalle Påhlsson and Jamie Borger are a solid rhythm section and the choir from Nalle and Anders really helps Robert on stage. Overall the sound was great and it is always great to see when the bands have fun on stage. The setlist consists of both older and newer songs and they really blend well together. See the full setlist below.
In all, they played 16 songs of which 3 were the encore with "Sole Survivor", "Changes" and of course "World Of Promises".
It was so great to see them again and even if they have been around since the early 80s they still have so much to give and they sound awesome. I hope it won't be that long till the next time I see them again. Thank you TREAT and ARKADO for a memorable evening and best of luck with your music!
Setlist TREAT
Skies of Mongolia
Ready for the taking
Papertiger
Home of the brave
Ghost of Graceland
Rev it up
Riptide
We own the night
Roar
Freudian slip
Party all over
Get you on the run
Conspiracy
Encore:
Sole Survivor
Changes
World of promises
Rating 9/10
Check out more of my reviews: MetalMike71