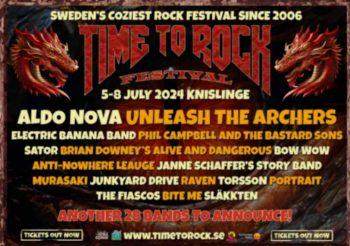 Then it was finally time to release the tickets for next year's Time To Rock Festival in southern Sweden, which takes place July 6-8 with a pre-party on July 5.
We are releasing 3-day and 3-day VIP tickets, and if you buy these before the end of the year, the pre-party is also included in the price. 1-day tickets are released in early spring. Tickets will be the same price as last year. No raises here!
Then we get to the bands!
First up is Canadian legend ALDO NOVA who is now finally coming to Sweden and doing his only gig in Sweden with us. We think that's great! From the same country also comes the power metal kings UNLEASH THE ARCHERS. Then of course we are extra proud to have the honor of having Lasse Åberg, Janne Schaffer and Klasse Möllberg in the form of ELECTRIC BANANA BAND at the festival. It will be the only gig the band does in southern Sweden! Could be the last chance to see this legendary band.
PHIL CAMPBELL AND THE BASTARDS SONS, fronted by Motörhead guitarist Phil Campbell also make their Time To Rock debut, as does BRIAN DOWNEY'S ALIVE AND DANGEROUS, Thin Lizzy's legendary drummer. Classic British working-class punk in the form of ANTI-NOWHERE LEAGUE and Swedish punk from favourites SATOR.
Janne Schaffer will also perform solo with his JANNE SCHAFFER'S MY MUSIC STORY BAND, where there will be songs from both ABBA, Ted Gärdestad, etc. and of course own material from a long career in Swedish music life. NWOBHM will be from classic RAVEN and then the fourth best band from Lund, TORSSON, will also come and tell us that better ball was played in Gunnar Nordahl's time. We are also incredibly proud that we are bringing Japan's two biggest hard rock bands from the 70s and 80s here. BOW WOW and MURASAKI who do Sweden-exclusive gigs with us in Knislinge.
In addition to this, there will be real, local heavy metal from Swedish PORTRAIT and world-class Danish rock from JUNKYARD DRIVE. A little more British punk from THE FIASCOS and BITE ME and we finish this round with local heroes SLÄKKTEN who will open the pre-party on July 5th.
We then have another 28 bands to present before the 2024 line-up is complete!
TIME TO ROCK Then & Now History
Follow along with all of my coverage here: Time To Rock Festival 2023 Full Coverage page.