Mississippi is known for two things: good music and hot summers. And on August 11th at the BankPlus Amphitheater in Southaven, Mississippi, thousands of fans gathered for a show that would deliver both. Candlebox and 3 Doors Down joined forces for a walk down memory lane that almost (almost) made you forget about the blinding heat. Both bands have something to celebrate that makes this tour monumental, which was evident from the energy of the entire night.
CANDLEBOX
Candlebox was formed in 1990 and established success shortly afterward with their self-titled debut album in 1993, which sold over four million copies and reached No. 7 on the Billboard album charts. The album did so well publicly that it gave them the opportunity to play with numerous well-known acts such as Rush, Metallica, Aerosmith, and many more over the years. Now three decades later, the band is releasing its eighth and final album The Long Goodbye later this month and is using this tour to celebrate the conclusion of 30 years of their success.
Steve Martin, the frontman and only original Candlebox member, led an energetic and soulful performance that included some of their biggest hits over the years: "Far Behind", "Don't You", "Cover Me" and "You". Candlebox connected with the crowd instantly; even some of their more obscure songs had fans swaying and singing along confidently. Even though Martin is the only remaining member of the original band, Candlebox played together seamlessly for an incredible performance. Lead guitarist Brian Quinn and rhythm guitarist Island Styles took turns feeding us delicious riffs, while bassist Adam Kury and drummer BJ Kerwin gave a performance so powerful that it could be felt through your shoes.
Occasionally, Martin would also break between songs to speak with the audience directly, expressing his gratitude for their support or sharing a personal experience about their next song. The audience seemed to absorb his uplifting energy, creating an overwhelmingly positive environment with fans congregating at the barricade with high fives and smiles all around. The fans' connection with Candlebox was evident through the entire show, and they were clearly more than just an opening act; as the band made their way off the stage after their final song, I realized that we had not just finished an appetizer but the first of two main courses.
3 DOORS DOWN
The oranges of the evening's sunset had turned to deep purples and blues as the night truly began, and the crowd tightened back around the stage in anticipation for Mississippi native band 3 Doors Down to begin. One by one, the band members materialized on stage under the steadily changing lights, culminating with lead singer Brad Arnold. Arnold and the band started their set with "Pop Song", which was an unexpected choice for a concert tour titled Away From the Sun celebrating the album of the same name. Arnold even jokingly acknowledged this fact after the song concluded, but assured the crowd that they would go on to hear a lot of the songs they know and love from that album. The band backed that claim up, and they followed immediately with "When I'm Gone", one of their most successful singles from the Away From the Sun album.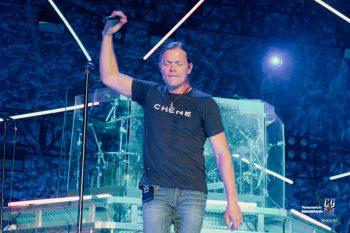 After a few more songs, the band and all 3500+ fans were completely drenched in sweat and loving it. Lead singer Brad Arnold especially seemed to be reveling in it, as if the oppressive heat and soupy air reminded him that he was home. He jokingly mentioned that you could blindfold him in a box truck and drive over the state line into Mississippi and he would know instantly just by the climate. Mutual misery creates bonding, and we definitely all bonded that night.
All of the songs from the Away From the Sun album that 3 Doors Down played that night were fantastic, and they captivated the audience song after song. From Arnold's authentic and silky voice to the punchy guitar notes supplied by Chris Henderson and Chet Roberts, to Greg Upchurch and Justin Biltonen's deep beat and bass, the band proved that their recipe works.
As a final treat, 3 Doors Down diverted from the album they have been celebrating to play one of their most known and loved songs "Kryptonite" as an encore. The crowd loved it and every lyric was sung aloud excitedly; it was the perfect endcap for the night.
Considering the brutal heat, steamy vocals, and flaming guitar riffs, both Candlebox and 3 Doors Down made the tour name feel very appropriate. This tour is definitely one to remember, and although it might be named Away From the Sun, we felt very close to it that night.