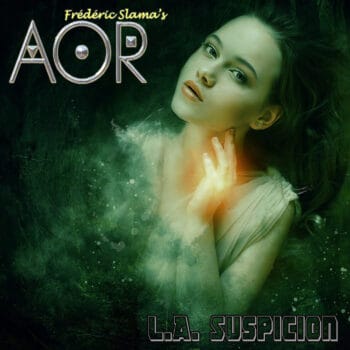 Check out all our Upcoming Release announcements
New release from: AOR – D.A. Suspicion April 08, 2022
Since the year 2000, Frédéric Slama has released 21 AOR albums with the who's who of Westcoast and melodic rock.
Now in 2022, Frédéric is back with this time his most powerful and melodic album of all his career, with perfectly crafted songs and unforgettable arrangements reminding us of the classic AOR sound of the '80s like Survivor or Journey. Along with Frédéric Slama, you will find talented musicians such as Tommy Denander (Alice Cooper, Steve Walsh), Steve Overland (FM, The Ladder, Overland), Paul Sabu (John Waite, Silent Rage, Little America), Robbie LaBlanc (Fury, Blanc Faces, Find Me), Bill Kelly (Dakota), Steph Honde (Hollywood Monsters, Scream Taker), Markus Nordenberg (Coastland Ride, Pearls & Flames) and Michael Stosic. If you like bands such as Foreigner, Survivor or Toto, you should fall in love with
L.A. Suspicion is the most melodic of all Frédéric Slama's albums. If you should only own one AOR CD in your collection, it definitively must be L.A. Suspicion.
BUY: AMAZON.com / AMAZON.co.uk
Check out all our Upcoming Release announcements here.
Listen to the new music on CGCM Radio and join our socials: