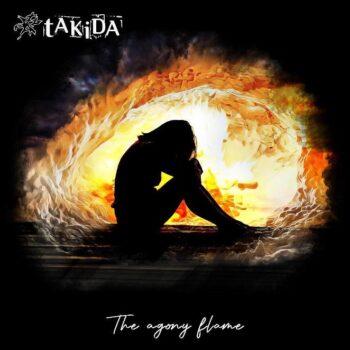 NEW UPCOMING ALBUM RELEASE ANNOUNCEMENT!
New release from: tAKiDA – The Agony Flame (February 9, 2024)
Leading radio airplay charts, performing in front of tens of thousands of fans and delivering their trademark sound to the masses – tAKiDA are on top of their game. Now the multi-platinum band from Sweden announces their Napalm Records debut, The Agony Flame, set for release on February 9, 2024! Along with the album announcement comes the first single, future radio hit "Third Strike".
tAKiDA has six platinum singles (one of them 4x platinum), three platinum albums and five #1 albums under their belts, and their new material is surely expanding upon their previous successes. In 2023, tAKiDA embarked on their biggest tour so far, including arena shows in their home country and huge festival appearances – even conquering the main stage at Wacken Open Air. The Agony Flame is the successor to tAKiDA's stunning 2021 album, Falling from Fame, which garnered tAKiDA a solid international fanbase that will certainly continue growing with the new full-length.
tAKiDA on "Third Strike":
""Third Strike" is about self-sabotage. The main character, however hard they try to be the person they want to be, to do good, to be successful, they will always lose the battle with the voices in their head."
The Agony Flame embodies the distinctive, unmistakable tAKiDA sound, rich with infectious, huge choruses. On the new album, listeners get to witness some of singer Robert Pettersson's strongest vocal performances to date. Over the course of tAKiDA's fruitful career, the band has regularly topped radio airplay charts, and their star doesn't show any signs of dimming! The first track released from The Agony Flame, "The Loneliest Hour", became the band's biggest radio success to date by going straight to #1 on the German Rock Radio Airplay Charts after its release as a standalone single in summer 2023. In trademark tAKiDA manner, songs like "Your Blood Awaits You", "Third Strike" and "On the Line" are loaded with emotion and unlimited hit potential.
More than two decades after the band's formation, tAKiDA's new offering makes it crystal clear that the unit's pop-infused rock is still relevant today.
tAKiDA on The Agony Flame:
"The Agony Flame is our "now or never"-album and you're free to interpret that however you want. Hope you'll like it."
The Agony Flame Track List:
1. Third strike
2. The other side
3. Sacred spell
4. In time
5. Your blood awaits you
6. Nothing but a misplace
7. The loneliest hour
8. Sickening
9. Isolated (smoke & mirrors)
10.On the line
11.Second fiddle
BUY: Pre-Order Links
Check out all our Upcoming Release announcements here.
Listen to the new music on CGCM Radio and join our socials: