RICH "THE MEISTER" DILLON 🇨🇦 (radio DJ/podcast co-host/website writer): themeister@cgcmrockradio.com
This "fine" gentleman is Rich "The Meister" Dillon. A brave, if foolish, gentleman who is letting me write this while he's on a boat drinking his weight in beer and listening to way too many good bands. He formed 50% of the OG CGCM Podcast and website with his birthday twin, Wally "Wallygator" Norton.
After surviving a country music-only radio diet in his youth, a wet-behind-the-ears Meister expanded his musical horizons via the "Pop Music" cassettes at his local library (NERD!). However, it was after moving to a larger town and school at the age of 12 where Rich was exposed to bands like Twisted Sister, KISS, and Europe. Rich dove head-first into the hard rock and heavy metal pool like Scrooge McDuck into a vault of gold coins.
Much like Wallygator, Rich hibernated through much of the 1990s like a heavy metal bear, but his love for music was rekindled around 2008 as he began collecting CDs to replace the thousands of cassettes in his library. Around 2012, after searching around on Keel's website on his probably-virus-laden computer, he spied an ad for The Monsters of Rock Cruise. He knew he had to be on that large tub with greasy rockers, and this kick-started an addiction to traveling to various corners of the world to see extremely loud people.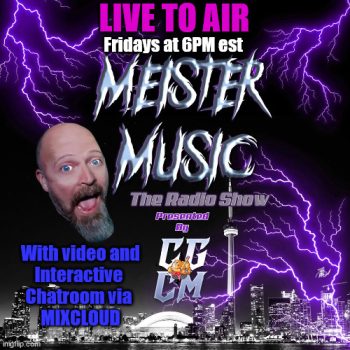 In 2012, Rich has a serendipitous meeting with one WallyGator at a place where many lifelong bonds between questionable people are formed: a Helix concert. After getting roped into writing reviews, blogs, and guest-hosting podcasts for Decibel Geek, we created our OWN music podcast, the CGCM Podcast that you all know and…love?
Be sure to tune into CGCM, but especially to Meister Music, coming to you LIVE on Fridays, 3PM EST to…whenever the alcohol overtakes him.
Catch Meister Music LIVE-TO-AIR Fridays starting at 3pm (EST) until 9pm (EST) through this link to MixCloud: Meister Music Live MixCloud
Cheers,
The Meister
Meister Music Live To Air Radio/Video Shows on Mixcloud / CGCM Podcast
Find more of my album reviews and blogs here: Meister Music
Meister on Facebook / Meister on Instagram / Meister on Twitter / Meister's Email