You can find the Collective List as well as all our Best of 2021 content including contributors' individual lists, podcasts and radio DJ shows here: CGCM's Best of 2021 (Year in Review)
BEST OF 2021
WALLYGATOR

🇨🇦
(Radio DJ/Writer/Contributor)
Another year in the rearview mirror and it's time for our annual BEST OF album lists here at CGCM Rock Radio! Quick story before we dive in. A couple of weeks back I was at the Rockpile and got involved in a conversation with the owner Dom and one of the customers talking about the station. The customer was asking all kinds of questions about the station and exclaimed that there is no good music being made these days. I informed him that we were busy compiling all of our top tens and that we were swimming in over 400 albums released this year alone. Dom jumped into the conversation with "400 albums just in 2021?!?"
There is more music being made than ever before, you just need to find it! Here is a taste of the best of 2021!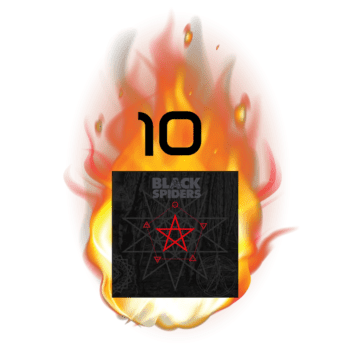 BLACK SPIDERS 🇬🇧
Black Spiders
One of the bands on my list that I had never heard of until 2021. I was introduced to this band courtesy of the Burke Show on CGCM Rock Radio. From Sheffield England, these guys deliver some fun, in-your-face hard rock n roll. "Fly In Your Soup", "Stabbed In The Back" and a killer high energy cover of INXS's "Good Times" highlight my number 10 spot.
DIRTY HONEY 🇺🇸
Dirty Honey
This one was a late entry to my top 10. I remember last year enjoying their debut EP and to be honest, I had kind of forgotten that they put out a full-length album this year. Released April 23rd, this self-titled record gives me faith in the future of rock! Dirty Honey has that classic 70's hard rock vibe. Sort of a mix between Aerosmith and the Black Crowes. I was coming home from work last week listening to Between the Stacks with Bob Bannister and he played the track "Gypsy". That one song kicked my ass so hard, I immediately took the album for another spin. Glad I did as they totally deserve to be in this top ten list.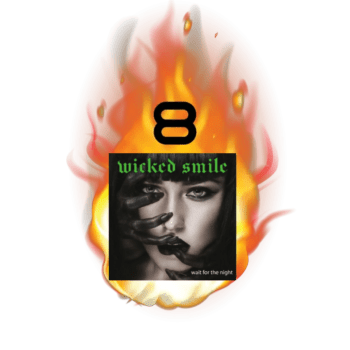 WICKED SMILE 🇦🇺
Wait For The Night
An October release hits my number 8 spot. Direct from Australia Wait For The Night is the debut album from Wicked Smile. The advanced single for "Killer At Large" got its hooks into me and I was anxiously awaiting this release. Great energy heavy rock with elements of Iron Maiden and Whitesnake. If you are in need of some metal, this should soothe the cravings.
ALICE COOPER 🇺🇸
Detroit Stories
I love Alice Cooper but to be completely honest, his albums of late have done little for me and I am ok with that. His catalogue has far more good than meh. He totally rectified this with Detroit Stories released on February 26th. I wasn't exactly chomping at the bit to dive in but right from the first listen I knew this was special. First thing out of my mouth was, "this sounds like OLD SCHOOL Alice". I soon learned that indeed he indeed was recording with the members of the original Alice Cooper band. Greg Frazer, I think it was said to us, "it sounds like Detroit!". I agree, a totally fun and diverse collection of originals and a few choice Motor City covers. Still shocked how good this album is.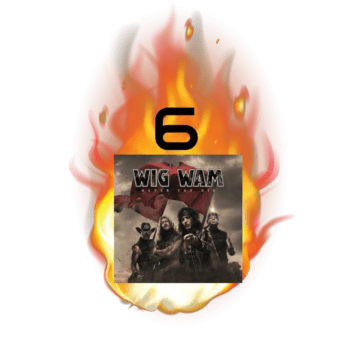 WIG WAM 🇳🇴
Never Say Die
Another admission of guilt, Until 2021 I knew basically nothing about the band Wig Wam. I had no idea that this was their fifth album. When the crunching guitars kicked into the title track my jaw was on the floor. This is just the kind of sugar I love. Heavy riffs filled with melody and hooks. I knew this was likely to be hanging around when it was time for the top 10's. "Never Say Die", "Killamanjaro" and "Dirty Little Secret" are the highlights for me but the entire album is fantastic.
CGCM album review by Sparky HERE
TEMPLE BALLS 🇫🇮
Pyromide
Back to back Frontiers releases on my top 10. Temple Balls are another band that was new to me in 2021 and it turns out that Pyromide is their third album. Better later to the party than never. The one, two, three punch of "Thunder From the North", "Long Ways Long Lies" into "T.O.T.C." makes for one beast of an album intro. The rest of the album holds up with solid riffs and lots of dirty melody.
CGCM album review by Ivan Galesic HERE.
BUY / WEBSITE / FACEBOOK  / INSTAGRAM / TWITTER
[embedyt] https://www.youtube.com/watch?v=GsyAsTJwoWY[/embedyt]
CHEZ KANE 🇬🇧
Chez Kane
March 18th saw the release of my number 4 album. The sugary melodic sweetness of Chez Kane. Yet again I was completely unaware of her history in the band Kane'd but was blown away with this slab of radio-friendly melodic rock. This album is a cross between Pat Benatar's Crimes Of Passion and Lee Aaron's Bodyrock albums. Solid guitars, 80's keyboards and the incredible vocals of Chez had me revisiting this album a lot this year. It's a must-have and likely the best AOR album this year hands down.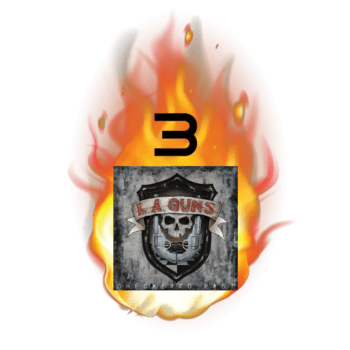 L.A. GUNS 🇺🇸
Checkered Past
YEAH BABY! Dropping the needle and hearing the opening riff of "Cannonball" put a smile on my face a mile wide. Checkered Past is the third L.A. Guns release since order was restored in the galaxy when Phil rejoined Traci. Checkered Past is exactly what I expect from an L.A. Guns record. Sleazy, punky, snotty songs dripping with attitude and guitar work from the baddest six-string mutha on the planet. What I didn't expect was the best ballad since Jayne, "Get Along" is a fucking brilliant melodic masterpiece. So, so good! Another solid release from my favourite Hollywood Vampires.
THE L.A. MAYBE 🇺🇸
Dirty Damn Tricks
Who the hell are the L.A. Maybe? Well, I asked the same question when I got my hands (or more accurately ears) on Damn Dirty Tricks. Holy crap is this a fun album. Imagine if AC/DC recorded at Muscle Shoals? Turns out the L.A. Maybe hail from the "southern heat of the Carolinas". What confuses me is every description I have read states they are a 5 piece rock band but every video and photo shows 6 musicians?? That aside, this album is so much fun it bumped my beloved L.A. Guns to the third spot in some weird battle of L.A. Strange as they are from the Carolinas but they know how to rock!
CGCM album review by Tom Cornell HERE
BUY / WEBSITE / FACEBOOK / INSTAGRAM
[embedyt] https://www.youtube.com/watch?v=i9H8yRHvJE0[/embedyt]
KICKIN VALENTINA 🇺🇸
The Revenge Of Rock
Like a premonition, the lyrics of the lead-off track "Freakshow" exclaim, "it's number one with a bullet!". Soon after the release of The Revenge Of Rock, I proclaimed this would be my number one album of 2021. As the dust settled, nothing even came close to dethroning this masterpiece. The term "perfect album" gets thrown around far too flippantly. Even Appetite For Destruction has a weak spot (you can speculate on that), The Revenge Of Rock does not. It just might be the first perfect album of the new millennium. There are no highlights, every single track on this record slays but the song "End Of The Road" gets the drink in the air salute as the song of 2021!
CGCM album review by Trevor McDougall HERE
BUY / WEBSITE / FACEBOOK / TWITTER / INSTAGRAM
[embedyt] https://www.youtube.com/watch?v=tNe02_MgmsY[/embedyt]
Let's face it 2021 sucked donkey's balls for the most part but there was no shortage of new music to ease the pain. Looking back on my list this year, I noticed that my picks leaned a little more melodic than previous years lists. I suppose this reflects on my state of mind needing some fun upbeat melodic rock to keep me smiling through the fog. Happy New Year everyone! Lets Rock 2022!!
WALLYGATOR NORTON
Don't forget to take a look at all our Best of 2021 content including the COLLECTIVE BEST ALBUMS LIST (culminated via the ratings in the individual lists), all our contributors' individual best lists, podcast episodes and Radio DJ shows CGCM's Best of 2021 (Year in Review)