Wicked from Rochester NY is one of the bands I've had such an honor discovering while with CGCM Rock Radio. Wicked has just dropped their newest album, The Last American Rock Band on March 11th, 2022. Fun, Rocking, and very entertaining, you wouldn't be wrong to add this one to your collection.
The Last American Rock Band
I first discovered Wicked while watching videos on YouTube of a KISS convention. I could see these guys running around back behind the scenes you know behind the crowds wearing white leather platform boots and platinum blonde hair. Being a fan of theatrical rock, I had to know who these guys were. It wasn't long before I was ordering one of their first albums which are quite hard to get now called Rock N Roll. You couldn't get a simpler title for an album than that. The year was 2018. Fast forward to 2022 and they finally dropped a new album which is available now and I couldn't be more pleased.
I recently sat down and had a video chat with the guys from Wicked which you can find here on the CGCM YouTube page, (but I'll add a link right here). Unfortunately, the album wasn't out at that time so we couldn't talk much about it except for the fact that it had a new single out so the first single from this album is called "Hot Stage Lights", and it's straightforward, in your face rock song.
Repeats Or Reruns?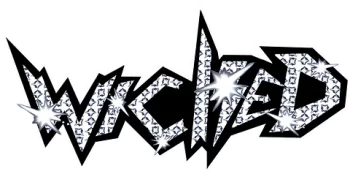 The Last American Rock Band contains eight tracks of straight-up, in your face fun rock and roll. Out of these eight tracks, a few have already appeared on the album that I bought in 2018. Are they the same tracks you may ask? I would have to say honestly yes, but with a glaring difference in the mix and production. I took the time to put these into an audio editor to see what difference there was and I would have to say the production on this new album is probably improved by the six-time Grammy-winning producer Ignacio Molino. One thing that can be said for sure even with the new tracks is this album simply rocks and can be found on all formats such as CD, Vinyl, and digital.
Getting into the album you kick things off with "American Rock and Roller". This did appear on their 2018 album, but to me, this is a completely different mix you can hear the thickness of it and this isn't the only one that they approved upon such songs such as, "Time Has Come to Rock, High Roller", and "Thick As Thieves" seemed to have a much better deeper and much better production across the board, giving it a more modern sound and vibe. The track called "Sinner" just doesn't have a better production value, but the arrangement is different as well.  The new songs "New York Tough", and "Hot Stage Lights" (the first single off the album) showcase what talent all four members of Wicked have.
Patience or just Patients?
After talking to these guys, I must applaud them on how hard they work and how dedicated they are to their craft. All four guys live together in the same house, built their own studio, and everything that they do, and release is all independently done, and we know in today's music business that is not easy.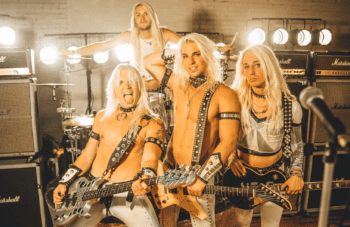 So let's talk about the guys for a minute. first up on vocals you have Chad Michaels, he also plays guitar. Next to him on the bass is his own brother who goes by the name of Danny Doll on the other side you have the string breaking and (pardon the pun) wicked guitarist Scotty V.  Rounding out the band, but not at all forgotten, is the hard-hitting Gunner on drums. Each of these guys also does backing vocals.
So here you have four musicians, four guys, two of which are brothers, all living underneath the same roof, and each is probably trying to explain to one another why their ideas are better than anybody else's like any other musician right?  These guys have one thing in common. They want to play rock and roll and have fun doing it!  They want to entertain and create a moment in time where you forget what's going on in today's world.
Wickedness is Coming
The guys from Wicked want to play! They already have another new album ready to be dropped so expect more from the guys from Wicked. They show no signs of stopping anytime soon. So, why not just enjoy some good simple fun rock and roll music. That is what Wicked is about. They aren't preaching, they're not high and mighty, nor are they cocky multimillionaires. They are rock fans like you and me and enjoy doing their craft, and they're good at it! So, click the links below, support new music, support new bands by buying the album or a T-Shirt. It is the only way to keep Rock Alive!
So, until next time…
Peace!
Trevor "Psychoone" McDougall
BUY: WICKED Webstore
Furthermore, check out all my reviews: Trevor's Archives
Email Me at Trevor "Psychoone" McD
Tracks
American Rock N' Roller
New York Tough
Hooligans
Time Has Come To Rock
High Roller
Sinner
Thick As Thieves
Hot Stage Lights
[embedyt] https://www.youtube.com/watch?v=tv8hqYnJSt0[/embedyt]
[embedyt] https://www.youtube.com/watch?v=xogRJ9OO_ws[/embedyt]