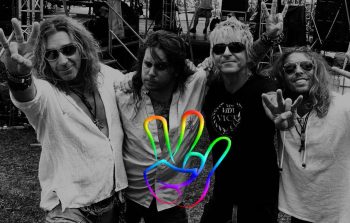 Sometimes there are bands that just for some reason never hit the elite mainstream but can resonate with you like the rest. Vice is one of those bands for me. Now, there are numerous bands with the same name. Please don't get confused. I too had to fix my iTunes library because of the confusion. The Vice I refer to is from Germany. They are more of a Happy Metal/Hard Rock feel, while the others from the USA are known as more speed metal and there is even one more of a Glam/Hard Rock sound.
The History of Vice
Hailing from München, Germany the band formed in 1987. Very quickly the band was signed to BMG Records and started making their debut album Made For Pleasure. After some successful charting, extensive touring and the band coining the term "Happy Metal" they enjoyed a level of fame. But still, the elite fame eluded them. They wanted to play metal to the audience, but have a party feel to it as well. A lot of time has passed since back then, but still today, and even on the new 3 Fingers Up album, it still has the same 80's feel, with a modern-day maturity to it.
A second release was surfaced in 1990 called Second Excess. After a few grueling years and some ups and downs, the band decided to call it quits in 1995. However, in 2017 a single called "Where Do I Belong" came out to the fan's excitement. The band got a fresh breath of air and came back fighting again. Following that was the full album Veni Vidi Vice hitting the record stores. The album title taken from a Julius Caesar speech brought back a Melodic/Hard Rock sound, and from what my research found, had mixed results with the fans.
Now we finally come to the newest album. 3 Fingers Up on Lictoc Music is a great hard rock sounding album. Recently I released a little blog about album artwork (Read it here). With that in mind, when I first saw the artwork here I immediately thought of the term "The Shocker". To those who don't know what I mean, take a look at the cover, then google the term I mentioned. The title track on the album doesn't even refer to it but mentions about saluting the rock etc. Not the usual salute that most of us know, but I've never been to Germany, so who knows! Maybe they quietly meant the double entendre.
The First Finger
Anyways let's get into this album, and just how fun, and good it truly is! The album kicks off with "Shitty Shituation" a guitar sound that will instantly remind you of the crunchy guitars from Pantera's "Cowboys From Hell."  Personally, I instantly loved it. Great guitars, pounding drums, and the vocals are all a cohesive unit of musical greatness, and the play on the words is very clever and well-written.
"License To Rock" follows with a straight forward riff and lyrics that are pretty much self-explanatory. The song basically is telling you the band's mandate. To simply rock your ass off, with no regrets. "The Jerk" is a fun tune with a different start. A kind of groove that could almost sound like a beach bum tune on acid. A story unfolds in the lyrical content that can only be explained by giving it a listen. Simply put a fun "party" song.
The fourth track, "Fuck U" begins with a very simple guitar sound and some very direct lyrics. Not a song you want Mama to hear, but maybe something to play to a girlfriend in a troubled relationship. I didn't get a count on how many times the F-Bomb is dropped here, but I can honestly say that it's definitely more than 30!
Finger #2
Now like many people, I have never been a huge fan of cover tunes, but there are times where it's almost better than the original. The guys do an absolute gem of Joan Jett's "I Hate Myself For Loving You". The band has taken an already rocking tune and literally turned it up to 12. More hard and edgy then the original, this could be a great first or second single from the album!
"Multiply Show", "3 Fingers Up", and "Name The Game" are all straight forward rockers.  Great riffs, great musicianship all the way throughout, and still have that 80's throwback to them, but still, sound fresh at the same time.
Finger #3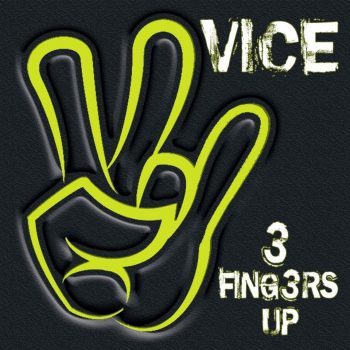 Most interesting is the remake of "Made For Pleasure" from the 1988 debut album. The band has taken their own song and given it a harder, edgier sound, and completely reinvented the song. And in my opinion, made it so much better. "Dreaming About You" is second to last, and as much as it's a well done, and well-written song, I'd have to qualify this as filler to my ears.
Last on the album is the ballad "What Will You Do." It made me think of a trend I've noticed as of late. Anyone that reads my reviews know I hate ballads finishing an album. Well, here we go again! A well-performed heartfelt piece, but again I ask…WHY!!
Psycho-Babble
I'd have to say that VICE are back with another fun, Hard Rock-filled album, that made me excited to listen to and get my music hungry fingers on. I cannot in good faith, however, say it's a 10 out of 10. I could honestly say that I'd give it a solid 8. The tunes are well-produced, well-written, and have that 80's Party, "Happy Metal" feel I love to hear. If I had the chance, however, to ask the band, I'd ask about the tracklisting. Still, I'll be keeping this one on my rotation for a while and would recommend to anyone that you should give this one a go. I'd be positive there are tracks on here that many of you would like and enjoy!
Until then, peace and love. Get out there and discover something new and exciting, and if you find something you think we here at the CGCM should know about please pass the word about it along. We are always on the hunt for some great music.
Vice Is
Guitar: Chris "Yps" Limburg
Vocals: Mario "Mitch" Michel
Bass: Martin "El Bajo" Dreher
Drums: Pete "La Cabra" Lautenschlager
Peace!
Email Me at: psychoone40@hotmail.com
Furthermore, check out all my reviews: Trevor's Archives
Trevor "Psychoone" McDougall
[embedyt] https://www.youtube.com/watch?v=05mGud_6X-M[/embedyt] [embedyt] https://www.youtube.com/watch?v=xjddAf8-GN4[/embedyt]