Introduction:
After a brilliant set early on Saturday at Call Of The Wild Festival lead singer and guitarist Tom Killner walked along with me to the press area to sit down and have a chat. It took a little time to get there as plenty of folks wanted to chat with him, letting him know how much he and the band had impressed. Being a very friendly person he of course chatted with everyone who came up.
I admit I hadn't known of this band before the festival but I was definitely a fan in one half-hour set! Before we even got to the press area we were chatting about Creedence Clearwater Revival and Status Quo as I had heard a bit of both in their sound. Below is a transcript of our chat.
The Conversation Begins:
CGCM: Thank you for giving us some time here at CGCM. As I said coming over, what a great set. I confess I didn't know you beforehand but, wow, I was impressed! So could you give both myself and the readers of CGCM a little bit of information about your background musically?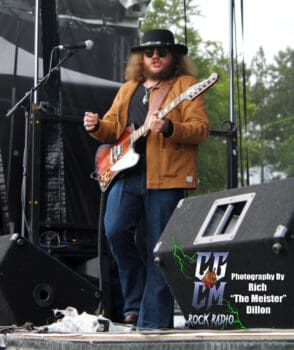 Tom K: Well I started playing guitar about 13 years ago, no, actually 16 years ago (starts laughing as he realizes it's longer than he thought). It was around when I was 10 that I started. I have had guitars around me pretty much all my life as my dad played in bands.  In fact, he was the one that introduced me to music and to playing. I had a classical guitar for a while but never took to it, so got an electric one and that was it, I haven't put it down since (laughs). So that's my musical introduction. 
The Band:
CGCM: The band that you have, is it a regular band, hired hands or has it changed through the years?
Tom K: Generally it is a fixed lineup as I like to be comfortable with the people I play with. At the moment we have Wes Brooks on keyboards, Rich Hunter on the drums and Callum Houghton on bass. Rich I have known for quite a while but I have only started playing with him in the last couple of years. Callum has also been in the band about 2 years but with lockdown, we can knock a year off (starts laughing) and Wes has been playing with me since around 2016. He was on the last live album and the latest studio one as well, making him the longest-serving member in the band.
It is quite flexible as if anybody needs to drop out for another gig (like many musicians these days they all are involved with other bands) we can work around that. Generally, it is a fixed lineup.
Album Information:
CGCM: I believe you have 3 albums out is that right?
Tom K: Yeah, that's correct. We have 2 albums on Cleopatra Records, a studio called Hard Road and a live one. The latest, Get Back Up, is a self-release that was out in 2018 (laughs) which seems a very long time ago. We are working on new stuff for the next release which hopefully will be out later this year. I've been saying that for about 2 years now, but hopefully, HOPEFULLY, we will have it out this year!
Those All Important Influences:
CGCM: That is something to look forward to. Could I ask about your influences that help you make the music you do?
Tom K: Yeah, originally I was very blues orientated until I started to get more into the Southern Rock side of things. With my dad's record collection I was listening to Rory Gallagher, Deep Purple, you know all the classic rock bands of the 70s and those influenced me a lot, especially Rory who my dad likes to rub in my face how he saw him and I didn't. From all accounts, he was a very down-to-earth person. I think he is also an influence off stage as there is no point in being an asshole, it doesn't win you any friends.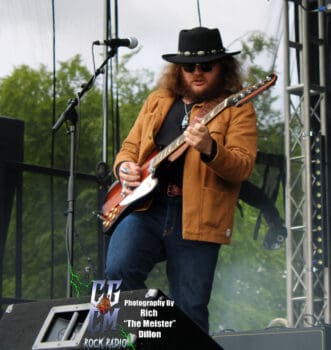 CGCM: Yeah he was such a lovely down-to-earth guy. Always had time for fans. The same way you took time with everybody that came up to you on the way over here.
Tom K: Thank you. He is a good influence. Another major influence you mentioned on the way here and that is CCR along with Tom Petty, that kind of countrified rock thing. I am also a massive fan of Blackberry Smoke. Generally, I pick up things from everywhere. At one point I was really into Indian Classical music even if you don't hear it in my music. I am a "musical magpie" as John Lennon once put it. You kind of absorb everything you listen to. The country stuff is what I am kind of leaning to at the minute. So lots of influences!  
CGCM: Nice one. I thoroughly enjoyed your set, the last song definitely made me think of CCR, it really came through on that.
Tom K: The last track, that would have been "On The Other Side" which I suppose is sort of country rock. Just good times, Rolling Stones vibey sort of thing. Hopefully, just a good rock 'n' roller to get people going. I think it works. 
CGCM: Yeah, there was also some old-style Quo as well, that 12-bar blues thing in there.
Tom K: That also allows me to change my guitars (laughing). I really enjoy doing that kind of thing, you know good times rock 'n' roll.
Festivals:
CGCM: Is this the first time playing something like this (COTW)?
Tom K: We have done a few festivals, like in Europe and some in the UK, but this one was really cool one to do. It has been so welcoming and the audience was fantastic. We've had such a good time and I think we've hopefully made some friends and fans. 
CGCM: Definitely, it seems you have had people buy everything they can on the site today which was great to see and hear.
Tom K: It really is a cool festival. I really enjoyed playing it. Thanks to the guys for putting us on!
The Future:
CGCM: You are certainly a hard-working band as I believe you have another gig to play tonight?
Tom K: Yeah we are off somewhere tonight (starts laughing), I can't actually remember where at the moment, I do know it is further up north. We have a fairly busy schedule this year, you know there are a fair few festivals, like Rocking The Bowl in Sheffield which will be our first time in an arena of sorts. We even have a festival thing in December, sort of a "winter rocks" type thing (indeed that is the name of the event Winter Rocks). Have so many things on that I can't remember them all. (laughing)
CGCM: Do you have anything lined up for yourselves as a headliner, you know your own tour?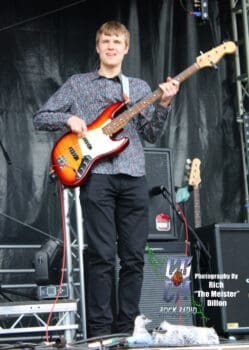 Tom K: We have shows just dotted around at the minute. Partly due to all the disruptions caused by you know what (we both laugh knowing exactly what is meant). It is all rather disjointed. Shows have been moved around from before it and when trying to book new ones it is difficult to get slots as places are booked up you know, catching up with all the postponements. It has put us back a bit in that aspect, although at the same time we have managed to pick up some nice venues and festivals. So I am not going to complain as we are still out playing to people. We've survived it (laughs)
Concluding Thoughts:
At this point, we just chat generally as he has another gig later in the day. I would like to say on behalf of CGCM a huge thank you to Tom Killner for taking the time to chat in his busy schedule. Lovely guy and an excellent band. Check him out at his website and Facebook as seen below…
TOM KILLNER Official Website // Official Facebook
Call Of The Wild Official Website // Official Facebook
CGCM's Full Coverage of the whole event can be found here: CALL OF THE WILD FESTIVAL 2022