Bad start
It had been a long time since I set my alarm to 04:00 a.m., and on May 3rd 2022, the pre-road trip nerves had me awake just a bit before then. A text from Boutique Air received overnight had me a little concerned, however. It said that my 06:45 flight was delayed to 08:00, so I felt robbed of a few more hours of sleep. Nevertheless, within an hour, I met up with my road trippin' buddy, Mr. G and hit the open road for Massena, NY and to a tiny airport there that would end up being a turning point on this trip.
Security
After clearing security and seeing the clock creep way past 08:00, all 9 of us waiting to board the Pilatus were informed that inclement weather in Boston was the reason for the delay. Mr. G and I were not convinced that was why. In fact, a frequent traveller informed us that this was not the first time he had been through this with this airline. So the flight was now delayed to 10:00 and when it was obvious that this was not gonna happen either, Mr. G and some other passengers asked for more information.
A rather unconvincing pilot informed us of the potential scenarios and none would get us to Boston in time for our gig with The Warning, the band of three sisters from Monterey, Mexico. So what was to be a cheap and easy hour or so flight became a 5 1/2 hour drive with no guarantees we'd make it on time. Mr G programmed the GPS and took the wheel through many upstate NY villages until we finally made it to the interstate. I did most of the driving south to the New Hampshire and Massachusetts border. Mr. G got us to Boston from there. All in all, the traffic was light and we got to check into the hotel with a bit of time to spare.
Finally there
From the Assembly Row T stop on the Orange Line,  we had to transfer at Park City in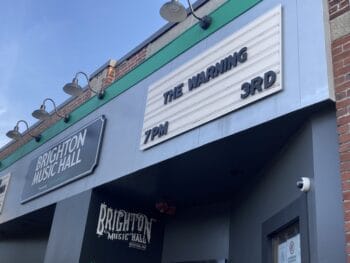 order to connect with the Green Line which took us all the way to the Harvard stop. It was a short walk to the Brighton Music Hall and there was a short lineup already for the V.I.P. event. We were given our loot bag which had an autographed V.I.P. lanyard and a The Warning covid mask in it.
Once inside, we got our picture taken with the band but were disappointed to see them wearing a covid mask. I still took the opportunity to do a bit of shameless promotion of the MixFix on CGCM Rock Radio by giving the band my CGCM business card and telling them I play their songs on the station. Still, on the buzz of meeting The Warning, I then bought an autographed picture of the band at the merch table.
The Brighton Music Hall is a well laid out venue. The stage was nice and high and the sound was nice and clear. When The Warning took the stage, I instantly forgot all about the long unexpected day we had so far.
Favourite
Wouldn't you know it, my favourite song by them, "Z", opened the show. It was a track I featured in my best of 2021 countdown and hearing it live gave it new life for me as I took in the visual of Alejandra nailing her bass lines. I had to be careful to not start air guitaring in the cramped general audience. Another track from their 2021 album, Mayday, called "Animosity" kept us all in but song three, titled "Ugh", had us headbanging.
I was unfamiliar with their next one called "Choke", but it stood out as the most challenging vocal song for lead singer Dany. "MONEY" was the next song and it really caught my attention. It's their latest single and I had heard it before, but hearing it live made me look forward to getting to know it better. It is worth mentioning that throughout the whole gig so far, Paulina, on the drums, was totally bashing the hell out of her kit and sharing vocal duties.
Intro
The bass intro to "Dust to Dust" kept it goin' and that's where I took in the rest of the audience appreciating the show. One guy in particular, who had to be close to 60 years old, was feeling the music like the twenty-somethings beside him. "Dull Knives (Cut Better)" was new to me for some reason and I don't know why because it totally got me. The progression of it was just as tight as the others and I'm glad to know it now. When The Warning played their next one called "Disciple", that's where I watched the stage presence of singer/guitarist Dany for the first time. For such a young age, she sure knew the moves and cues of a good live show.
"Narcisista" was their next track and it was performed in Spanish but that did not matter because it rocked just as hard as the rest. What stood out most for me on this one was the all-in vocal harmonies between Dany and Paulina. I actually got shivers listening to this one. Their long-awaited performance of Metallica's "Enter Sandman" gave the crowd what they wanted. I'm not one for
covers but I have to admit that this one brought the same feeling as when Jimi Hendrix put out his take of Bob Dylan's "All Along the Watchtower". Brilliant!
Survive
Finally, one I was looking forward to with drummer Paulina on vocals was next. "Survive" is the first song I ever heard by The Warning and made me take notice of this band. "When I'm Alone" was next and it was special for The Warning as it tied into Boston which, of course, resonated with the crowd. The guitar solo, as short as it is, stood out for me and made me appreciate this band even more.
"MARTIRIO" came up next and I was not familiar with it but man o man did their overall musicianship come out with this one. I don't know if they changed it up for their live set but all three women showed they knew how to play their chops. Sadly, I knew the end was near and struggled to remember what we had not heard yet and then, there it was, their boisterous anthem called "Evolve" performed with every ounce of energy they had left. Each member's performance was given one last once over and I can honestly say that The Warning's performance was absolutely flawless.
Even though I knew they were great musicians, I was still so impressed with how tight they played. Their stage presence, their choreographed vocals and their setlist kept my attention throughout the whole show, which cannot be said for many other veteran bands I've seen live lately. I can't remember the last time I enjoyed a gig this much.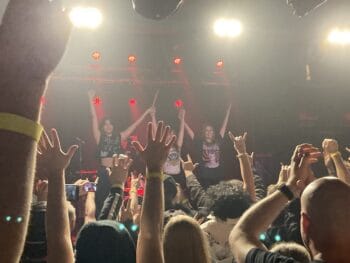 Satisfaction
It was unanimous as we chatted with satisfied fellow concertgoers on the T ride back to wherever we were going after the show. I, for one, do not impress easily. My expectations of a live gig are very high and so often not met. That was not the case with The Warning and I so looked forward to seeing them again in a few weeks in my home town in Ottawa, ON, Canada.
Not 24 hours after our return home however, Mr. G informed me that the Ottawa gig had been cancelled with no reason given. As hard as I took this unfortunate news, Mr G took it much worse as he had been negotiating an event for the band and a local high school with their management.
Later this summer, The Warning will be touring with Halestorm in the Eastern USA. In the fall, they'll join Three Days Grace in North Eastern Canada. Needless to say that I'll be making every effort to see them live again somewhere on that leg of their tour.
Check out my weekly show MixFix with BenSCORZ on CGCMrockradio.com at 4pm on Sundays, repeated Wednesday at 4pm and Friday at noon. BenSCORZ
[embedyt] https://www.youtube.com/watch?v=TlOy0XbFVlM[/embedyt]