Having seen The Cruel Intentions twice in the past few weeks, and getting to hear the new singles live, I was very excited for the new album, Venomous Anonymous. It did not disappoint! I have enjoyed all three singles which include "Reapercussion", "Kersosene" and "Sunrise Over Sunset". All three have great accompanying music videos, and I hope to see some more!
A Little History
For those who don't know, The Cruel Intentions are a band from Norway that was started in 2015 and is currently composed of singer Lizzy DeVine (ex-lead singer of Vains of Jenna), guitarist Kristian Solhaug, bassist Mats Wernerson, and drummer Robin Nilsson. The band has released one previous album, 2018's No Sign of Relief, along with many singles. They are a perfect example of the way Scandinavian sleaze rock should be.

The new album is so popular that the vinyl sold out in one day. I am not surprised, given the calibre of songs on this album. 
The Cruel Intentions – Venomous Anonymous
The album opens with "Reapercussion" which hits hard immediately to set the tone of the album. It perfectly showcases the unique vocals that Lizzy is known for, highlighting his sleazy screams. The backing "woah" vocals are a common theme on this album. Which will give the audience something to easily sing along to while rocking out in any setting.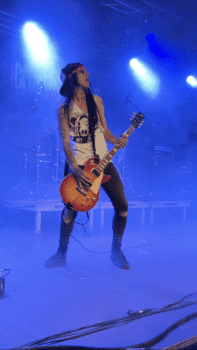 The title track "Venomous Anonymous" is next with some very fun backing vocals and a melody that makes you want to bang your head. I am really drawn to the heavy combination of the rhythm and lead guitars during the solo.
"Sunrise Over Sunset" has been a favourite song of mine since I first saw the video. It is the perfect summer song to brighten your mood. It almost reminds me of old-fashioned pop-punk in the way that it's written and it is a super fun song. "Casket Case", the next song on the album, gives a similar feeling, as it has one of the brighter vibes on the album. "Kerosene" starts with a super catchy, raw riff and the song is interesting in that it has both upbeat and slower parts to bring together the many elements felt on this album.
Swedish Language Song
I was personally excited by the Swedish song "Salt i Ditt Sår'', which translates to "Salt In Your Wound'' and has a melancholic yet upbeat tone. The choice of Swedish lyrics may stem from the fact that singer Lizzy DeVine is actually from Falkenberg, Sweden. Although I don't understand every part of it, this is one of my favourite songs on the album. The next song is "Final Deathroll" which has an awesome riff with Lizzy quickly spitting out lyrics over top.
There is a wide array of songs for every mood on this album, and another favourite of mine is "Goddamn Monday'', which expresses how everyone feels after a great weekend and having to return to the grind. It starts off with a super catchy riff and is a "na na" song in the sense they include these lyrics that everyone can sing along to. Despite the serious aspects of the song, I think the lyrics are a bit comical, in a good way, in the sense that everyone can relate to  "Monday morning, waking up in misery, Tuesday half alive, Wednesday feels like I'm in a coma, Thursday's just a waste (…) I'll be alright until it's Goddamn Monday again." To me, this is both a serious yet tongue-in-cheek way of looking at the everyday slave to the grind faced by most.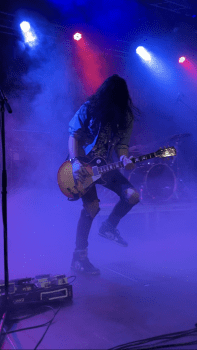 The song "Bad Vibes" is also a favourite. The melancholic guitar intro is beautiful, and the song then picks up with the drums pushing it forward. "Chemical Vacation" has a great guitar solo and drum breakdown which showcases the band's ability to address serious content in a less-serious way. "City of Lice" closes out the album with a sort of punk feel, as one of the heavier songs on the album.
Overall
Overall, this is a very fun, upbeat rock album and I really enjoy it. Only one song ("Bad Vibes") passes the four-minute mark, so it is an easy listen! Honestly, this album gets a 10/10 from me. The only way it could be better is if it was longer!
The album can be purchased here. Be sure to check it out!
Rachel Leigh Vendetta
You Can't Kill My Rock N Roll \m/
Also, find more of my CGCM reviews here: Rachel Leigh Vendetta
Venomous Anonymous is the title track of The Cruel Intentions second album! It is a heavy yet melodic track about the sweetest of bad choices filled to the b…
Kerosene is The Cruel Intentions third singel from their upcoming album Venomous Anonymous and this track is a pure fire! A battle cry for the young, fun, an…
The Cruel Intentions are dangerously skilled and always out to have a great time!A taste of fresh and greasy air, in a music scene where rock has grown to b…
In 2022 The Cruel Intentions are back and ready to bring on a full rock circus of havoc, fun and glory yet again!Sunrise over Sunset is a brand-new single fr…