The Wait
Testament, Exodus and Death Angel, who could pass up this lineup?  Not us!  We secured tickets to the sold-out November 6, 2021 show at The Forge in Joliet, IL and… Covid postponed it until May 15th 2022.  No problem, we knew the drill by then, we were just happy to have tickets to this sold-out show.
The day finally arrived and we were so excited to see them, but due to issues with the venue, we ended up barely able to actually see or hear the bands the way they should be seen and heard.  None of this had anything to do with the bands and everything to do with the venue.  We were super bummed, but determined that we experience this tour the way it was meant to be experienced!  Luckily for us we were able to get tickets to a show at The Rave/Eagles Club in Milwaukee, WI.  So, on October 4th we were finally able to hear and SEE the Bay Strike Back.  We decided on balcony seats, right above the stage and they were perfect!
Death Angel
This wasn't the typical soft start, with a little-known opening band-type of situation.  Nor did the crowd trickle in as the night went on.  There was no "opener" and The Rave was packed as soon as the doors opened. At 7 pm the lights dropped, "The Ultra-Violence" blared and you could feel the energy of the crowd explode.  The Pit opened up and the revenue's pleas for "No Moshing" were soundly ignored.  I mean, duh, they can't have really expected that no one would mosh, right?
Death Angel put on the show we had hoped for and more!  It was incredible to see founding member, Rob Cavestany shred along with fellow guitarist Ted Aguilar.  Our seats were directly above Rob's side of the stage, so I could stand there
and watch in awe the whole show.  Drummer Will Carroll and bassist Damien Sisson kept that iconic, brutal, thrash tempo going throughout the set.  Heads banged, moshers moshed and surfers surfed.
It blows my mind that singer Mark Osegueda's vocals sound just as amazing live as on albums.  I also loved his crowd interactions.  I watched from the balcony as he attempted to make contact with every crowd surfer that made it to the front.  I've never seen anyone do that before.  The set was short but otherwise perfect, playing favorites like "The Moth", "Voracious Souls" and "Thrown to the Wolves".  It was absolutely crystal clear that Wisconsin loves Death Angel and they love us right back.  They promised to return and when they do we will be there!
Exodus
Exodus was up next.  Wow!  That was insane!  Before I go into how crazy and awesome it was to see them live, I HAVE to mention this…You KNOW it's going to be a great night when the crowd surfs a person in a wheelchair!  Not just once either, she surfed 3-4 times.  Then joined the Mosh Pit!  It was the most heart-warming thing I've seen at any show, ever!  That right there set the tone for the show.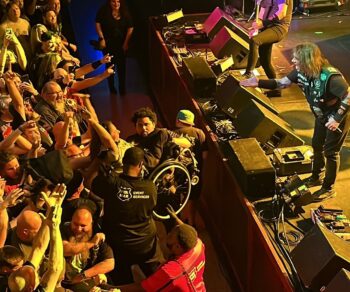 Singer Steve Souza said something like "You know it's gonna be a great fucking night when something like this happens!"  Not an exact quote, but you get the gist.  I should have written it down but I was too busy watching Exodus melt faces.  And holy shit our seats looked right down on Gary Holt!!  If you have not seen this guy shred then you need to!
Exodus had the crowd moving! Before "Strike of the Beast" Steve Souza called for "The Wall of Death" One of my favorite things to watch from my bird's eye balcony view.  Probably more fun to be in it but beautiful to see from above, too. For the whole show bodies were flying over the crowd to the front.  There were massive amounts of crowd surfers.  Major kudos to The Rave security.  They were on the ball. Scanning the crowd, catching surfers and getting them safely to the floor.
Exodus are legends and as such, they put on a legendary show.  Playing their greatests from their massive catalog like "Deathamphetamine", "Bonded by Blood", "Blacklist" & "Toxic Waltz".  I'm so happy we finally got to see them live.
Testament
Testament came out loud and ferocious starting their set with the colossal thrasher "Rise
Up".  At this point the crowd was in overdrive and the hall was buzzing with energy.  Testament ramped it up to the next level.  It was a night of hit after hit.  Killer set of 15 songs, grabbing titles from 9 of their huge collection of albums. They played classics like "Electric Crown", "Over the Wall" and "Into the Pit" and added in "WWIII" from the 2020 release Titans of Creation.  Testament ended the night with "Alone in the Dark".  They exited the stage leaving the crowd annihilated, amazed and satisfied.
Worth It
Sadly it was over.  But, what a night! Look, just seeing one of these iconic bands live is an experience to behold, but getting to see all 3 powerful, legendary bands in just one night was just mind-blowing.  We are lucky thrasher fans to still have these bands putting on top-notch shows and giving us their all!  I'm happy we didn't let the problems with the first venue deter us.  We didn't give up and we got to see The Bay Strikes Back tour in all of its glory!  It was worth the wait & effort!
https://exodusattack.com/index.php
http://www.testamentlegions.com/
Check out my other reviews here. Kryfar
Cellphone pics by Kryfar