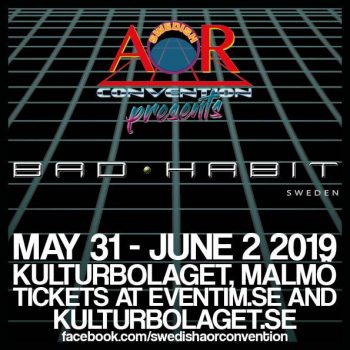 BAD HABIT is set to headline the Swedish AOR Convention (May 31-June 02, 2019 in Malmo). The announcement, made Sunday night, has BAD HABIT joining the party. The roster is already stocked with Swedish AOR bands appearing at the first time event, with more to announce. The Swedish AOR Convention is born from last year's MelodicRock Fest Scandinavia. The appearance of BAD HABIT comes after last year's successful acoustic gig at MelodicRock Fest Scandinavia. Read about my time at that event here: MRFS Day #1 / MRFS Day #2 / MRFS Day #3. The official Facebook announcement appears below.
Swedish AOR Convention: FACEBOOK
Tickets to the Event: Kulturbolaget / Eventim
BAD HABIT to Headline Swedish AOR Convention
After last year's very successful unplugged gig at MRFS, BAD HABIT returns with a full set headlining Swedish AOR Convention on the 1/6 2019. In addition to being the headline gig, this will also be the launch party for their debut that will be re-released expanded and remastered After Hours [Re_Cap] from 20th Century Music. The band will have a limited number of the remaster for sale at the venue at a signing session on Saturday. The band will also do a meet & greet on Friday. Do not miss the chance to catch Bad Habit live.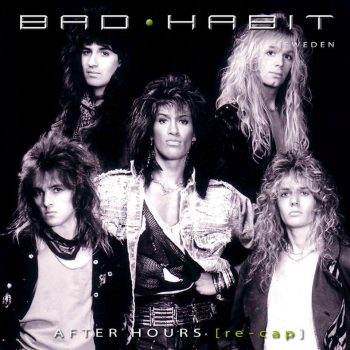 Legendary rock band Bad Habit was originally formed in 1986. The band released their first album in 1987 and continued throughout the next two decades. After 8 years of hiatus, the band is now back with a re-mastered version of their 1989 album After Hours − which also includes two brand new songs and previously unreleased demos.
Band members:
Bax Fehling (Vocals)
Hal Marabel (Guitar, Keyboards)
Sven Cirnski (Guitar)
Patrik Södergren (Bass)
Jaime Salazar (Drums)
Get your ticket NOW! Tickets to the Event: Kulturbolaget / Eventim
Swedish AOR Convention [31 May – 2 June 2019]
Founded by Johan "DrAOR" Nylén to give the AOR community a happening beyond the usual AOR Festivals, together with his trusted team of music lovers. We want to bring you not just another festival, but a happening to remember.
This is the first AOR Convention of its kind and we wish you all very, very welcome.
After last year's success with MelodicRock Fest Scandinavia, the Swedish team felt that they had so much more to give. They took some time off to decide on what to do next. After some time, Johan approached Anders "Theo" Theander with the idea to do something that has never been done before – a convention with all the trimmings: meet & greet, signing sessions, AOR lectures, a live radio broadcast and of course bands (8 showcase bands, two unplugged & two headliners). So once again Johan (PlanetAOR) teamed up with Theo (RoastingHouse) and gathered their trusted team from our earlier festival arrangements.
So Far at Swedish AOR Convention:
We are proud to present the first eight showcase acts:
Shape of The New Sun (Skara), making their very welcome international debut at Swedish AOR Convention.
Ozukaru (Göteborg), after frequently touring overseas, they've finally found their way back to us in Malmö.
Age of Reflection (Västerås), after their huge success at Rockingham Festival in 2018, the Swedish audience will finally get to see their insanely strong live act.
Coastland Ride (Sundsvall), doing only their third gig after a massive and impressive 15 years together. First time this far south, too.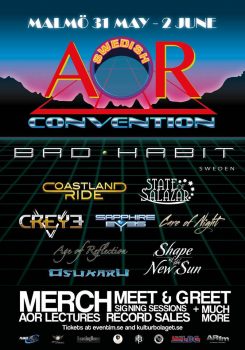 Sapphire Eyes (Helsingborg), finally making their Swedish debut with Finnish singer Kimmo Blom (Urban Tale).
Creye (Malmö), continuing their very successful festival run and making a welcome return to where it all began.
Care of Night (Skåne/Blekinge), returning from overseas gigs such as H.E.A.T. Festival, we proudly announce another Swedish debut gig.
State of Salazar (Malmö), after releasing their super(hero) strong second album, the Malmö audience are finally going to be able to see them on a festival stage.
About the Creators of Swedish AOR Convention:
Johan "DrAOR" Nylén: The founder of PlanetAOR, is mainly known for his involvement in Firefest, Rock Weekend AOR and MelodicRock Fest Scandinavia, and is also the A&R for the label Sharp Music Sweden (who released the Grand Design Idolizer remaster last year). Considered to be an AOR connoisseur, what Johan doesn't know about AOR is not worth knowing. Not only a DJ,/booker but he is also a manager who worked with artists such as Philip Lindstrand, Creye, Sapphire Eyes and State of Salazar, to name a few.
Anders "Theo" Theander: Has been in the music industry for 30 years but started out as a drummer. In 1988 and 1989, he worked as a professional drummer in LA for music creators Gene Page & Sterling Radcliff (Barry White, Jackson Five, Michael Jackson etc), among others. Contacted in 1990 by the former owner of RoastingHouse Recording Studio, who hired Theo to play on an album they worked on. And Theo never looked back. Up to date he has recorded and produced 140+ albums with both upcoming and well-known bands and artists for major and independent companies, and he's behind albums with artists such as Urban Tale, Spin Gallery & Jim Jidhed and many more. Today, Theo is the owner and managing director of RoastingHouse AB (Music Publishing – 12 Studio Complex – Record Labels – Production House) representing multi-Platinum and Gold awarded collaborative Songwriters/Producers who have several cuts on various million-selling albums worldwide.
For more info please contact Johan Nylén at johan.nylen@planetaor.com Phone: +46 731 45095
Swedish AOR Convention: FACEBOOK
Tickets to the Event: Kulturbolaget / Eventim