With just over four months left until this year's Sweden Rock Festival, we can now present 13 more acts to the starting line-up:
Alter Bridge with singer Myles Kennedy at the helm have been highly praised for their latest album Pawns & Kings, which was released last fall. Six years after the last Sweden Rock visit, the American alternative metal band returns to Sölvesborg in June!
Also ready for this summer's festival are the American prog metal masters Symphony X, melodic hard rockers and Sweden Rock debutants Wig Wam from Norway, alternative Canadian metal band Spiritbox, Brazilian melodic metallers Angra, Gotland death metal veterans Grave, Norwegian alternative prog rock band Spidergawd, modern British metal band Employed To Serve, the Danish blues phenomenon Thorbjörn Risager And The Black Tornado, the Swedish power metal band Bloodbound, likewise the Swedish heavy/speed metal skulls in Enforcer, the British metal band The Raven Age and the Scanian, melodious metal band Tungsten. (translated from Swedish using Google Translate)
The list of acts announced thus far looks as follows:
THE IRON MAIDEN
MÖTLEY CRÜE
DEF LEPPARD
GHOST
DEEP PURPLE
PANTHER
EUROPEAN
GOJIRA
ALTER BRIDGE
BEHEMOTH
BILLY GIBBONS & the BFGs
CLUTCH
AIRBORNE
TESTAMENT
WOLF MOTHER
SKI ROW
U.D.O.
SYMPHONY X
MONSTER MAGNET
AVATAR
TNT
WIG WAM
MYRATH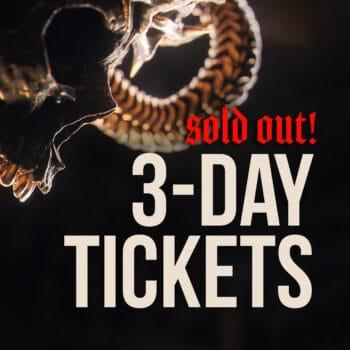 SPIRIT BOX
SATOR
THUNDER MOTHER
MIKE TRAMP – Songs of White Lion
CHRISTONE "KINGFISH" INGRAM
UNDO
THRESHOLD
GRAVE
REVERSED
SPIDER GAWD
EMPLOYED TO SERVE
THORBJØRN RISAGER AND THE BLACK TORNADO
BLOODBOUND
ENFORCER
GREEN LUNG
THE RAVEN AGE
CHEZ KANE
TUNGSTEN
CURRENT
HOT BREATH
About 40 bands remain to be presented!
The 30th edition of the Sweden Rock Festival is organized in Sölvesborg on June 7 – 10.
The 3-day tickets are sold out. 4-day tickets can be found at www.swedenrock.com.
OFFICIAL FESTIVAL WEBSITE / FACEBOOK
About SRF:
Sweden Rock is Scandinavia's biggest hard rock festival. Every year, visitors from around 50 countries are attracted to Sölvesborg, where they are treated to over 80 concerts in a mix of classic rock, hard rock, southern rock and metal. Sweden Rock is known for maintaining a high level of service, and the friendly atmosphere has become one of the main hallmarks of the festival. In addition to the annual festival, Sweden Rock now has a magazine, drinks and lifestyle products gathered under its brand.
CGCM's Coverage of SRF 2023: Initial Announcement post. Second Band Reveal post. 8 More Bands. 13 Bands Added. Billy F. Gibbons.