This morning five more bands added to the 2020 Sweden Rock lineup ahead of single-day ticket sales tomorrow. Here's the press release translated from Swedish by Google Translate:
American Stryper is one of the bands coming to Sweden Rock Festival this summer.
One of the most classic names in melodic American 80s hard rock, Stryper, is ready for this summer's Sweden Rock Festival! The group broke through with the albums Soldiers Under Command, The Yellow and Black Attack (both 1985) and especially To Hell with the Devil (1986) but has shown really good form in recent years as well.
About the same can be said about the Norwegian party machine Turbonegro, which is behind the beer earrings like "All my friends are dead", "I got erection" and "City of Satan", but whose latest record and album have also been very warmly received – not least when they made toxic success in their Sweden Rock debut a couple of years ago.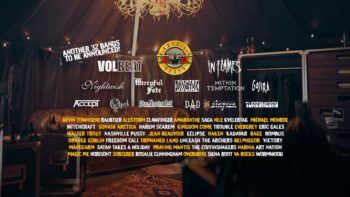 Ready for this summer's festival is the influential former Hanoi Rocks frontman Michael Monroe, the psychedelic rock's new queen Rosalie Cunningham as well as the recently P3 Gold-nominated black metal jump Wormwood.
A further 32 out of a total of 90 acts remain to be presented.
Sweden Rock is Scandinavia's largest hard rock festival. Every year, visitors from about 50 countries are attracted to Sölvesborg, where they are offered over 90 concerts in a mix of classic rock, hard rock, southern state rock and metal. Sweden Rock is known for maintaining a high level of service, and the friendly atmosphere has become one of the festival's main signature. In addition to the annual festival, Sweden Rock now has a magazine, drinks and lifestyle products gathered under its brand.
SWEDEN ROCK: OFFICIAL FESTIVAL WEBSITE / FACEBOOK
SWEDEN ROCK 2020 Coverage: Sweden Rock 2020
SWEDEN ROCK 2019: Sweden Rock 2019.