Lionheart is a band I first heard of back in 1984 as their video "Die For Love" played on TV. I loved this song, but never did find their album until many years later when I found it on CD. The band started in 1980 and have released 3 albums and 1 album of demos. Their latest release The Reality of Miracles was released in 2020. Early in July, I did an album review which you can read here. The Reality Of Miracles. In 2017 I was able to see Lionheart for the first time and take photos from the pit at Sweden Rock Festival. It was an honour to see some of my photos in the booklet for the album Second Nature.
Current LIONHEART lineup
Dennis Stratton – formerly guitarist with Iron Maiden.
Steve Mann – currently a guitarist and keyboardist with Michael Schenker.
Rocky Newton – formerly bass player and backing vocalist with McAuley Schenker Group.
Clive Edwards – formerly drummer with UFO, Wild Horses, and Uli Roth
Lee Small – formerly lead vocalist with Shy and Phenomena.
Steve Mann was nice enough to sit down and answer my questions through email. Check out some great stories of Lionheart's history, present and what is to come.

Steve Mann of Lionheart Interview
1 – Question: With the band forming in 1980, what were some of the highlights of the early career of Lionheart leading up to the eventual release in 1984 Hot Tonight?
Answer: Steve Mann – We worked hard to get a record deal during the first 4 years of our existence, but found it very difficult. One of the highlights during that time was regularly headlining in the now legendary Marquee club in London's Wardour Street. We always had many luminaries in the audience from James Hetfield and Lars Ulrich (who were just getting Metallica together), Gary Moore, Def Leppard and many others. The beginning of the NWOBHM was an exciting time for everyone and everyone seemed to know everyone else! Other highlights I think were touring the UK with Whitesnake and playing at the Reading Festival. We went through a few singers and drummers in our quest to hone the line-up, but the core of the band always remained Dennis Stratton, Rocky Newton and myself. Nicko McBrain was in the band right up till he joined Iron Maiden. Les Binks from Judas Priest was also in the line-up for awhile. Clive Edwards became our staple drummer and as such is one of the original Lionheart members in the band now.
2 – The band members all came from different groups before coming up with Lionheart. How did you all meet up to become Lionheart and how did you come up with the name?
The band was originally a project between Jess Cox, who had just come out of Tygers of Pan Tang, and Dennis who had just left Iron Maiden. After my time with Liar, I had auditioned for the Tygers and was beaten to the job by John Sykes. But Jess kept my number and called me to ask if I wanted to join his new project with Dennis. Jess didn't work out in the end, and after a short while, someone told us about Rocky Newton and Frank Noon who were then with Wildfire. Frank had played on Def Leppard's first EP and had left as he thought it wasn't going anywhere!
I'm not sure who first came up with the name "Lionheart". We threw around so many names, "Stratovox" being one of them, but we always came back to "Lionheart" – it just felt right. Den and Jess were on their way to the first interview with the British press and we still hadn't decided on the name. So they just used "Lionheart" when they got to the interview and that was that – it stuck and I'm very glad it did.
3 – You recorded Hot Tonight in Los Angeles California. How did you make this connection to fly over to record the debut album?
As well as vocalists and drummers, we also go through our fair share of managers – no one was safe from the Lionheart chopping block back then! We ended up with the guy who managed Saxon and later Yngwie Malmsteen and he saw us as being prime material for the US. So, he was very instrumental in persuading us to change our sound from new British Metal to more of an AOR sound. He had a lot of connections to record companies in the US and he finally got us a major deal with CBS. They agreed with our manager's assessment that we would go down really well in the US, and they provided the advance for us to fly over for 3 months to record Hot Tonight with producer Kevin Beamish.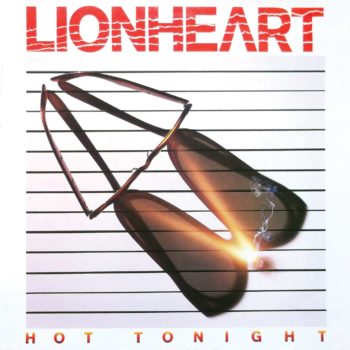 It did actually end up being a classic British AOR album and a lot of people saw it as a milestone for British rock in the US. Even now people are singing praises for that album. We recorded it in Sound City Studios in Van Nuys in the valley in LA which itself was a legendary studio. We mingled with Dio, Joe Walsh who were all working in the same complex, and peeped into the studio next door when Jeff Porcaro stopped by to play a session. There's a great documentary on YouTube about Sound City and how Dave Grohl bought the Neve desk and moved it to Studio 606.
4 – Did you tour after releasing Hot Tonight and any dates outside of England?
We had a lot of problems after we came back from the US. We recorded a high budget video for our single "Die For Love", but we soon parted from our manager and REO Speedwagon pulled their US tour for which we were going to be the opening act. We also went through more line-up changes when Chad Brown, our singer, quit the band. We played the Marquee again and we also played on ECT – which was a great live metal show broadcast live on mainstream UK TV on Friday afternoons. But Lionheart never played outside of England. We were determined to keep the band going but it was very hard given all the factors against us. Our ex-manager then decided to sue us all for the advance excess which bankrupted certain members of the band and wiped out the life savings of the rest of us. Meanwhile, I guess it enabled him to order a better vintage French red when he was in a restaurant. This business can be savagely unfair, and it certainly totally demoralized us.
5 – Hot Tonight was the last the world got to hear from Lionheart until 1999 when Unearthed – Raiders of the Lost Archives was release. What brought on this release?
Many articles say that Lionheart broke up in 1985, but that wasn't actually the case. Yes, we felt we had been kicked in the stomach by the business, but all we ever wanted to do was play our music and we had always looked for an opportunity to pick it all up again. We were delighted to receive an offer from Pony Canyon in Japan to release through them a collection of unreleased Lionheart recordings. During our active period, especially the first 4 years, we had written and recorded dozens of tracks as demos. These really did represent the real sound of Lionheart, rather than the sound everyone around us seemed to want us to make. So we collected all the best tracks and Pony Canyon released them on a double album. The sound quality is obviously not the best because of the way the tracks were recorded on Portastudio back then, and also because the "masters" were often 15-year old cassettes. But there was a real authenticity to that album, and I love to listen to it periodically.
6 – Fast forward to Oct 22nd, 2016 at Rockingham 2016. What brought on this reunion show and how was the reception from the crowd?
Rocky was contacted by the promoters of the festival who asked if we would have any interest in playing a one-off show for fun. As I have already said, we had always been looking for an opportunity to arise to play together as a band again and this seemed like the perfect opportunity. So with the exception of Chad Brown who was no longer in the music business, we all eagerly accepted the offer. We scoured the country for a replacement for Chad, and were gifted with Lee Small who fit into the band as if he'd been a member for 30 years. Great as Chad was, this was a real boost for us to get someone like Lee and he has added so much to the contemporary Lionheart sound.
So we all re-learnt the songs at home then got together for 2 days of rehearsals before playing the festival. The first song we played was "Wait For The Night". Immediately I knew the magic was still there, and at the end of the song it was apparent that everyone felt the same. We had so many problems when we played live at Rockingham including the keyboard being out of tune! But we weren't taking it too seriously and we all found the whole episode rather funny, which I think went down quite well with the audience in a weird reverse-psychology way! The response from the audience was just incredible and took us all a little by surprise. After we had finished, we were besieged by people telling us we had to carry on this time. We also received dozens of messages on our Facebook pages too. To be honest, we felt really motivated by the whole experience, so we resolved there and then to record a new album, which ended up being Second Nature.
7 – Less then a year later Lionheart released the album Second Nature. Second Nature had lots of great reviews around the world. How was this experience working together after all these years?
It was honestly as though we had never taken a break. But this time there was a big difference to how things were back in the 1980s and that is that we were now completely in control. We loved the essence of the NWOBHM and we wanted to keep that essence in our sound. But Lionheart was always about strong songs with strong melodies, big vocal harmonies and twin-guitar leads. So that's the sound we went for, but with the added bonus of the influence, Lee brought to the band which, as I have already mentioned, complimented our sound perfectly. I recorded and produced the album in my own studio in Hannover so we weren't burdened with only having a certain amount of time to record and were able to take the time to perfect the album exactly to our taste. We have always got on well and had a great understanding with each other – we are really like brothers. But now, of course, we are older and wiser, we unloaded the egos years ago and working together these days is a real joy, and very, very creative.
8 – Lionheart performed at Sweden Rock Festival. I was so excited to finally see the band and hear those amazing tracks from the Hot Tonight album. I loved the new songs and bought the special edition CD at the festival. You also went to Japan for a handful of shows. How was that experience playing in Sweden and then in Japan?
Both outings were fantastic. We really felt on such a high and this really was because we felt free and creative as a unit. We had no managers or record companies beating us up and we could take charge of our own destiny. We went down really well in Sweden and it was also a great chance to play the song "Anytime" which I wrote with Robin McAuley back in 1988 and which was a top ten hit for Michael Schenker. The Japanese tour was also fantastic. It's the first time I had been to Japan, so I wasn't prepared for the amazing organization and the reaction of the crowds.
9 – 2020 the fans are blessed with the new release The Reality of Miracles. When did you start recording the tracks for the new album and did COVID19 affect the writing and recording?
Whenever we finish an album, I am already thinking about the next one! I rarely listen to work I have finished – I'm one of those people who prefer to push on with the next project as it's the creative process itself I love the most. The Reality Of Miracles is actually an exception to that rule because it really is such a great album in my view. So after Second Nature was released we were already casting our minds to the new album. We started putting things down in 2018 already, but my commitments to Michael Schenker Fest left me with precious little time to work on Lionheart, and the other guys too had commitments, so it was always a slow process. But then along came Covid-19 and suddenly we had no work! The Schenker Fest tours of Japan and Europe were scrapped, so I found myself in my studio with an incomplete album to finish. Our new management company did a great thing and gave me a deadline, which is like a carrot to a donkey for me! So, over the period of a few months of intense work, the album was finished. I had one overriding criterion for the album and that was that there should be no filler tracks. So, a lot of the ideas which we worked on and which became quite well developed were just simply thrown out as we thought they just weren't quite 100%. The result is that every track on the album now is a great track and everyone we talk to has their own favourite. Reviewers always pick different tracks as their favourite and I don't think any of them has not been someone's favourite at some point. We also have a theme running through the album – a bit like a concept album, and it was important that this theme was maintained right through to the final mixes.
10 – Can you explain how you came up with the title of the new album?
The Reality Of Miracles was an idea brought in by Lee when we were working on that song. We were right in the middle of the worst of the Covid-19 crisis and we were so aware that the world was somehow drowning in sorrow – it had really lost its way, not just because of Covid, but generally. We just felt it was important that our album brought some light and joy back into life. That's why the artwork from Tristan Greatrex is bold and bright, and when Lee suggested that perhaps we should call the album The Reality Of Miracles too, we thought yes – why not? It's a great, positive message and summed up the feeling that we all had – that bad times will always end – things will eventually get better. It may seem like we need a miracle or two right now, but they can, and do, happen. Incidentally, the lyrics to The Reality Of Miracles is typical of Lee's input. I call his lyrics "big, bold and colourful".
11 – Do you all have a favourite song on the album and why?
I think it depends on which song you are listening to.. whichever one we are hearing at the time becomes our favourite song! But for me personally if I had to pick one, which is very hard, it would be "Still It Rains On Planet Earth (Lacrimosa)". I love the vibe of this song, and it is a great example of the positivity I was talking about. It sums up the Lionheart message and ends with an uplifting section which I stole from Mozart. It also ends with children singing and then leads into a big D-major chord, which represents in a way "The Miracle" we all seem to be waiting for.
12 – I always love buying CDs to have the artwork and reading material that comes with purchasing the hard copy. The new booklet is amazing. Tristan Greatrex did the artwork, layout, and design. How did this partnership come about?
This was a partnership that was destined to happen. During the recording of Second Nature, the last thing we had thought about was artwork – we were so concentrated on the music. We would probably have ended up with one of those do-it-yourself covers you can create on the internet! But at exactly this time Tristan decided to contact me on the off-chance that we may not have yet "finished" our artwork. It was absolute perfect timing and the first design he came up with was the one we used on the final album. It's a bit like Lee – Tristan just understood what Lionheart is all about. He loves the band and has really become the 6th Lion. For The Reality Of Miracles without any prompting from us, he knuckled down and produced the most amazing package I have seen for a long time on any album. He told us he spent far more time on this album than any other artwork he has ever produced – and simply because he loves the music and the whole concept of Lionheart. When he sent us the artwork for review, we were just blown away. It still blows me away when I look at it – especially on the vinyl.
13 – You have released a couple of videos "Thine is the Kingdom" and "Widows". Can you tell us about these releases?
We decided with our management company that they would take care of the first single, "Thine is the Kingdom", and we will do something for the second, "Widows". They produced a really great lyrics video for "Thine is the Kingdom" using individual plates from Tristan's artwork. We were all still on lockdown and we weren't able to get together and record a band video for "Widows". But then our dear friend Neil Griffiths stepped up to the crease and offered to put something together. We are so lucky in Lionheart to have a remarkable team of very talented people around us all of whom love the band. Neil is one of our team and he told us all to buy green screens and film ourselves playing to the song in front of the screen. He gave us precise instructions on how far we should be from the camera, how each shot should be framed etc. He had everything planned to the last detail and he somehow pulled an incredible video out of the bag. He spent so much of his time and effort working on the video and the final result is a real testament to all of his hard work. It was a very difficult set of circumstances under which to have to create a "band" video, but somehow, he did it! And we will be forever grateful that he did.
14 – This has been a rough year in the music industry due to COVID19. Did you have plans for a tour to support the new album or are there any plans for 2021 if we all get the go-ahead?
Absolutely! We have signed with a booking agency, but of course, just like everyone else, there is no way to play any shows at the moment. No-one knows how long these measures are going to go on for. Michael Schenker has rescheduled the postponed April European tour for December, but there is no way to know whether there is actually any chance of that happening. So, all we can do is wait, along with everyone else, and see when we may finally be able to think about booking live shows. We have had plenty of offers come in, but it's just not possible to schedule anything at the moment.
15 – Many bands have done live online shows. Is this something that can be done with Lionheart?
If it looks like the crisis is going to continue for a considerable amount of time, then perhaps it's something we can think about. We haven't discussed it, but if it is a format which works, then of course it's better to do that than to not play live at all. It's something we will discuss with our manager to see if we could look at going that route.
16 – Can you pick the most memorable show you have done as a band and why?
There are several. I think the very first show we ever did at the Marquee in 1980 was very special. There were big expectations for Lionheart as "the first NWOBHM Supergroup" and it made that first show at the very special Marquee Club a great show. We played at the Reading Festival in 1981 – that was also a memorable gig simply because it was the first time we had played to a massive crowd.
17 – What was your first concert, and if there was one band or artist you wish you could see or could have seen who what that be?
My first concert I ever went to was at the Lyceum Theatre in London in 1972. It was an all-nighter show and the headliner was Rory Gallagher, who I was a huge fan of at the time. He was supported by Pete Banks' Flash, and the JSD Band. It was a great show to have as a first ever concert. I think I can probably speak for the whole band here when I say the one band, I would have given anything to see live would have been The Beatles. To say they were a huge influence on my whole musical upbringing would be a massive understatement and I think most of Lionheart would say the same thing.
Thank you to Steve Mann for taking the time to answer my questions. Make sure you check out their new album. Click on the video below to watch and listen to the track "Widows"
Shawn "Animalize" Irwin
Shawn "Animalize" Irwin photo galleries, written reviews and more: Shawn "Animalize" Irwin
What do you do when the band is self-isolating and the record company asks you for a band video? You all go out and buy green screens, and then employ the se…