After my discovery of Sinner thanks to 2013's Touch Of Sin 2 record, I've counted them among bucket list live bands. That release featured re-records of classic Sinner material from the early days of the back catalog as those albums are long out of print. Oh yeah, for those unaware as I was until 2013, Sinner has been issuing albums since 1982! While not attaining mainstream success, especially over here in North America, Sinner can't be stopped. They have consistently delivered new Hard Rock over a whopping 20 or so albums. And now their latest creation SINNER – Santa Muerte arrives September 13, 2019, via AFM Records.
For this outing Sinner have enlisted some guests for the record. Swedish guitarist/co-songwriter Magnus Karlsson (Primal Fear, Allen/Lande) appears on "Death Letter". Ronnie Romero (Ritchie Blackmore´s Rainbow, Lords Of Black) whose voice features on "Fiesta Y Copas", the first single. Ricky Warwick's (The Almighty, Thin Lizzy, Black Star Riders) unique voice can be heard on "What Went Wrong". But there's yet another new voice as well. This one is a new, permanent addition to the Sinner camp in Giorgia Colleluori. After an invitation to join Sinner on stage for three songs during shows in a few countries, the audience's reactions led Mat Sinner in asking her to join permanently.
SINNER – Santa Muerte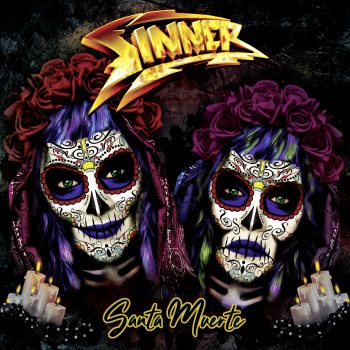 Things blast off with "Shine On". At first, not reading the press release ahead of listening, the female vocals snapped me to attention. I wasn't expecting that! Musically, the track is all the hard-rocking smash that I've come to expect from Sinner. The dulcet tones of Colleluori add a fantastic dimension and layer making this one of the best opening tracks I've heard in some time.
The rest of the album rocks just as much. Take the lead single "Fiesta Y Copas" for example. You can check that song out via the video link below. Google translate reports that to mean "Party and Cups", not sure of the accuracy there. Likewise googling "Santa Muerte" returns "Holy Death". Right or wrong, it's an epic song rocking for over six minutes.
One thing Sinner does very, very well are the vocal harmonies. Now with Colleluori in the mix that's really exemplified here on this album. The second single release, "Last Exit Hell" is a great example of soaring vocal harmonies over some grinding guitar riffs. Guest vocalist Ricky Warwick lends his talents on the naturally Thin Lizzy flavoured "What Went Wrong".
The album remains consistent throughout, but worth noting is "Death Letter". A cover song originally by delta blues icon Son House, who recorded it in 1965. This song has also been recorded by The White Stripes and John Mellencamp among many others.
SINNER – Santa Muerte (Closing Words)
The whole album is a hard rock feast littered with guitar riffs, pulsating bass lines, steadily thumping drum beats and the aforementioned vocal harmonies. While never selling tons of records, Sinner has consistently issued great hard rock albums over the years and this is another fine addition to the catalogue.
SINNER Album Review: Touch of Sin 2 (Decibel Geek)
Cheers,
The Meister
Find more of my album reviews here: Meister Music
CGCM Podcast / Meister on Facebook / Meister on Instagram / Meister on Twitter / Meister's Email
[embedyt] https://www.youtube.com/watch?v=uLkPTtSzMwg[/embedyt] [embedyt] https://www.youtube.com/watch?v=xsKhwT08f0M[/embedyt]