If you're after a top-quality New Wave of British Heavy Metal inspired band then look no further than Sin Starlett. These guys are the absolute real deal and Solid Source of Steel seals that deal.
Formed in 2005 in Lucerne, Switzerland, Sin Starlett now have four full-length albums under their belt, of which Solid Source of Steel is the latest.
The line-up consists of ever-presents Elias Felber (vocals) and Reno Mieir (guitars) along with Elias Burri (drums since 2011), Christoph Widmer (bass since 2016) and Jack Tytan (guitars since 2020).
The fact that Manowar legend Joey DeMaio said "Man, they're even more metal than me!" after a live show should tell you all you need to know.
Solid Source of Steel is as uncompromising as the title suggests. Riffs-abound, solos soar and melodies will have you humming long after you've finished listening.
Felber has a distinctive vocal style which I can only describe as a strangulated Brian Johnson. But don't let that put you off, it really fits the bill.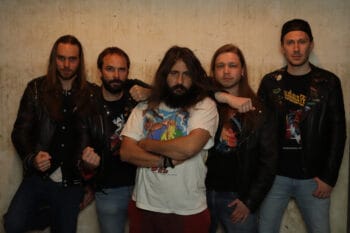 It's a bit of a journo cliche to state that there are no highlights, it's all one big highlight, but on this occasion it is perfectly true. 
The toe-tapping riff which opens the album and title track sets the tone for the whole album. Galloping and melodic it gets the listener warmed up nicely.  Twin leads are always welcome in metal and Sin Starlett certainly makes the most of them, perfectly complementing one another, not only in the opener but throughout the album.
Check out the crazy video below.
I often wish solos were a bit longer, especially when there are two leads, but obviously not into self-congratulatory prog territory. Here, the solos are generally extended which will bring great pleasure to not just me.
Solid Source of Steel fulfills all of a rocker's desires, especially in the melody and solos departments, I can't recommend it highly enough.
Get your grubby hands on this stone-cold winner and bask in the metal glory, you won't regret it.
BUY: AMAZON.ca / AMAZON.com / AMAZON.co.uk
Check out my other articles and reviews here. Sparky
[embedyt] https://www.youtube.com/watch?v=It5sifunHzo[/embedyt]