Hello again Ladies and Gentleman  Dr. Tardis is back! Sooner than expected.
Yup! Shortly after having witnessed Rammstein dominate the world stage I told myself all other rock shows will be mediocre. Well, thanks to Scorpions I stand corrected!
Scorpions has been on my bucket list since I was kid. Growing up in a small town in Northern Ontario (in the woods basically). I never had a chance to watch big rock acts. I was lucky enough to have seen Helix, Honeymoon Suite, Platinum Blonde and Triumph.  All the big rock acts skipped mini cities like Sudbury and North Bay. You had to go to Ottawa or Toronto to go see the big bands.
When I turned 19 I had moved to Toronto for a year and a few months. I had gone to so many shows. But Scorpions had eluded me for some reason. There are other bands that I would loved to have seen but many of them have lost the ability to sing or perform as they didn't take care of themselves. I just wished I had watched some of these bands in their prime.
When I bought my ticket to see Scorpions it was supposed to be a double bill with Whitesnake and featuring  Thundermother. But Whitesnake had to pull out of the tour due to David Coverdale being ill. So I guess Whitesnake remains on the bucket list and probably will remain there till I die.
The day of the show I didn't know what to expect, Lets face it the band mates are not young anymore. I was worried that Klaus Meine would have lost his powerful voice. I was worried about the sound as well. Coming off six days after Rammstein that had a perfect sound where on a scale of 10 it would be a 20.  What about the light effect, will they have fireworks, Will I have a good time?
The opening act is a Swedish all-female rock band named Thundermother.
Lead by Guernica Mancini lead vocalist. This lady has amazing pipes. She can sure hit some notes. Filippa Nassil on guitar, Majsan Lindberg  on bass and Emlee Johansson on drums.
These girls rock and put most men to shame. I really enjoyed their show, Although my complaint was the sound was not that great, every time Guernica hit high notes the speakers would screech and I know it wasn't her fault, it was really the lack of skills from the sound engineers.  I had to block my ears at some point sadly, but that's when I could hear her voice properly, it was a shame that the engineers failed her band. Thundermother are a great band with great music.
Thundermother had finished their set, Next was supposed to be Whitesnake but due to circumstances out of our control it was not meant to be.  Scorpions were setting up, I was worried about the sound I had forgotten my ear plugs and I was worried that I would not enjoy the show because of the bad sound and ear piercing screeching noise.
Scorpions made a Rock Believer out of me!
When the staged size banner dropped, it was show time. Opening with "Gas in the Tank", the crowed mostly of an older generation of fans screamed and cheered out loud. I was immediately reassured that all my worries laid to rest.  First off the sound was way better, not perfect but better.
These guys moved around a lot, putting out great riffs and great rhythm, rockin' out a nearly packed Bell Center, The familiarity of their song where you can sing along to almost every classic hits that the band has created over the years, along with the latest ones from their album Rock Believer.
The stage set was rather impressive, with its halfmoon shaped with its crazy strobe lights surrounding the drum set that laid on pyramid like platform adding a walkway plus giant screens. It was simple yet effective.
I liked the fact that the old boys weren't stationary the moved around even jogged from one section of the stage to another. Klaus' voice was fantastic. I swear to you, he sounded just as good as the 80's. He took care of pipes.
Scorpions set list is as it follows.
2. Make it Real
3. The Zoo
5. Seventh Son
6. Peacemaker
10. Wind of Change
12. Rock Believer
14. Black Out
15.  Big City Nights
16.  Still Loving You
All in all, it was a really good show, better than I expected in fact. My only complaint would be that the show wasn't long enough, 1h45 min long, I could of used 15 to 20 minutes more to be honest. I can now check off Scorpions off my list. I may repeat myself here but there's something special about those familiar songs from our youth, hearing them live and singing along. It brings you back to your high school days, good or bad as it was. Music always made me feel good. I'm pretty sure some of you had a tough time as teens and music was our escape from all the crap that we had to endure. Listing to those songs was the cure. Forward some 35 years more or less and hearing them live makes you think how music saved your life.
Scorpions is one great act, I recommend to anyone to go see them live. They are one of the few bands that has aged gracefully. Their music still lives strong and will never die, Even now their new album Rock Believer is a very solid album, It comes back to their roots and it's an instant hit. People who say that these old boys have nothing left have no idea what they are talking about. Scorpions strongly proves it.
Here are some sites to link you to Scorpions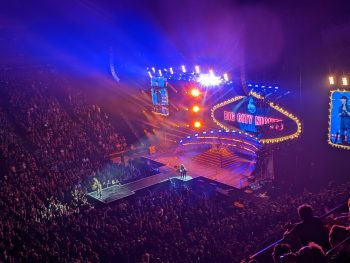 Well that's all for now folks, I hope you enjoyed this little write up.
Remember ladies and gentlemen, long live Rock n' Roll!
Have fun love your loved ones!
Until next time!!!
Dr. Tardis Out!
More