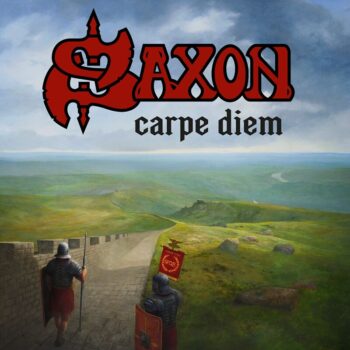 SAXON- Carpe Diem
The mighty Saxon return with their 23rd album, Carpe Diem via Silver Lining Music. It has been a long four years since their last studio album, 2018's Thunderbolt. Along with the rest of the planet, the band had to try to work through the global pandemic. Add to that they had to work around band leader and lead singer Biff Byford's heart attack in 2019. In fact, what happened was Biff ended up doing quite a bit of the writing for this album from his hospital bed. I have to say the results from this extra time spent really speak for themselves.
Carpe Diem is simply a great album of pure heavy metal. Biff states that "it all starts with the riff" and there are plenty of them on this record. Guitarists Paul Quinn and Doug Scarratt not only bring the riffs but also play great solos and harmony parts. As always, the rhythm section, which consists of Nibbs Carter on bass and Nigel Glockler on drums, is in fine form. For a band that has been releasing albums for more than 45 years there is no quit in these guys.
The Album- Carpe Diem
The album opens with the title track and lead single "Carpe Diem (Seize the Day)".  This song literally just punched me right in the face. I liked it from the first time I heard it, which does not happen very often. Track two, "The Age of Steam" is another heavy song with some real great guitar riffing. This is Biff at his lyrical historical storytelling best!
After a pretty heavy high-energy start the album's third track is the latest single "The Pilgrimage" which slows things down a notch. This song is a mid-tempo rocker very reminiscent of the song "Crusader". This song sets a powerful mood with its plodding beat and pace- simply brillant!
"Dambusters" is next and brings the pace back up. Good song with some great guitar soloing in it. Second single "Remember the Fallen" is track five, and for me is the catchiest song on the album. Almost always after hearing, I cannot get this song out of my head.
The almost thrashy "Supernova" starts the second half of the album. A good, fast-paced song that proves you can really rock at any age. "The Lady in Grey" is up next and is another mid-tempo rocker that is set apart from the rest of the album by the groove it sets. Also, it is at this point that it hits me how great the guitar tones are on this album. Brighter and warmer than previous albums, but no less heavy. As we near the end of the record I wonder is it going to run out of energy? The answer is a resounding no!
"All For One" is a cool rock song that could fit nicely on any of Saxon's first four albums. It is at this point that I realize just how good and important that Nigel Glockler is to this band. His drums sound great on this album which I think is a testament to great production job Andy Sneap has done on this album. In the ninth slot is a track named "Black is the Night", and it is a headbanger. You cannot help but move to the groove in this song. Just great heavy metal. The closer is another speedy track called "Living on the Limit". Another fast tempo hard-driving song that finishes the album much like it started.
Final Thoughts
If you did not figure it out by now, I love this album. For me, it is easily their best since 2013's Sacrifice and maybe in their top ten. I love the fact that it clocks in at a very digestible 44 minutes with ten quality songs no filler. I am impressed that a band still has the drive to put out such a quality album after over 40 years in the business. If this is the band's swan song then they are going out on a high note, but my hope is there is still more to come.
BUY: AMAZON.ca / AMAZON.com / AMAZON.co.uk
Also, find more of my CGCM reviews here: Andy "Maddog" Lafon
[embedyt] https://www.youtube.com/watch?v=pjcgHPsvFVY[/embedyt]