Ronnie Atkins at Hus7 Stockholm
Pure magic! That's what everyone in the room at Hus 7 felt on May 23, 2022. When Pretty Maids frontman Ronnie Atkins announced that he was inflicted with stage 4 cancer, he himself never thought he'd be singing again. Here we are about two years later, two albums later and Ronnie was back up on stage. Together with a stellar band of musicians and people including Chris Laney, Morten Sandager, Allan Sørensen, Rob Marcello, and Pontus Egberg, Mr. Atkins cast a spell over the crowd.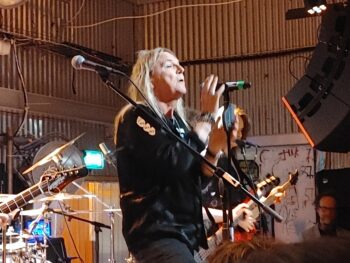 The venue was reasonably small and quite well sold, creating a perfect sweaty club show atmosphere. The sound however was a little wonky as it bounced off the tin roof among some other technical issues behind the scenes. I tell you, it didn't matter, no one cared. This show was not even about that. It was about what Ronnie has overcome and how emotional it was to see him take the mic. In fact, there were so many points of the evening when I could feel tears forcing their way into my eyes.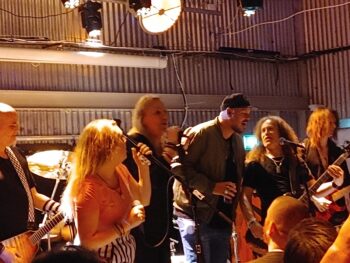 The crew delivered nearly 2hrs of songs including not only Ronnie's solo material, but also some Pretty Maids and an explosive ending track with At The Movies' version of "We Don't Need Another Hero" featuring Linnéa Vikström and Björn Strid invading the already tight stage floor real estate. We indeed don't need another hero…..we have Ronnie Atkins!
Ronnie Atkins at Valand, Gothenberg
The very next night in Gothenburg, Sweden, two intrepid Canadian travelers once again were in the audience. The evening was every bit as magical as the one before, but this time that band was done the justice they deserved in the sound department. Tonight everything acoustically was completely on point. Each and every instrument and the notes crafted out of each by its operator was heard loud and clear.
This group of stellar musicians was clearly having a great time up on stage. And none more so that Ronnie Atkins himself. His vocals tonight were clear and concise. This man may just sound better than he ever has! Catch this very special tour, by this very special band, it might just be the concert of your year😍🤘
*Extra special thanks to Chris Laney and Niklaus Nordholm for all the assistance and friendship! And to everyone we shared these experiences with, be it arm in arm with a beer or rocking out at the shows. Cheers to Ronnie Atkins.
One shot one life I'm living it and I don't need any heroes just Ronnie Atkins!
Cheers,
The Meister
Meister Music Live To Air Radio/Video Shows on Mixcloud / CGCM Podcast
Find more of my album reviews and blogs here: Meister Music
Meister on Facebook / Meister on Instagram / Meister on Twitter / Meister's Email