The Rockborn EP
I know this might be a little later than some of my other reviews…hell this IS late! I usually review an album before its release date. This one is almost a month after it was officially released on October 28th, 2022. Regardless of that, it deserves a loud, and proud mention.
Some of you might recall my review of Born to Rock by the band Rockborn back in April 2020. If not check it out here and then return here for the continuation of this review.
The E.P.
This one has no special or fancy title since it's a simple three-song E.P. Most just call it the Rockborn EP. Three great songs showcasing the flipside of the band. That they can have a darker side, (or at least that was my take, but more on that in a minute) It showcases that they can still write, sing, and make great tunes to put out to the world. It is all part of the Rock Me Harder sessions, (which is sitting at over 275k views on YouTube with very little advertising) but the standalone single of "Rock Me Harder" had its own Universal Product Code and makes it a lot harder to group and make a 4 track.
Since this EP it is only three tracks, I sat down with lead vocalist Luanne Reid and lead/rhythm guitarist John Lyell to gain a little more perspective into each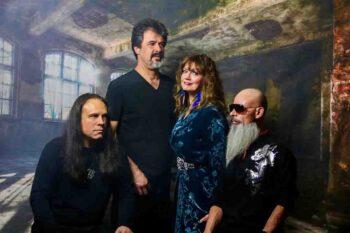 song. Unfortunately, bassist and backup vocalist Dino Serna couldn't join us at that time. The band, like many others, went into a kind of hiatus due to Covid and relocating and other personal matters, but that didn't stop the creativity by any means.
Oh yes…One last thing I should mention. This EP is one of the LAST jobs done by the extraordinary producer, Michael Wagener. No, he couldn't produce it due to Covid restrictions, but he did handle the mixing at WireWorld Studios, in Nashville, TN.
Questions
The first song on the EP is "Questions". With a chugging riff, John begins this one with the drums to follow. Luanne stated to me that it was meant to be a philosophical song with an Irish jig-type of vibe to it. One point of interest here is the change-up in timing from the solo to the riff again that bassist Dino came up with. The song essentially is a person's inner voice asking themselves where they fit in the world, what their purpose is, and things that each of us asks ourselves at some point in our lives.
My conversation with John and Luanne continued a bit, and unfortunately, I cannot say everything that was said, but soon the conversation went into the second track on the E.P., and that is a ballad titled, "I'll Never Have You". A great ballad in my opinion, but I'll let you be the judge of that. One thing the members of Rockborn and myself agree on is the simple fact that more than one person can listen to the same song, and still have completely different takes on it.
Yes…The Ballad
"I'll Never Have You" is a song that Luanne wrote a long time ago (the early 90's to be exact). It's about her first true love, they got separated and remained friends throughout time, and marriages, and when the opportunity arrived that they could be together, he passed away, only for her to truly find the love of her life afterwards. It's a story that many of us can relate to. This song almost has a Shakespearian feel to it. A beautiful opening to it with Luanne's hauntingly beautiful voice talking about how it's a fantasy, and a dream that will never come true. A fairy tale that will never come to pass. This is truly a song that I would hazard a guess that most of us will relate to with everyone having that one love that would never come to pass.
Drinking Time
With a title like "Drinkin'", one might expect either a fighting song or a party-styled song. This is a tongue-in-cheek song about escaping into a bottle to deal with the everyday up-and-down grind of life. With a tumbling riff that suggests a drunken shuffle from an inebriated person. The style of playing at times almost intentionally sloppy. Simple, straightforward. The lyrics are what to pay attention to here. Song lyrics like, "Where was I when heaven fell" (feeling good) "and left me here to rot in hell" (the hangover the next day). I love the fact that two minutes in Luanne says, "pour me another one".
This is where the solo comes in. I may be biased but I love John's solos. Simple, and to the point, and not fancy showing off his skills. Speaking of skills, John also has a side project that has nothing to do with the Rock World but also does ambient music in the vein of the Sy-Fy genre, and if you're into that, I'll provide a link below, it is worth checking out!
Psychotic Thoughts
As I stated in my last review of Rockborn – Born to Rock, Luanne's voice is like a love child of Ann Wilson and Robert Plant. I love her tones and melodic style, and the odd time she lets out a great wail that you can check out in the "Rock Me Harder" single.
One might ask themselves is a three-track E.P. worth even checking out? I am here to tell you yes, it is. When I asked John and Luanne what the future of Rockborn is, they did say that their drummer has moved on. That is something they are looking to fix soon (any professional drummers out there reading this?!). They are writing and planning on more to come. I personally cannot wait to hear more, and I hope it is sooner than later.
Trevor "Psychoone" McDougall
Tracks:
Questions
I'll Never Have You
Drinkin'
Band:
Luanne Reid – Lead Vocals
John Lyell – Guitar, Backup Vocals
Dino Serna – Bass, Backup Vocals
Gary Gabaldon – Drums
BUY ROCKBORN: AMAZON.ca / AMAZON.com / AMAZON.co.uk
Furthermore, check out all my reviews: Trevor's Archives
Email Me at Trevor "Psychoone" McD