Hello Everyone!
It is I (Dr. Tardis) once again coming at you from CGCM Rock Radio!
I haven't written much in a while (I seem to start with that sentence a lot lately) since I have been insanely busy with the Montreal Comic Con. None stop work from January to the very day of Montreal Comic Con (July 8). I still took the time here and there to do reviews of local bands that I have seen live and enjoyed.
This time, I would like to talk about the world rebooting, once again we can enjoy our cons, festivals, rock shows, and mostly gatherings of any kind.  Yes, it started a few months ago but you really don't feel it until that day comes and you are in a sea of people enjoying life once more.
Many people are still cautious and worried and many have become reclusive and are reluctant to come out and play.  Many have braved it out and decided to dive into the crowd of people and once again talk to each other one-on-one instead of online via cell phones or computers.
I did go to a few shows prior to Comic-Con where there were small gatherings. but all those little shows I went to were just a teaser of what was about to come. Yeah, it hit hard on the first day of Comic Con! There was an unbelievable amount of people all excited and anxious to resume normal life. To see the smiles on people's faces was amazing. The costumes people worked on for months at a time to show it off for that one weekend! When I walked into the Palais des Congres I could feel the buzzing in the air and it was amazing. It felt so freaking good!  I just hope that this reboot will not repeat itself in my lifetime.  Life is too short to be bottled up in our homes! We need to step out and enjoy and love life once again.
Rockin Engine
Since my last review, I have been to a few shows. As I mentioned earlier, the teaser shows before the big one!  In April I went to Ottawa at the Brass Monkey to enjoy a drink and see my buddy. Oh, and lets not forget a great performance by Rockin Engine. These guy never let me down. They had one hell of a performance that night that was quite remarkable. That night the boys lit the crowd, they were on their feet headbanging to the beat. It was also a bit of a sad day as I was moving to Mexico. Ladies and gentlemen, Rockin Engine is a must-see band. So if you ever hear of them coming to your neighbourhood give yourself the privilege and go. You won't regret it.
Rockin Engine is working hard on a new upcoming album. I can't wait to hear it.
So while we wait, here is one of their latest videos.
JORG ft. Rockin Engine – "Fear Love Hate"
Atomik Train
A few months after that I went to see a new band named Atomik Train and I discovered as well Playhouse whom I was told that they have been around since my teens. There's something about Atomik Train that is just so unique and powerful. Front-man François Babin is a rock star in its purest form. I can only see these boys rising up in the world. I know that they are working hard on their debut album and they're currently touring Quebec.
Check out These Videos from Atomik Train
Forget?
Let's not forget Playhouse rocked the house that very night as well. these boys have skill on every level and they don't skip a beat. They really put the F in fun, I love their music it's right up my alley. I will get back to Playhouse later on in this article. Meanwhile, you can revisit the full article on these two bands a while back. Click here.
My adventure didn't end there. Come July 1st I went to see Atomik Train for a second time and damn these guys delivered. With great food, homemade beer and a great rock show everything went perfectly well that night. Oh, and they are a great bunch of guys.
They treat you like family.  The next day I was at my niece's wedding in which I have to admit was one of the best wedding receptions I have ever been at.  As I said before all these events were a teaser of what was to come. July 8 Comic Con was the big day, the big crowd and it was epic in the sense that humanity was restored. You have to understand the one thing I love about Comic Con is that everyone is nice to each other and we share information on how we built our costumes and what material to use such and such. It is a beautiful thing that we can all learn from.
Anyhow moving on. All this led up to Wednesday, July 20th 2022. Finally a big rock event. It was my first show in 3 years in a big venue. It's funny in a way that the big band I saw last before covid was the first big band I saw after Covid.
Shinedown with special guests Pop Evil and Ayron Jones
Ayron Jones woke up the crowd and warmed up everyone at the show, In their Lenny Kravitz and Living Colour inspiration they delivered the goods. These guys have talent and it showed. I can only see them rising to the top in the coming years.
Look out world Ayron Jones is going to suprise you and make you love their music.
Pop Evil
I was more familiar with Pop Evil and I enjoyed their show so much! Leigh Kakaty is a pure entertainer and knows how to get the crowd going. The crowd in the place were jumping up and down they were going nuts! The party was full on and we were all having fun. These guy were so entertaining I thought they would take away the Shine from Shinedown.
Hayley Cramer was just amazing on the drums. Yeah, she can outdo most of the guys out there. She was great.
I can't say enough about Dave Grahs and Nick Fuelling on guitars They pumped out the riffs.
Joey Walser is the newest member of  the band playing on bass but you wouldn't know it.
All in all they were on top of their game that night and the crowd wanted more of Pop Evil.
It felt great to be back in the sea of humans dancing and hopping and lifting our fists in the air. it was a wonderful night. I asked myself how will Shinedown top these guys? The crowd was really pumped up after the show, they had better deliver.
Shinedown!
Did they disappoint?  OH HELL NO!!!
Shinedown was a hungry beast that night they needed to feed and they fed well. They fed off the energy of the crowd and roared on stage like demons out on a hunt.  I was blown away by their performance.
Brent Smith is probably one of, if not the best singers out there in the business. He is simply outstanding. his delivery is like no other. His singing is impeccable. Not only that but he is a true humanitarian. He spoke to all of us that night, he inspired us with some highly emotional and highly motivating speeches. At one point I got a lump in my throat as his words deeply touched me. At the same time reminding me that there is always a light for us and we should always reach for it.
The band played on and on the pyrotechnics and the light show were amazing. This is the third time seeing Shinedown and of the three shows, this one was the best.  They just delivered on another level.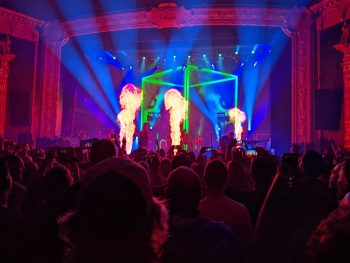 Brent Smith sang like there was no tomorrow.
Zach Myers' guitar playing was electrifying.
Eric's bass kept the rhythm going with his skills.
And Barry Kerch kept the beat going and never let up.
Shinedown played all their best songs and so many people sang along. It was an absolute joy to be there.
They are currently promoting their new album Planet Zero which is out now.
Here are a few songs from the album
Here's a link to the album on YouTube
You can find Shinedown on the following pages
As I continue my rockin' adventures 3 days later I went to the CD launch of Playhouse's new album Dancing at Funerals.
Here is the link to my earlier review
As you already know I love their new album you can read the article once more.
Before Playhouse came on stage there were 2 bands that entertained us.
The first band was Odeh led by guitarist and lead singer Sam Odeh.
Despite technical difficulties at the beginning of their show, Sam pushed on and delivered. Here we have another dude that loves what he does and it shows. He had charisma and played the crowd well. One thing is for sure these guys deserve way more exposure. Sam has been around for a long while now. I discovered him and his band that very night and I really want to see them live again soon also with new material. They have a very unique sound and I really like it. They have a cover of Soundgarden's "Outshined" which is just great!
Check out their videos on their YouTube Channel
Here are a few videos
The second band on stage was Fatal Switch. They had quite the crowd enjoying their show and got them going. Fatal Switch is a heavy metal rap band, a young band.  They had pretty good riffs and beats.  I'm pretty sure we will hear more of them in the near future.
Here are a few songs from them
So here we are. Last but never least Playhouse!
It was their night, The old boys were on fire that night and they rocked the house. The boys had fun that night a very entertaining event. They started off with a curtain hiding the stage and when the drums were beaten by Steve Creep started the curtain fell and there was Pete with his famous hat and shades looking like a true rock star on stage.
Eric the Freak went all out Eddie Van Halen on his Frankenstein guitar. The man I only know as K.K. had the riffs perfectly and a few solos on occasions. Danny's bass playing was tight, he was the rhythm dude. As for Steve Creep this multi-talented dude I can't even begin how good he is. He is not only a drummer but I've seen him sing and play guitar on other videos.
Playhouse played most of their songs for the new album, Dancing at Funerals. They never let up, the crowd loved them and the love was given back. Off the stage these guys are freaking great dudes. Super nice and fun to hang with. The show finished off with me getting a drum stick to the head, hahaha. All is good though.
You can follow Playhouse on the following sites
Here are a few songs  off their new album
Well, ladies and gentlemen that is all for now! it's been quite the adventure and it's not finished yet. Rammstein,  Scorpions with Whitesnake  and a little after it will be Ghost.
So as I leave, be good to each other always be kind
Dr. Tardis out!