Rammstein
Ladies and gentlemen, it's been a while since my last review! I would like to apologise to the staff at CGCM and the listeners for the tardiness of my reviews.
Sometimes life happens and you have priorities elsewhere that need your attention.
Well, a few months have passed and I decided to take a break from what has been keeping me busy day in day out and take on an album review! Before I get to the review I would like to tell you a little bit about Rammstein.
XXX
This week I have the honour and privilege of reviewing one of my very very favourite bands ever since I discovered them in a 2002's Vin Diesel movie called XXX.
I remember the scene quite well, where a sharp dressed man a la James Bond is running away from the bad guys and he ends up in a club with these really odd-looking guys on stage headbanging away to the song "Fire Frei" (Fire at Will) with flame throwers attached to their face while spewing 15 to 20 feet flames over each other while playing guitar and singing.
First off, The sharp-dressed man gets on stage runs away and gets killed. In the end, I wanted to know if these guys were for real. I stayed till the end of the credits to see who it was, Then I saw their name in the rolling credits, Rammstein! (Ramming Stone)
They got their name from the town of Ramstein where there was a US airbase located nearby. An air show was held there on August 28 1988 in which three planes crashed into each other.
Line-up
From Berlin, Rammstein was formed in 1994, with frontman lead singer and pyrotechnic specialist Till Lindemann, lead guitarist Richard Kruspe, rhythm guitarist Paul Landers, bassist Oliver Riedel, drummer Christoph Schneider, and of course the one and only Christin "Flake" Lorenz, the mascot of the band the one taking the beating and also the keyboardist. These guys have been together since the beginning, which is rare in a band. these days, that's 28 years as of 2022. Pretty incredible if you ask me.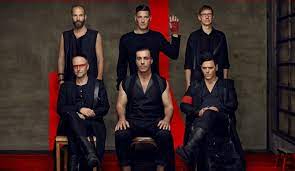 Rammstein is mostly what you probably consider an Industrial Metal Band. I always compared some of their riffs to Metallica adding a keyboardist and that you can actually dance to it.  Their first album was released in 1995 called Herzeleid. 2 years later in 1997 their album Sehnsucht was released and that was the album that put them on the map. It is still is one of their best albums, with the 2 hits "Du Hast" and "Engel" (which is my preferred song from the band).
Mutter
It would take another 4 years (2001) before Mutter was released. For me personally, it is still my favourite album of theirs. After all I did discover them a year later because of one of their songs off this album Fire Frei. But this album also had "Ich Will", "Mein Herz Brennt" , "Links 2,3,4", "Sonne" and the title track "Mutter".
In 2004 Reise Reise was released  By this time I was fully into Rammstein and the controversy for the band started. Shocking the world with their songs and live stage antics that would have them thrown in jail at times. If you listen to "Mein Teil", which talks about a real life cannibalism that freaked out a few people and the video is pretty messed up."Amerika" also caused a little bit of ruckus as well but 2 great songs. Other great songs from that album were "Ohne Dich" and "Keine Lust".
On a personal level, I really liked "Morgenstern" and "Stein um Stein" which means Stone by Stone, in itself is a cringe subject. In a rare situation, we only waited 1 year for the release of Rosenrot (2005) which surprised me as I was used to waiting 2 to 3 years for their next album,  It wasn't their best album but I still enjoyed it. "Benzin" was their first hit off the album and is quite good, "Rosenrot", "Mann Gegen Mann" and also "Te Quiero Puta" were all singles.
Stir
We all had to wait till 2009 for the release of the album Liebe ist fur Alle Da. This album was worth the wait; an all-around great album as well as full of controversies.  Their first single "Pussy" caused a real stir as the video (uncensored) was basically shown only on porn sites, but a damn good song. Also released as singles on this album was "Ich Tu Dir Weh (I Hurt You)", another song that caused so many issues that tied up the courts in Germany. "Haifisch" and "Waidmanns Heil -Liebe ist fur alle da" were the other singles. I went to see Rammstein twice for this album. It was also their first time in North America in many years.
They toured for a few years riding off this album. and for a while it was quiet. There wasn't much news of Rammstein. I thought they had broken up, Till had his own album out as well as Kruspe with his band Emigrate. Then 10 freaking years later I see an album cover all white with a single matchstick. No titles… it was a new Rammstein album, Afterwards I saw the release of their video "Deutschland", and I was blown away by it. A video of epic proportions, I don't know how much money was poured into the production of this video but it sure was something special to watch. "Radio" was the next single and I love this song, but my favourite single was "Auslander" an absolutely great song. All in all I really love the untitled album.

Tour
The band started touring and I saw their stage set for the tour and I just couldn't believe the sheer size of it. I remember I was in my office waiting for their tour dates, there it was slated for August 21, 2020. This was back in early December. I was so happy I went and bought 4 tickets for my sons and a friend of mine to see them live in my hometown of Montreal. Then there worst thing happened a few months later. Covid invaded and destroyed life as we knew it. The virus spread throughout the globe, every event on the planet was put on hold. It was an absolute mess, we were all confined to our homes.
Luckily enough I was able to work from home and now the company has adopted this method permanently. I have to say that in those 2 years of being confined and have restrictions put all over, we have learned a lot on technology we didn't think possible but now are part of our daily lives. As with crazy and absurd stories told by the media and social as well, the world has been divided, we need to get back together and have fun once more. Well, almost half way through the year 2022 and restrictions have lifted once more and hopefully for good, I will get to see Rammstein live this August in 2022.
Zeit
Speaking of 2022 Rammstein has released a new album called Zeit (Time), released on April 29, 2022. I went through the album 5 times already and I think it's an absolute delight.  Who knows if it's my old age or my taste, this album is not as heavy but I feel it flows better, I love the beats and the riffs that they put together, There are a few soft ones that are quite good as well.
The songs on the album are:
Armee der Tristen
Scharz
Giftig
OK (Ohnne Kondom)
Mein Tränen
Dicke Titten
Lügen
Adieu
Short
My only critique on this album is I find it too short. It's like a roller coaster where you are having a great time but before you know it it's over.  I wish I understood German so I would be able to understand what they sing and appreciate them more. The production on this album is an A+ I cranked it up in my car while on a drive somewhere and the music just sinks into you.  Anyone who's a Rammstein fan expects this album to be different, I personally really enjoy it very much. "Zick Zack" is such a good song, you just want to crank it up loud in the car, and the video is hilarious. It shows the vanity of people.
"Zeit" is a great slow song, "Giftig" has this great simple keyboard play with its riff following along. Another great song is "Angst", watch the video as well.  I Highly recommend Zeit to any Rammstein fan.
Regardless, there is no denying Rammstein live is very hard to beat! Hard to top this band with their crazy antics on stage (not for kids). The pyrotechnics, the flames, the insane stages they have and the overall delivery of their live show. In the end, Rammstein gives you your money's worth.
You can find Rammstein at these links below
So there is is my friends and music lovers!!! Be kind to each other! Let's get back to the live shows and high five and hug each other and smile and have a great time!
Dr. Tardis Out!
Check out my other reviews and articles here, Dr. Tardis