Feeling
It must be a great feeling playing the music you love with people you love for 40 years, but that exactly what the guys of Mindless Sinner have done. Apart from a personnel change way back in 1982 it has been the same line-up, which must be applauded and appreciated.
In fact, they've had more name changes than line-up changes. They formed as Purple Haze in 1981, became Genocide for a year and prior to their 1983 debut release Master of Evil finally came to be Mindless Sinner. They did, however, drop the Sinner until they reformed in 2001 after a 10-year hiatus.
These Swedish purveyors of traditional metal consist of Christer Göransson on vocals, Magnus Danneblad on lead guitar, Jerker Edman also on lead guitar, Christer Carlson on bass and Tommy Viktorsson on drums. 
Poltergeist
Poltergeist is the band's fourth full-length studio effort, along with a recent live album and a debut EP. It is hardly what you could call a prolific career but there were two breaks of around 10 years each, accounting for a large chunk of their career.
Mindless Sinner waste no time in hitting their straps on the self-titled opener. A 40-second intro of atmospherics is blown away by galloping riffs and gang vocals. Twin leads, which are always welcome, feature heavily too. This track, as with all of the album, harks back to the New Wave of Heavy Metal which is also welcome.
Mayhem
It would not be a traditional metal album if it did not have a fist-pumping ode to this great genre. This is where "Heavy Metal Mayhem" comes in. Tub-thumping riffs are this song's signature and work beautifully.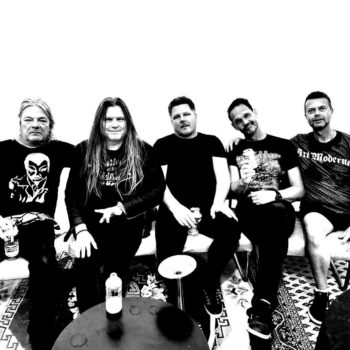 The pace is reduced on "Valkyrie" but that is replaced with intent and intensity, which are also in attendance for "World of Madness". This track is particularly heavy and driven superbly by Viktorsson's drums. 
Rewind
The slower but heavy feel continues on "The Road to Nowhere" which gives a nod to Dio, with the way Göransson's vocals are styled.
There's a bit more pace to "Rewind the Future" and Göransson is on top form. It's power from every department and is a real headbanger. The two solos are quality, too.
"The Rise and the Fall" trots along at a fair lick but the star of this track is the solo, which is exquisite.
Solos
Whilst on the subject of a good solo, "Hammer of Thor" is saved by one as despite the lyrical content the track doesn't quite get going.
Chugging riffs welcome us into "Alter of the King" but after that, it's quite a melodious affair. It's also another nod to Dio.
Finishing off is "Roll the Dice" which covers all bases, with strong lyrics and vocals, romping rhythm section and more great guitar work.
True metal
Mindless Sinner have everything a true metalhead desires. It's heavy as hell, has power and pace, and the guitar work, both riffing and soloing, is top-notch. As for influences, there are hints of Maiden, Priest, and Helloween, alongside the aforementioned Dio. This is true metal as far as I'm concerned.
Poltergeist is out now on Pure Steel Records.
BUY: AMAZON.com / AMAZON.ca / AMAZON.co.uk
Sparky
[embedyt] https://www.youtube.com/watch?v=pd5Xlk7vL3U[/embedyt]