The Stryper frontman is back again with yet another solo release. The Christian/Rock/Metal singer is nothing but busy these days. While fronting his iconic yellow and black flagship band Stryper that reformed in the mid-2000s, Michael has been churning out album after album. Whether it be with Stryper, or his side project Sweet & Lynch, featuring George Lynch (Dokken & Lynch Mob) or just solo albums, Michael Sweet has never wavered in his commitment to music.
Charging full bore into his ninth solo effort since 1994, Ten literally gathers some of the who's who together to punish his fans' sense of hearing. Featuring members of bands like Arch Enemy, Firewind, Whitesnake, Fozzy, and L.A. Guns just to name a few. Combine these artists with Michael's pipes and you are virtually guaranteed a superb album of pure hard rock.
For those of you thinking that it's an album of, Jesus this and Jesus that, think again. This is an album of pure adrenaline-driven hard rock. The metal credentials of Michael go far beyond that of Gospel Hymns and Stryper.
Brought to your ears from Rat Pak Records, you get twelve songs of massive guitars and drums, and the unmistakable voice of Michael Sweet.
Volume set at Ten
Opening the album is "Better Part of Me". Featuring Jeff Loomis of Arch Enemy, you are immediately given a blistering guitar and pounding drums, and THEN comes a classic Michael Sweet bellow. Once Sweet starts singing you can tell what kind of album Ten is going to be. The screeching of the guitars and the speed of which the drums are being punished sets a tone that cannot be mistaken. A blistering guitar solo just after the midpoint makes your hands ache in sympathy just listening.
"Lay It Down" falls neatly into track two and continues the assault on the drums. The guitar comes chugging in. A guitar sound from Marzi Montazeri (Exhorder) flows great with Sweet's vocals. With an almost growl-like vocal from Michael, this song doesn't have any finger blistering at the start, but a sound that fits perfectly after the opener. The solo, however, does have a quality to all its own.
Continuing into the album, you have the title track, "Ten". With an instrumental start, and Rich Ward (Fozzy, Stuck Mojo) slamming on the guitar strings you hear Sweet declare he is "giving you Ten". A simple but true mission statement, not for just this album, but all his efforts as of late.
Continuing To Shine
"Shine" was the first single from the album. With a guitar riff that literally hooks you from the start, and in my opinion the most "Stryper-esque" sound on the whole album. This one has rock guitarist Ethan Brosh (Burning Heat) playing aside Sweet. With some great gang vocals and a chorus that anyone can sing along to, it is clear to see why it was the lead-off single.
One track that has (to me anyway) the most distinct sound is "Never Alone". A raw guitar sound, and Sweet singing lines between guitar chugs, and a punchy bridge will have you banging along. This one is completely different from anything I can think of that has been done before from Michael. Saying that, it is one that I find myself really enjoying. During the guitar solo, you might recognize the sounds of one Joel Hoekstra (Whitesnake). After hearing this song, I would actually love to hear a project like Sweet & Lynch, but with Hoekstra instead.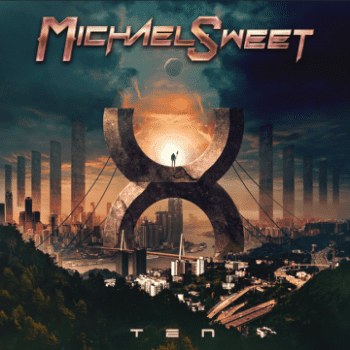 Speaking of Hoekstra, we are treated to two songs featuring the duo of him and Sweet. Next on the album is "When Love Is Hated". Again, a gem among gems here. With a gang vocal chorus, and the perfect blend of the guitars and percussions you cannot ask for better. Joel gives us another fantastic solo and leaves you wanting more coming to the end of the song.
Psycho Thoughts
Ten is an album, chocked full of guests, great solos, and some great writing. A good song with instrumentation can be good, but you need a great writer, and great vocals to accompany it. The production is clear and crisp, and nothing is buried or muffled anywhere. So, go out there, support the artist, and get this album. It's worth every cent, and second you devote to it. I am really looking forward to Michael's next release because the man is on fire lately. With each release, whether it be Stryper, solo, or a side project, Sweet is like a fine wine, he just keeps getting better!
Rock On!
Buy AMAZON.CA / AMAZON.COM
Furthermore, check out all my reviews: Trevor's Archives
Trevor "Psychoone" McDougall
Email Me at: Trevor "Psychoone" McD
Tracks:
Better Part Of Me (featuring Jeff Loomis of Arch Enemy)
Lay It Down (featuring Marzi Montazeri)
Forget, Forgive (featuring Howie Simon)
Now Or Never (featuring Gus G of Firewind)
Ten (featuring Rich Ward of Fozzy)
Shine (featuring Ethan Brosh)
Let It Be Love
Never Alone (featuring Joel Hoekstra of Whitesnake)
When Love Is Hated (featuring Joel Hoekstra of Whitesnake)
Ricochet (featuring Tracii Guns of L.A. Guns)
With You Till The End (featuring Mike Kerr and Ian Raposa from FIRSTBOURNE) – Bonus Track
Son Of Man (featuring Todd La Torre of QUEENSRŸCHE and Andy James) – Bonus Track
[embedyt] https://www.youtube.com/watch?v=4t0P3vUGtOc[/embedyt]
[embedyt] https://www.youtube.com/watch?v=pK8QKywFKSk[/embedyt]
[embedyt] https://www.youtube.com/watch?v=ndz9VEMuFnY[/embedyt]