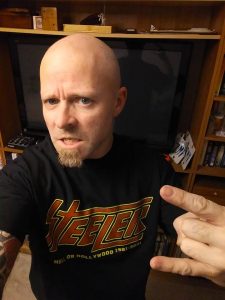 Hello, I'm Rich "The Meister" Dillon! I am 50% of the CGCM Podcast and website…well, let's be honest, maybe 35%! I drink alot…lol. The CGCM Podcast was born in April 2017 with my co-host and metalhead brother, Wallygator Norton, with whom I share the birthdate of April 10th.
In the early days of The Meister, when I received my first radio, I listened to the local country station for weeks straight. Well, we lived in the country and only got a couple stations. Aside from that, it was my parent's Village People and ABBA 8-tracks for my soundtrack. I began checking "Pop Music" cassettes out of the local library, discovering things like Men At Work, The Police and Alan Parsons Project. I began to randomly "try" selections found in that card catalog. One of the first harder rock albums I found was UFO – Mechanix, attracted by the basic cover art. Moving to a larger town and school shortly after that at the age of 12, I became exposed to bands such as Twisted Sister, Europe, and KISS. From then on it was a headlong rush into the hard rock/heavy metal world.
I did my level-headed best to maintain my passions throughout the '90s. Local rock radio station 97.7HTZ FM and the Canadian MTV, MuchMusic's Power Hour/Power 30 broadcasts. But as the Grunge era became more popular, I became less in tune with music. My friends no longer cared about much of the music I loved. And I sure as Hell didn't care about Nirvana et al. I basically dwindled away from listening to music.
Recent Years
Unsure of what exactly the trigger was, but I again began to become interested in music. Maybe around 2008 or so. I began collecting CDs to replace the thousands of cassettes in my library and enjoyed listening once again to bands like Krokus, Helix, and Iron Maiden. I discovered that the internet had a use aside from searching porn and recall in 2012 finding that Keel had issued a new album two years previous. Gravitating over to the Keel website I spied an ad for The Monsters of Rock Cruise. Opening the link, I knew that I had to be on board this ship more than anything in life. And so began my rock traveling addiction that has seen me in places such as Sweden, UK, Germany, France, Switzerland, Japan and many more.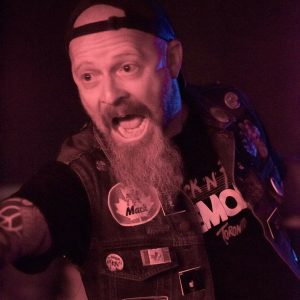 On a chance meeting of a gentleman at a Helix concert in Toronto in 2012, Wally and I hit it off almost immediately. Soon he had me conscripted into writing blog articles and reviews for Decibel Geek, which he had recently joined himself. Before long we were seeing beautiful concerts and writing about them. Discovering new bands and talking rock frequently. We even found ourselves guest hosting the Decibel Geek Podcast on American Thanksgiving. Life was so awesome…like I was born again. I missed my music so much!
From there we created our own train wreck of a show called CGCM (Canadian Geeks Chatting Metal). We hope you enjoy our show as much as we enjoy creating it. Most of all we hope you discover some new and exciting bands to add to your own musical library! The CGCM Podcast is sponsored by The Farm Rehearsal Studios/Farm Rock Build-A-Band Program in Markham, Ontario and Cloven Hoof Rum in Brighton and Hove, UK.
Check out some of our audio podcast episodes and rate us on Podchaser!
Cheers,
The Meister
Find more of my album reviews here: Meister Music
CGCM Podcast / Meister on Facebook / Meister on Instagram / Meister on Twitter / Meister's Email