THE MAYORS FESTIVAL KK'S STEEL MILL, WOLVERHAMPTON UK
8TH APRIL 2023
A sunny Bank Holiday Weekend in the UK and what do we do? Yeah, let's go to Wolverhampton to KK's Mill and join in with the fun and fundraising at the Mayor's Festival.  It's a three-day music event featuring events at the Giffard (legendary Rock Pub) and on Saturday at KK's and this is the one I'm travelling to.  It's less than an hour away.  I always smile when I pass the Police car that's always parked up on the central reservation.  This was a car that was driven across Europe for charity raising money for emergency kits to aid Stab victims or open wounds.  Apparently, it's for sale, it won't be the same travelling to Wolverhampton when it's gone.
I arrive at KK's just as the first band are about to hit the stage. The band is Soul Revival.
*A full gallery with more captures from all of the bands is also linked at the bottom of the blog*
SOUL REVIVAL
Jeff James (Guitar), Ste Nunn (Vocals), Ste Higgins (Bass), Karl Selickis (Drums)
Sound like these guys are quite local, nothing wrong with that, of course, this area is renowned for classic rock bands. Soul Revival is a four-piece that opens up the show wonderfully. They are aptly named, vocalist Ste Nunn has a soulful vocal that blends with the heavy sound of the rhythm section. They plough through their set, in front of a decent crowd of the early birds.  It's 1:30 in the afternoon but they take no prisoners.  I didn't get to see the setlist so the songs, like the band, were totally unfamiliar to me, even so, they were impressive. The singer Ste, laments his fitness, suggesting he was feeling out of shape, he didn't look it!  They have no records out yet but this one is available on Spotify, meanwhile, Karl strips off his shirt "Breakin' Free".  It has a clean bluesy opening moving to a bit of quick fingering on the guitar showcasing Jeff's obvious talent, and we're away.  "Only the Start" is also available on YouTube to give you an idea about Soul Revival.  These guys are fairly new on the scene, doing a few gigs here and there, on this showing it won't be too long before they are a more familiar name on the circuit.  Cool sounding band and a wonderful start to the day.
WAKING THE ANGELS
Greg Dean (Guitar), Mike Deeley (Vocals), Paul Bateman (Bass), Greg Ison (Drums)
Another new band for me, although I immediately recognize Greg Dean from Iconic Eye, as the guitarist in this band. This four-piece, again a Midlands-based outfit kicks out a good solid hard rock sound, the sound of hardworking musicians honing their craft.  A few minor technical problems failed to put them to sleep, Waking the Angels are on a mission.  They hit the stage with "Can You See Me Now", "Prisoner" and another cracking tune "Stand Back from the Redline". It may just be me, but I'm getting a bit of a Rush vibe about elements of the band, although the vocal isn't as acute as Geddy.  Without a history of the band and doin' a bit of internet trawling I didn't manage to find enough song information so my apologies if this isn't totally accurate song title-wise. Greg Ison sounds really impressive on the drums during "Throwing Stones" and "Gypsy Queen". They do a really cool cover of "You Know My Name" Chris Cornell too, it's on youtube but they didn't play it tonight.
The show ends with the song "Waking The Angels" just after Mike helped the crowd to celebrate Easter by launching several Easter Eggs into the crowd. A whole new meaning to Chucky Eggs, one particularly large egg made it to the back of the arena into the seated area. Very impressive, both the throwing ability and the sound of Waking the Angels.
FALSE HEARTS
Steve Balkwill (Guitar), Emma Hodgson (Vocals & Guitar), Tom (Bass), Adrian Bowes (Drums)
I saw this band at a Dementia Aware fest at Billesley a while back, I remember enjoying them back then.  Built on a solid plundering and heavy bass and drums, this band produces a blend of hard rock and accessible songs. What's even more impressive tonight is the Bass player Tom is a stand-in.
The show opens with "See Me Now", "Take Control" and lifted from the Remedy EP, "Misery Loves Company". Emma's vocals sounding angsty and passionate throughout. I like this band so much, I bought the CDs available. This is the kind of music; you just can't help but move to. The show continues with "Dream On" and (I had it down as "Scream Fire") "Addicted to Pain". "Addicted to Pain" is my favourite track in the set tonight, moody and a little edgy lyrically.  Talking of edgy, things take a turn for the heavier with the funky, aggressive, and feisty "Cynical Love".  We even get a brand new tune tonight in the shape of "Shivers Burn" with a drum beat to march a band too, False Hearts have me marching to the merch stall as they finish with "Remedy".  All the way from Cambridge, False Hearts are showing us how to see them now as they take control of their musical journey.
WHITE RAVEN DOWN
Steve Bailey (Guitar & Vocals), Luke Chappel (Bass), Tom Mrazek (Drums)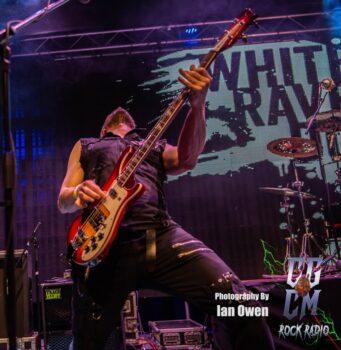 White Raven Down is a name I have seen around a lot but never had the pleasure before.  Tonight, they appear to an expectant crowd. The stage bathed in darkness apart from their black and white logo across the back of the stage here at KK's, with the drum riser silhouetted against the backdrop. It looks kinda cool. The darkness continues as figures appear in the darkness like shadows on the backdrop.  I must admit, I'm rather expectant too, hoping to like this band.
Stage lights on and "Mind Reader" opens up the show. White Raven Down surprise me, I didn't think they'd sound like this a combination of melody, aggression and energy. This sound is pretty full for a three-piece. "Price You Pay" is second up and the tempo remains pretty strong. According to my notes a song called "Looking for the Dawn of Another Day" was next, although it doesn't appear on their list so I probably got that wrong. In fact, I was wrong, because obviously, to those that know the band the track is called "Salvation".
As I re-visit their set list and playback the tunes on Setlist.fm I realize, I should have bought the album Don't Shoot the Messenger, anyway "Demons at your Door" is up next, slowing proceedings down a little. Steve Bailey singles out the presence of his wife in the audience and requests a round of applause from the crowd to show how much he appreciates her sticking with him and then pledging his love.
"Take Me", "Roll the Dice" and "Lost Your Hold" finish the show and showcase the band to perfection. This band writes great rock tunes that are difficult to pinpoint, apart from the fact that they are intelligent, talented and vibrant songwriters.  I hear so many influences here but let's be certain, White Raven Down appear, to me at least, to be upwardly mobile unlike the Raven in their name, this bird is taking flight.
I realized later that I did actually purchase their current album Don't Shoot the Messenger and I'm really happy that I did!!!
HOWLING TIDES
Rob Baynes (Guitar & Vocals), Hayden Kirk (Guitar Backing Vocals), Adam Brewell (Bass & Backing Vocals), Steven Herbert (Drums)
I feel like I'm watching this band grow up, even now they only look like they've just come out of their teens. I have seen the band a few times over recent years and they never really disappoint. This evening is no different, Rob has a fantastic vocal sound filled with soul and a great classic rock vibe.
"Blue Moon" opens the set, cool, controlled and funky this blue moon is lighting the way. "Thalia" follows on and then the rocky bouncy "Angels & Fools".  Howling Tides sound like they are coming in to flood the town with good heavy rock n roll. They sound great tonight.  To be fair the sound in KKs today has been pretty spot-on throughout, so hats off to the sound team at KKs. "12/8", "Elephants Graveyard" and a new song "Idle Hands" which goes down really well.  "Idle Hands" starts off sounding like the band have spent time locked up listening to Quo and Motorhead (which is no bad thing). Rob's vocal sounding almost rap-like at the start, but in a good way, it also features a really funky bass sound.  To be honest!!! Adam is a funky bass player sounding great and looking totally cool.  Next up is "Cut your Losses". Rob chats to the crowd beforehand, talking about the cool video for "Cut your Losses". "How many of you guys have seen it?"  Ahh, 3 people in the whole audience, hopefully, a few more will check it out.
Next up, "He Told Me" and we all sing along with the line "Your days are numbered" much to the bands satisfaction.  They finish off the show in fine style with "Crack My Soul" another excellent show.
The time is moving on now and we are getting to the business end of the evening.  One of my absolute favourite live bands up next along with tonight's headliners I love the sound, the vibe and the style that is Gorilla Riot.
GORILLA RIOT
Arjun Bhishma (Guitar & Lead Vocals), Charly T (Guitar Vocals), Deggy (Bass), Will Lewis (Drums)
Here we go with a totally unbiased or sycophantic view of this awesome band. I think I've already said this band are one of my current favourites of the crop of amazing bands coming out of the UK at the moment.  Hailing from the Manchester area, they have a full identity and an unmistakable sound. Arjun just exudes coolness even when he's being a bit cheeky and has a wry smile on his face.
Opening with "Kersoscene Clown", the line comes out "one-shot down my ear to the ground" and we're away getting our groove on. They just know how to move ya. They got rhythm, they got soul, they got rock n roll, such a cool band.  Next up and it's another cracker "I'm Still Doin' Time". It's actually called "Still Doin' Time", but it's such a catchy tune.  The problem when you really like a band it seems to go too quickly, as they plough their way through their catalogue with "Most Wanted" and "Molotov Sister". Someone in the audience keeps shouting for "Bad Son" and Arjun just tells them it will be played later in the set with the "hits".  "Over You" is next up with the catchy line "Who's afraid of who? I ain't afraid of no fool, honey you're so cool, it's been a long time coming but baby I'm over you."  They always sound amazing, tonight these guys are red hot, loving every minute of it….  Here in the midlands "Hungry Like the Wolf" has never sounded better, mainly because it ain't THAT song, this is Gorilla Riot and it's a slow building bouncy, bluesy, rock 'n' roll number, done like only they can. The tone of the guitar, the vocals, the lead breaks flowing nicely over the rhythm section, music to have a chill party to, kick back have a few beers and soak up the tunes. "Blush" follows, then the fantastic and anthemic "Bad Son" closing the set with "Dirty".  I don't deny, love these guys.
TONY WRIGHT (ACOUSTIC)
Tony Wright (Vocals & Guitar), Milly Evans (Backing Vocals & Guitar)
Tony Wright, known throughout the industry as Terrorvision/Laika Dog frontman of both versatility and perseverance.  Tony is a fantastic raconteur, and the show is littered with stories around the songs. Opening with "Rock a Boogie" a song that tells the story so far.
"Got up this morning and put on my Rolex," was the introduction to the track "Blues". Tony then informs us about the use of "Friends and Family" in the infants' schools of Bradford and South Yorkshire to help the kids to learn about language. For those that don't know it's the "party over here" song which goes down a storm as usual. The show is littered with songs from the excellent Anti-Album. "Buried You Deeper" is next and the tracks I'm hearing help me buy the CD (it's a cracker). We get "Alice" and later another track from the Anti-Album, "Cannonball". Probably my favourite track (although "Dreaming I'm in Love" is poignant, and my actual favourite but not featured here tonight). "Opposites Attract" and "Perseverance" follow, and I pop off to purchase the Acoustic Tour t-shirt, Tony sells this best, in his own storytelling, but it had to be done.  Yeah, it slowed the show down, but Tony's comedic presentation and excellent songwriting put smiles on the faces of the crowd and prepared the party for the final act.
THESE WICKED RIVERS
John Hartwell (Lead Vocals and Rhythm Guitar), Arran Day (Lead Guitar and Backing Vocals), Jon Hallam (Bass), Dan Southall (Drums), Rich Wilson (Keyboards, Acoustic Guitar, Harmonica & Backing Vocals)
Make no bones about it, These Wicked Rivers flow through my head like Niagara Falls, another band I love, big style. They play great songs, well written, filled with energy, rock n roll, and a touch of the hippy thing going on.  I love the opener from the Eden album "Shine On" and "Evergreen" are both fantastic tunes that get the rivers flowing like rapids, like a force of nature.  Their new track "Force of Nature" sounds excellent and describes the way I see this Derby-based outfit. "When the War is Won" (an older track) continues the vibe of classic bluesy trippy guitars, so many layers of sonic yumminess.  Everything about this band appeals to my senses.  Another new song from their forthcoming album, hopefully, released later this year, "Black Gold". "Black Gold", a cool bouncy up-tempo rock n roll number.
The crowd are lapping up the show tonight, the guys are playing up to it with "This Train" and the awesome "Lonely Road" showing the maturity of their songwriting. Next up is "Family" and tonight we feel like part of These Wicked Rivers family.  Back to Eden, a song about the end of the world, "World in Chains".  One of my absolute favourites from Eden, "Floyd Don't Come Around Here" blasts out,  heads are bouncing the crowd are singing, this is so cool.
We come to the last couple of songs and "Testify" bounces in, a fantastic catchy tune "I'm telling you she tastes like sugar when I drink her Holy water".
"Don't Pray for Me" finishes off this marvellous event, ticker-tape fills the air and the party atmosphere comes to a close.
Roadie's Final Thoughts
Pete K Malley did a wonderful job of presenting most of the bands with his own, majestic, original and comedic style, treating us with insights into his royal connections. There were several really cool acoustic shows (between the main stage bands) in the entrance/merch, bar area that gave this event a fast-moving and controlled event.
A cracking venue full of smiles and a charity event well organized, managed, presented and a successful KKs event achieved.  Well done to the organizers, the team, the staff, the stage management, incredible sound and all the volunteers, and musicians that played this fantastic event.  This really should have been fuller with this line-up but the crowd were excellent and supportive of the auction too.  Special thanks to Lisa Billingham for allowing the access and fellow photographers for being friendly and fun.