Introduction:
Before their impressive headline performance on the Friday night of Call Of The Wild Festival two of the Massive Wagons gave up some of their day to chat with me on behalf of CGCM. Both Baz and Adam (singer and lead guitarist) were very kind and chatted about all sorts including the band's history, their love of Quo as well as Rush (yes really, stay with me here folks) along with the secret of staying together as a band (which won't be a secret by the end of the interview).
The Interview Starts:
CGCM: A huge thank you for taking time to chat with us today on what is no doubt a special day for you all. Headlining Call Of The Wild, how did that feel when you were asked? It must have been a great feeling.
Baz: Absolutely. Yeah. I mean when you look at these bills, we have played with a lot of these bands, to be headlining up these bands tonight is amazing. It's an honour. I mean the lineup is absolute killer all weekend. Can't wait for it tonight. We've known Raz for a long time (festival organizer), done the whole grassroots things with him. You know we played Rockmantic festival back 2012/13. We opened up the festival in Carlisle and over the years he has had us back and now he has asked us to headline here which is amazing, it's great. 
CGCM: Can I ask just for folks who read our site who may not know too much about you what are the origins or history of Massive Wagons?
Adam: We formed roughly around 2010, that's when we started to write original material. Baz and I had been playing in a covers band, playing more pop or indie music, but we were both more into classic or hard rock, heavier kinds of music. We decided to start a new project writing the kind of stuff we listened to. We saw bands like Airbourne and Black Stone Cherry and thought "we'll have some of that" (laughs). I then got my brother to join on drums and an old schoolmate on bass, found another guitarist and we just kind of cracked on. It's been a slow steady incline for us over the years and now we are fortunate to be in the position to be doing this at a decent sort of level. It's been a bit of a slog at times, but we've grown a really good fan base or support. Good foundations from the early days. We keep putting albums out, going on tours and each time we sell more albums and tickets which is great. 
CGCM: You have a reputation for an energetic stage show
Baz: it's just nervous energy that (both laugh)
Adam: (pointing at Baz) He jumps around like that, so we have to as well to avoid the mike stand getting us in the face or even elsewhere (laughing) (Baz reacts with "We don't get on you see" whilst Adam and I laugh)
CGCM: Take it you can't get health insurance with Baz onstage?
Adam: (laughing away) No, the premiums were far too high!
A Guide To Big/Arena Stages:
CGCM: You have done some amazing support slots recently. What was doing the arenas with Skynyrd like for you?
Baz: Yeah, that was amazing. To be asked to play in arenas with them was something else. It was just 4 dates. The bizarre thing is being on first we only had half an hour, and by the time we got to the fourth song, we were just getting warmed up. You know thinking we had the set tightened up, feeling good, and suddenly it was over. The other odd thing was playing to a seated audience as those gigs were all seated. It was still great to get to play those places and stages along with that sound!
Adam: It was worth it as we learned so much, a lot of lessons were learned. Those sorts of places seem less intimidating now. It is really a case of doing the same thing but building your set accordingly. For instance, slower songs, not that we have many, don't work so well, they don't translate into arenas. Same with some of the shorter punkier songs. It is an acoustic thing, having to learn what works. We found songs that normally kill it in clubs were a bit flat at times. It was too much with some of them.  
Baz: They are a strange atmosphere arenas. Just so massive. From a singer's viewpoint, you have to try and sing to people in the back area, you really have to look up. You don't really look at anyone specifically like you normally would in a smaller place. You sing to the people in the middle to back seats. You have to make yourself look big, you know take up the stage, all of it from left to right, wave your arms around and look bigger than you are. Look like you actually own the stage, if you didn't you would look lost on there.
Back To The Stack, A Look At Quo:
CGCM: I take it like me you grew up as fans of Status Quo what with your tribute to the late great Rick Parfitt?
Baz: Yeah, absolutely, love Status Quo, although the track was about their music but perhaps even more about them as people, the way you could identify with the guys themselves. I hadn't met them by that point, I have now, but to me they seemed just like, US, if you like. Years into a career and they seemed like regular blokes, they could take the mickey out of themselves, you know they had a sense of humour. When you see interviews… (He pauses to get his words together) … I saw an interview of Rick along with Brian May of Queen, and May had all the glamour, he looked like a rock star and Rick sat next to him, all scruffy hair and jeans with a pint of beer. That's what I so admired, they didn't look like they had changed one bit over the years. Just amazing. When he died sadly we had had the album out for a while and we had started writing new songs. Adam came in with that riff, he'd come up with it when Rick died, kind of inspired by him. He was like "what do you think of this? I've been listening to a bit of Quo". I was like "Yeah, let's do it, let's do a song for Rick"
Adam: We also felt that a few other high-profile deaths had happened around the same time and he seemed rather unfairly to have gone under the radar a bit and we felt, it was kind of the point to acknowledge him in our own way. Obviously, Rossi is kind of the face of Quo, and he is still there, the band just continued so maybe it meant his death didn't get the attention it should have. It is just our little tribute to him.
Baz: We just made sure people recognized and remembered him you know.
CGCM: I grew up with them, loved them, especially the 70s output. Was lucky enough to see them at the Apollo with the bouncy balcony. They held the record. The thing moved 9 and three-quarter inches up and down with folks bouncing on it! (24 centimetres for metric folks). I still think the live Quo album from '76 is the best ever live album. It really caught the atmosphere and band. I think the high ceiling helped in recording the crowd so well.
Rush! Yes This Conversation Wasn't Started By Me😀:
Adam: I've got a bootleg of Rush from "A Farewell To Kings" tour playing there. It is one of the best-sounding live recordings, not that it was ever released legally, but the live sound was amazing. Must have been something specific about that venue. 
CGCM: That is my favourite all-time band Rush. (Baz interjects with "Oh here we go" whilst laughing) I take it you are a fan (looking at Adam). Before he can answer Baz starts snoring sounds causing laughter and following up with "I do like them, but it's a running joke with Adam" whilst laughing)
Adam:  Oh yeah. I saw them a few times in the UK (The phone on the table recording lights goes off and Baz remarks "Even your phones gone to sleep now" to much laughter). I wasn't a big fan to begin with, I knew the obvious things like "2112" or "Spirit Of Radio" but when I went along with my dad to see them on the Snake And Arrows tour I got them, really understood them. Of course, they have a massive back catalogue to delve into so when I got home I dived in! I look at bands like that (Rush) and I look at their rich history, all the albums they have done. We are always writing, I don't want to believe there will ever be a time when there could be 2 or 3-year gaps between albums or music coming out. You can also go through phases of what you're into and that can reflect on what you write, you can hear that in a band like Rush, they weren't defined by one sound, they wrote what they wanted to. For them you were either on board or not, I love that. OK, we sound nothing like them, but that mentality or at least hopefully having that mentality should make us stand apart from our contemporaries. We write what we like. We have some slightly deeper songs, not going completely leftfield, we're not planning a jazz album (laughing). It's good not to be shackled to one thing. 
"In This Together", How To Survive As A Band:
CGCM: You are quite unusual in that in around 10 years or so you only have had one change of personnel. How do you think that is? What keeps a band like yourself so steady or solid?
Baz: Yeah, I think a lot of it comes from when we all started the band. We started as a covers band, we didn't know anything about the industry, or at least about the original music scene if you like. At that time in our local area, we didn't know anything about being an original band. We didn't even know what a promoter was (laughs). We watched a lot of bands, every week check out bands, but they were all like us, cover bands. We didn't really go to see original bands, we didn't know where that kind of happened. We really didn't know anything. We started writing some songs, me and Adam. We took them to the other guys and said that we wanted to start playing these songs. We came from that right up to where we are now, we have travelled the whole road together, we have gone through everything together, so we all kind of hold this thing we have in the same precious way, it means the same to all of us! We started from nothing and none of us want to drop it. (pauses)….
Baz: (continues)… Other bands I think are often formed by ex-members of different bands who up to that point hadn't maybe got where they wanted, some might even be a bit jaded, they don't maybe start as friends, it is more a business thing whereas we all knew each other before the band. I think we all contribute to why we are all pretty much together. We have done it together from the start, from zero knowledge whatsoever. It means so much to us all.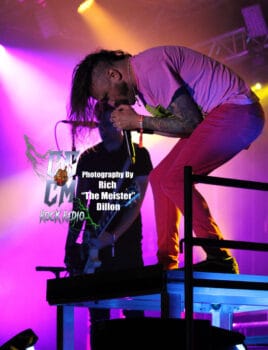 CGCM: Wow, that is amazing that you knew nothing before you started…
Baz: No, we absolutely started from scratch, from nothing. We slowly built it, every step of the way. More or less (one member change in 10 years) the same band to where we are now.
CGCM: If I may go back to your earlier comments about Quo you seem to have a similar vibe about you, you come over as regular guys who happen to play music
Baz: Absolutely, no pretension, you are getting what you see…
Adam: (taking over) To me it seems it would take a lot of effort to put on a front. We're probably just too lazy to try (both laugh)
Baz: Who wants to spend that long in front of a mirror? (laughing)
Adam: I couldn't be bothered to look like anything or anybody else…
Baz: Just be yourself, for better or worse…
And with these wise words, we had to stop as the guys were extremely busy with more interviews to do. I want to say on behalf of CGCM a huge thank you to both Adam and Baz for their time and generosity. Also thanks to Josie O'Toole from RPM management for organizing the interview and for not giving me any abuse/slagging for turning up several hours early causing confusion (it will be my "Epitaph") all around.
Massive Wagons Official Website //Official Facebook
Call Of The Wild Official Website // Official Facebook
CGCM's Full Coverage of the whole event can be found here: CALL OF THE WILD FESTIVAL 2022