Ever have one of those moments where you have been craving something for weeks, and finally, you get that one thing that settles that craving like nothing else could? Down 'n' Dirty, the third release from Mädhouse drops on July 29th on ROAR – Rock of Angels Records worldwide. It has only been about a year since this band from Austria released their second album Bad Habits on April 23rd, but the guys have been busy pushing themselves to get these 12 tracks of headbanging sleaze, melodic hooks and melodies out to the world to show what an 80's hard rock/glam vibe can sound like with a modern twist. So, let's get into it, and go a little Mäd!
Welcome to the Mädhouse
First off, if you aren't familiar with Mädhouse, go fix that issue first…I'll wait, and trust us, it is worth checking out. You're back? Good…Let me introduce you to the band. Front and center stage stands Tommy Lovelace on vocals. His gritty voice, melodic tones and lyrics can make your grandmother blush. To his left on guitars are two gentlemen (loosely using that term here!) Mikky Stixx, and Thommy Black. Both these guys bring you the blistering riffs, solos and background vocals. Also any (according to rumours) population booms to town they play! On stage right stands Rickey Dee proudly holding his bass and knowing that Mädhouse is more than a band name as he overlooks the crowd, and he is loving every moment of it.  Lastly, and not at all forgotten is the madman on the skins, Casey Jean Eiszenman. He will beat the hell out of the drums to the point of complete exhaustion just to keep those crazed fans happy.
Time to Get Down
 Kicking off the album is the title track, "Down 'n' Dirty". A no punches, in-your-face rocker that blazes a trail of what's to come. A rocking kick-off to the album with a great
chorus that one can raise a fist to the rock gods above. The air, already thick with sweat and sleaze we slip right into "Hard Luck". A killer riff and a slamming beat lead into what could easily be a single off this album, I guess time will tell since there are to be four singles before the official July release!
Rounding third is "Kiss and Tell". Loving the guitar tone here, and the swagger of this track. Slamming drums and chugging guitars bring in "Passion Killer". Something about the intro to this song just screams show opener to me. A head-banging, fist-pounding track for sure. "This Is Horrorwood" is a track that tells a story for sure, but I was loving the track's musical vibe here, I completely missed the lyrics, and just absorbed the feel of the song. This isn't to say anything bad about the lyrical content, or the vocals here, but the sound as a whole took me over.
Now it's time to get Dirty
A song title that made me laugh, (because as humans we have all been here at one point or another) is "In the Doghouse". I wonder if the lyrical content is an autobiographical tale.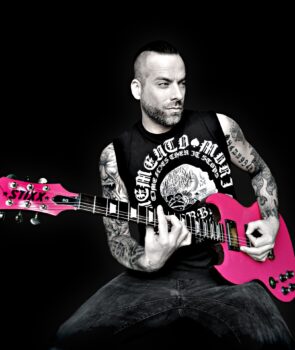 This leads into a track that actually kind of shocked me with its sound. Yes…a ballad (not something you always hear from Mädhouse), is "You and I Against the World". The calibre of this track is stunning. Melodic, heartfelt, and played amazingly. This could easily be a ballad right from the glory days of the L.A. Strip era. I admit that ballads aren't everyone's thing, but this is a terrifically sung, played, and produced track. Again, I would like to cast a prediction that this could be yet another single.
Right back into the neck-wrenching sound of Mädhouse is "Kung Fu Holidays". In typical Mädhouse fashion a driving guitar swagger with a sound that for some made me think of early Dangerous Toys in some of the riffs. ­­"Much II Much" carries with it more riffs, from the band, and some great harmonies in the vocals that go together like PB & jam!
Rounding Third to Home
 The last three tracks of Down 'n' Dirty are "Love Is Blind", "You Can't Lead a Whore" and "Antihero". The first, "Love Is Blind" kicks off with a guitar riff that instantly made me think of one of the strip era greats, RATT, and what is wrong with that right? Mädhouse might draw from their 80s influences, but they have a sound that is all their own. Second to last is "You Can't Lead A Whore". Starting with a somewhat misleading intro to the song it eventually kicks into a dual guitar attack that leaves you craving more, and more you get. This is a fantastic tune that any guitar lover will be hitting repeat on more than once. Lastly, and closing out Down 'n' Dirty is the final track, "Antihero".
If any of you have ever read any of my past reviews, you might recall how I hate albums that end on a ballad. Thank God this one doesn't but keeps the energy going to the point that I hit replay even before this song was over. That is what is needed these days on so many albums, that build of energy that keeps you wanting more as you know the end is coming. With a killer guitar solo, slamming percussions, and sleaze dripping vocals you will want more.
Psychotic Thoughts
 This is exactly what is needed for the summer of 2022! Twelve tracks of sweaty, sleaze, 80's inspired hard rock. Down 'n' Dirty was truly the shot of adrenaline that this fan needed to get his fix of great hard rock. Now, I have got it arranged to be interviewing the guys in the upcoming weeks, but even the best-laid plans fall apart to the wayside. If I had to rate this album, I would have to give it a HUGE ten full glorious stars! I might already be calling this my #1 album of 2022, and let's see if I can predict the future singles as I tried above! Until my next review…
Peace out and keep the rock alive!
Trevor "Psychoone" McDougall
Furthermore, check out all my reviews: Trevor's Archives
Email Me at Trevor "Psychoone" McD
Tracks
Down 'n' Dirty
Hard Luck
Kiss And Tell
Passion Killer
This Is Horrorwood
In The Doghouse
You And I Against The World
Kung Fu Holidays
Much II Much
Love Is Blind
You Can't Lead A Whore
Antihero
[embedyt] https://www.youtube.com/watch?v=qHzeQidVLCQ[/embedyt]
[embedyt] https://www.youtube.com/watch?v=TwjQE_f_3HA[/embedyt]
[embedyt] https://www.youtube.com/watch?v=6ybzDHSleZg[/embedyt]