LITA FORD
It's been a long time since seeing Lita Ford in rare form. She was part of the co-headline show and last night was no surprise. She and her band made their way to the stage with the classic "Balls To The Walls" by Accept playing over the PA system.
Lita was on fire she hit the stage with her touring band like a spitfire. She came out dressed in all red leather. Looking like a metal queen that just won't stop. She sounded amazing and looked amazing. Bobby Rock (drummer) has been the backbeat for her band for the past decades and is still as strong as before and not slowing down. Patrick Kennison (guitarist) rips and shreds with the best of them. Patrick also has a side band called Heaven Below with his wife and shredder Nikki Stringfield. Marten Andersson (bassist) has played with the likes of Steelheart and is amazing on bass. He replaced former bassist Marty O'Brien who left the Lita Ford camp and has joined Daughtry on tour.
She came out swinging with a barrage of classic hits. Nothing has slowed her down. She is still ripping and tearing across the United States. This tour will see her go over to Sweden for a festival performance. She will make a Sweden appearance and then continue her current US tour appearing at the M3 Rock Festival in Columbia, MD.
Setlist: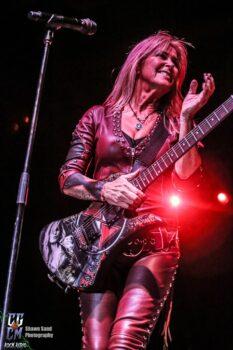 Gotta Let Go
Larger Than Life
Relentless
Hungry
Back to the Cave
Can't Catch Me
Cherry Bomb (The Runaways song)
Only Women Bleed (Alice Cooper cover)
Close My Eyes Forever
Kiss Me Deadly
WARRANT
Warrant was the co-headliner of this show in Carlton, MN and they brought the energy. Due to the Pandemic that shut the world down, I haven't been able to catch up and see Warrant until now and they left it all out on the stage.
Warrant has been a staple of the 80s and 90s rock genre and never disappointed with such classic hits. such as "Down Boys", "Heaven", "I Saw Red" and so many more.  The Warrant lineup is Robert Mason (vocals), Erik Turner (guitar), Joey Allen (guitar), Steven Sweet (drums) and Robbie Crane (bass) filling in for Jerry Dixon who has stepped aside for a bit to spend time with family. Robbie fits in very well with the band and is playing with Black Star Riders.
Robert Mason lends his legendary vocals to all the classic tracks from Warrant over the years. He was the vocalist chosen by the band and had a long-standing friendship with all members prior to the passing of Jani Lane. Robert Mason stepped up and has made these classic songs live on with his vocal prowess. Joey Allen and Erik Turner still shred the stage night after night. The band came back to the stage after an eight-week break and they are not showing signs of slowing down.
Warrant brought the classic hits to Carlton, MN and did not disappoint. They closed out the night with the classic hit "Cherry Pie".
Setlist:
So Damn Pretty (Should Be Against the Law)
Down Boys
Big Talk
You're The Only Hell Your Mama Ever Raised
Blind Faith
D.R.F.S.R.
Machine Gun
Sometimes She Cries
Joey Allen Guitar Solo
Train, Train (Blackfoot cover)
Mr. Rainmaker
I Saw Red
Thin Disguise
Louder Harder Faster
Heaven
Uncle Tom's Cabin
Cherry Pie
This is a co-headline tour I would recommend seeing. I will be catching both the acts again at the M3 Festival on May 6th,7th 2023.