Canada's Metal Queen would have to be the one and only Lee Aaron. The United States had Lorraine Lewis (Femme Fatale) or Lita Ford, and Germany had Doro Pesch (Warlock). There were never a lot of lead female singers back in the 80s and early '90s. The music scene was dominated by male frontmen.
Lee Aaron fought and craved her way into the rock scene in the early 80s. Now in the Early 2020's she is out on the road promoting her most recent release Elevate. Lee Aaron is now 60 years old and still rocking the stages across Canada and the USA.  This being the first time getting to see her perform live I was not sure what I was in for, but I can say it was an excellent performance by her and her band.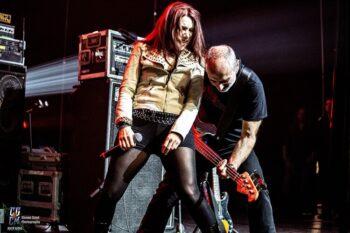 They lead the charge out of the gate with the radio-friendly single "Elevate" off her 2022 release and it warmed up the crowd nicely. She headed into the night with such classic tracks like "Hands On", "Powerline", "Nasty Boys", and "Some Girls Do". They slowed the night down with a couple acoustic tracks which allowed people to catch their breaths. And then it was back into the rock n roll classics such as "Metal Queen" and "Whatcha Do To My Body".
Lee Aaron had the crowd eating out of the palm of her hands having the crowd screaming back "Whatcha Do to My Body". The crowd was there for the classic tracks we grew up with in our youth. And Lee Aaron and her band did not disappoint. Being the first time seeing her live I can say I would see her perform anytime and anywhere… And that's a good thing cause she will be taking the stage on the Monsters Of Rock Cruise from April 29th- May 4th, 2023.
Lee Aaron Set List:
Elevate
Hands On
Powerline
Diamond Baby
Nasty Boyz
Some Girls Do
Sex With Love
Fire and Gasoline
Only Human (Acoustic)
21 (Acoustic)
Rock Bottom Revolution
Metal Queen
Whatcha Do to My Body
Nick Gilder
Nick Gilder another Canadian Icon was the Co-Headliner for this evening and again was not disappointed. Nick Gilder who is now in his early 70s could show younger bands how to do things right.
Nick Gilder/Sweeney Todd classics were played flawlessly. Nick Gilder and his band were amazing. Nick let his band members shine where they needed to. They played the classic Nick Gilder classics such as "(You Really) Rock Me", "Rated X", "Rock is Rock" and "Hot Child In The City". They also had fun playing a few cover tunes such as "Jump" (Van Halen), "Highway Star" (Deep Purple) or "The Warrior" (Scandal). It was a pleasure to see Nick Gilder and his band playing homage to other such greats of rock n roll.
The crowd was also delighted to get such Sweeney Todd classics as "Short Journey Long Distance", "The Kilt" and "Roxy Roller". The crowd was constantly on their feet clapping and singing to the classic songs sung by Mr. Gilder and his band.
Nick Gilder Set List:
(You Really) Rock Me
Long Time Coming
Rated "X"
Hot Child in the City
Rock Is Rock
Jump (Van Halen cover)
Here Comes the Night
Rock Your Soul
Short Distance Long Journey (Sweeney Todd song)
The Kilt (Sweeney Todd song)
Drum Solo
You're Everything (I Want to Do)
The Warrior (Scandal cover)
Roxy Roller (Sweeney Todd song)
Encore:
Highway Star (Deep Purple cover)
Again for never seeing Sweeney Todd/Nick Gilder perform years ago, I walked away into the night with "Roxy Roller" playing in my head and a smile on my face, being blessed to see both these Canadian Icons playing together for one night of pure classic Canadian Rock N Roll.