Birthdays. Long gone are the times I celebrated and/or was excited to celebrate. Back then you shouted from the rooftops and hoped/begged for birthday drinks incoming your way. Some time ago, I came to the realization that there's less and less to look forward to with a birthday. Your gifts go from cool Star Wars toys to socks and underwear (and you're happy about that). And finally, the gifts subside into nothingness.
Society also seems less interested in your turning a year older. Face it, here in Toronto, Canada it goes like this: age 16 you can drive. 18: vote. 19: drink. 21: drink in USA. 25: car insurance lowers. WTF is left after that? Where's the reward for making it to 30, 40 or even 50? …….and that's where I am. The bell rang 50 on April 10th and for the first time in a long while, I made a special point of celebrating! And what better way than to witness my favourite band on stage! And here we come to that celebration……
Seeing the concert announcement of a wickedly stacked super bill of 4 bands, the hamster started running in the little wheel inside my head. Classic NWOBHM band Satan touring the USA for the first time since I don't know when. Along on every date they are bringing Night Demon and Haunt. Great lineup, but the icing for me would come with local opener for the Pittsburgh date, Lady Beast. Oh, and did I mention the show was April 12th, 2023? That's close enough to the 10th for this 50-year-old geezer!
Airport Adventures
I landed in Pittsburgh around 5pm on April 11th and had enormous trouble getting out of the damn airport! Being a savvy spender, I checked out the UBER price to get me to my abode for the next two nights. $96USD! Hell no! LYFT: $57USD, still a no, but not as bad as Uber. Public transit bus: $2.75USD: SALE! So, I bought a bus ticket at the ticket vending machine and waited at the stop. And I waited. And then waited some more. It was now about half an hour past the Google-reported time of the bus' arrival and I'd been here since 10 minutes before that too. And I was not the only person lying in wait. Another 30 minutes, so now over an hour waiting for a bus that would seemingly at this point never arrive! You suck Pittsburgh transit!
I had to bite the bullet and dial up a Lyft. That alone took over 15 minutes to connect to a ride that would arrive in about 10 minutes. As the arrival time approached, said Lyft driver then could not find me! FFS, I'm standing right at the LYFT pick-up pole. Oh, look there goes the fucking bus! Argh! Close to two hours after touching down, I was finally on my way out of the airport!
Pittsburgh
I was struck by a thought as I travelled in my expensive Lyft to my hotel in the Lawrenceville section of town. Pittsburgh was quite a lovely city. With all the bridges and rivers flowing through, sidelined by the mountains (ok, large hills) and lots of green it seemed. Perhaps I should spend a little more time in this city one day. After checking in to my pleasantly surprising hotel, I went for a walk through the Lawrenceville area. Perhaps in part, my feelings were overpowered by the excitement I always get before a show. Even more so this time being Lady Beast AND my birthday! But I loved the area. Any encounters with folks in shops I entered or passed on the street were quite friendly. Everyone said "hello". This ain't like Toronto! Might as well scope out the scene of tomorrow's crime and I ended up at The Thunderbird Cafe for beer and food.
Wednesday, April 12, 2023 – Show Day
Currently being employed as an overnight shift worker back in Toronto, I had been awake watching hotel TV all damn night! Subsequently, I slept away most of the day as is my schedule and body clock. Damn! I had wanted to visit a couple of used record stores and a camera store (searching for a good price on a new/used lens). Oh well, let's get ready for the show!
I arrived at Thunderbird about 90 minutes ahead of scheduled doors opening. A beer and a steak sandwich make a perfect breakfast in my mind. Wow, high security here today for the show. The actual stage and concert area was downstairs, with the upper (street level) area of Thunderbird as a comfortable neighbourhood pub. Last night I'd entered and seated myself at the bar. Tonight there were security already at the entrance door to this regular bar section. ID checks. Bag checks (my camera bag). Then even one of those security wandings. A little different than a show in Toronto, but I actually appreciated the safety of it all!
Being the friendly kid that I am and also fuelled by the joviality I felt as show time approached, I made friends with a couple of folks at the bar. Again, the friendliness and hospitality was incredible. Upon discovering my milestone birthday, pints and shots began hitting the bar courtesy of my new friend! Cheers!
Into The Depths of Thunderbird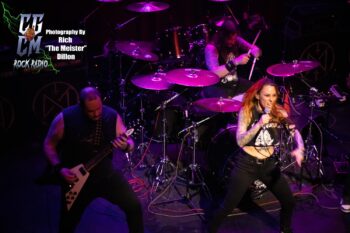 I don't know the capacity, but I quite liked the setup and intimacy of the space downstairs. The stairs led you down in sort of the middle of the area with a decent-sized stage in the corner over to the left. A good-sized bar further around to the left in the back of the room. The merch table quite near the foot of the stairs was a rather small area, but all bands had some real estate and the wares displayed. The crowd was already filling in nicely and the anticipation could be felt. Ok, well, maybe mostly my anticipation…..lol. Unfortunately, the news had come down earlier that Haunt would be unable to make this event. Something to do with tour routing I understand. Highly disappointing as having seen Haunt before on a couple of occasions I was looking forward to it. Both Haunt and Night Demon have recently issued new albums on the market. Both albums are fantastic and I'll be a bit shocked if they both don't surface in my top ten of 2023 album picks in late December!
Night Demon and Satan both are stellar bands and I'm quite the fan. I was looking forward to seeing them both, but for me, the headliner (and reason for this wordy/lengthy blog) was about to take stage!
Lady Beast
Selecting an open spot at stage front on the left-centre side near a couple of much better than I, I'm sure, photographers I was ready! Last time I saw Lady Beast, at Hell's Heroes festival in Houston, Texas, I was overcome with emotion as they rocked the stage. This happens to me from time to time. Music means so much to me and to see a favourite band filled with humans that I have a profound respect for is emotional. I have been known to shed tears during a show. Tears of happiness. Tears of overwhelming pride as a band gives their all into their musical creations here on this stage. I was determined not to do this tonight.
But then as Lady Beast set themselves up in their respective positions on stage, I was struck by that very sense of pride. I mean, I've been watching this band on stage since their second album back in like 2014. I've watched them grow on stage, grow musically. And yes I'm proud of their accomplishments. Hey, I also love the music, but FFS, how am I gonna get through seeing them on their first European stage at Headbanger's Open Air in Germany, in July? Anyway, Deborah Levine, Lady Beast frontwoman took to the mic, calling out the usual hellos and welcomes to the decent-sized crowd. Then she dedicated the set to Lady Beast's "friend all the way from Toronto, Canada who's here on his birthday, Rich Dillon". And the tears leaked out a little right there.
Vicious Breed
Lady Beast launched out their stage setting show with "Vicious Breed". It's the title song from the 2017 released album that ranks as my favourite Lady Beast effort to date. And they sounded so good. Cheers to the Thunderbird for what I felt was an awesome sound mix. But holy crap Lady Beast is clearly a band that rehearses well and often. I felt that they were so tight on stage, it was incredible. Of course, this is nothing new to me, but always awesome. What was new for me at a Lady Beast gig was photo taking. I am fairly new to photography, something I've always wanted to get into and finally took the plunge. The stage lighting had areas of brilliance, like in the centre area. Deborah was lit up fantastically, but unfortunately not so for guitarists Andy Ramage and Christopher Patrick "Twiz" Tritschler positioned at opposite ends of the lineup. They were enshrouded in darkness the entire set. Now, maybe a good photographer should still be able to capture some images under such lighting conditions. But a good photographer I am not (yet) and so most of the photo gallery below is captures of Deborah Levine!
From "Vicious Breed" it was a quick transition into "The Reaper" culled from the newest Lady Beast output, EP Omens from 2021. Having seen and snapped a quick photo of the setlist lying on stage prior to starting up, I noted that Deb's list marked the track as "Peeper"….lol.
Going For The Bait
A quick break for Deborah to address the audience led us to the next set beginning with "Go For The Bait" ("going old school Lady Beast," I believe Deb said). Also encompassed in this barrage of heavy metal found the lone Lady Beast II album representative of "We Are The Witches". I sang along, happy as hell, fist raised high. From there we were treated to the title cut from 2020's The Vulture's Amulet. My fist did not lower, my smile did not fade! This barrage as I called it earlier, was delivered fast and furious with no downtime in between. This, in my thoughts, shows the rehearsal skills of Lady Beast. There was no random time for guitar tuning or other various fiddlings that some bands do on stage. There were no breaks in the momentum, just abusing the crowd with song after song. Even Deb's talking breaks were clear and concise as she addressed folks in the crowd and created connections that were not rambling or lengthy.
Metal Immortal
"Lady Of The Battle" (comically written as "Lady Of The Cattle" on Deb's list) served as representation of the Metal Immortal EP. Incidentally Lady Beast and especially Deborah Levine present their own festival event in Pittsburgh called Metal Immortal. In fact, Deborah was also the organizer of this evening's event as well. And as Jarvis Leatherby of Night Demon would later call out, "Cheers to Deborah for the event and for everything she does to keep the music scene alive!"
"The Gift" and its incredibly positive message had me singing along, fist still high, smile starting to hurt the facial muscles, but not diminishing at all. The final song of the evening's written list was upon us with "Lady Beast" from their debut record. Uh oh, I better prepare to take a little step back if needed…..lol. You see, in the past, Deb has held the mic out to folks from the crowd to sing back the line "I am Lady Beast" during this song. Which I am happy as hell to do, I'm singing it anyway already! But the issue is: I ain't no singer man….lol. I've been called tone-deaf even by an ex-girlfriend and the audience here doesn't need to be subjected to that….lol.
But Wait,…….There's More…..
Perhaps with Haunt not being able to make this gig of the tour and even with the slightly later start time, Lady Beast squeezed in one more. No problems or complaints here! They wrapped up another wicked set with "The Poisoned Path" off the latest EP Omens. My short but quick arm snaked around the stage monitor to procure Deb's setlist at the completion of the song. My elation, perhaps enhanced by that tequila shot earlier (thanks new friend) was riding high. What a fantastic gig from my favourite band. What a great way to spend my 50th birthday, worth every damn cent it cost and hell, I'm not even rancid at the Pittsburgh transit system any longer….lol.
I might be biased being such a fan and now friends with the band members. But remember, all this started as I was a fan of the music and grew from there. Everyone has their favourites and music touches so many of us in so many different ways. Whether we agree on bands or have different likes, my hats off to any band getting up there and performing and creating music. I for one couldn't get through life without you!
Night Demon and Satan also delivered fantastic performances this evening and I was so happy to see them as well. But for me tonight, it was Lady Beast as my driving force for attending, for my personal birthday gift to me. If you read this far into my novel, you're a champ and thank you! I'll shut up now.
Cheers,
The Meister
Find Meister Music Radio Shows here: Meister Music Radio Show Mixcloud
And my album reviews/blogs etc here: Meister Music
Meister on Facebook / Meister on Instagram / Meister on Twitter / Meister's Email