I love the sound of tinnitus in the morning! With my ears still ringing, I decided to put pen to paper and recap some highlights from Indie Night In Canada 2023!
Indie Night In Canada celebrated its 15th year at Toronto's legendary El Mocambo. 18 Indie bands on 2 stages and CGCM Rock Radio was there as a proud media partner.
Before I get too far down the line here, I want to give thanks to Paul, Kristen and the amazing team at TNLEC for inviting us to be a part of this incredible night. When he first contacted CGCM Rock Radio to inquire if we might be interested in participating, I think my response was "Hell Yeah!". CGCM Rock Radio is all about discovering new bands and new music for our listeners. It's one of the main reasons we started our station. We all love AC/DC, Black Sabbath and Led Zeppelin but they are not the future of music. The 18 bands that hit the stage Tuesday night at the El Mocambo are!
The Show!
As you can imagine, 18 bands playing 30-minute sets on two stages sounds like a logistical nightmare waiting to happen. This is not the first rodeo for Paul and his team. The night went off like a well-oiled rock and roll machine. CGCM had a  blast witnessing some incredible performances from some of the best indie bands Canada has to offer.
Early during the show, I was like a pinball racing upstairs and downstairs trying to take it all in. I soon realized that I wasn't catching enough of any one band to truly appreciate the music. So I settled down and gave my full attention to the Starlight Stage as this was my responsibility as emcee.
The talent and diversity on both stages was absolutely outstanding. The future of rock is in great hands if people will just open up their minds and give these amazing bands a chance. Thanks to every musician that rocked the El Mocambo on Tuesday night. We are proud to have you all as part of the CGCM Rock Radio library and we look forward to hearing more music from you in the years to come.
Show Highlights
Disclaimer – remember folks, art is completely subjective but I wanted to share a few of my personal highlights from the Starlight stage at Indie Night In Canada 2023.
Back Alley Gospel
Keep your ears and eyes peeled for this band's debut EP titled Hold Up You Head. This Toronto based 5 piece hit the stage like a cannon with their high energy, fun melodic rock. If The Replacements procreated with Fall Out Boy it might sound a little like Back Alley Gospel. Catchy, sing-along rock. Take my money please! While you wait for the EP, you can purchase a couple of singles (I did!) including "Hello Heartbreak" which is now proudly on my summer playlist.
Cudbear
If you see Cudbear is in your town, do yourself a favour and DO NOT MISS them. From Barrie, ON, this trio had everyone talking about their high energy and death-defying set. High-energy alternative rock, super interesting tempo changes and a show as visually interesting as the songs. When vocalist Bennett Jones exclaimed that "this is the part of the show we usually do something stupid", I watched as both him and bassist Adam Pox jumped off the stage while mid-song and crumpled onto the floor below hardly missing a note. My 53-year-old body winced in pain but the show continued and some blood was spilled. Badass Rock n Fucking Roll!
The Sunset Drip
I have been saying for the last few weeks on my radio show how much I love this band's name. This Montreal-based three-piece won me over before I had even gotten off the stage. High energy, psychedelic bluesy rock perfection in bellbottoms and shades. If you dig Dirty Honey and like your rock n roll soaked in Jack Daniels and sunshine then be sure to check out The Sunset Drip. Get off your butt and go purchase (I just did!) their 2021 Bad Driver EP.
Scarlet Sins
As a card-carrying metalhead, I was super excited to check out Scarlet Sins. Formed in Toronto back in 2004, this band has a history. They have opened for the likes of Anvil, Buckcherry, April Wine and Motley Crue and their 2008 self-titled debut album appeared 4 times on the shortlist for the 51st Grammy Awards. They disbanded in 2009 but are back with some new members and have new music set to be released this year. In the words of one Rob Halford, Scarlet Sins "delivered the goods". Thirty minutes of metal madness that had me grinning ear to ear. Check out the track "Drown" for all you need to know. This band SLAYED!
Indie music is the future of rock and CGCM Rock Radio is honoured to share this music with our listeners. Once again thanks to Paul and Kristen and the team at Indie Night In Canada for inviting us along. It was a great ride! Support these bands and buy their music! Buy their merch! Buy tickets to see them live and keep listening to CGCM Radio…It's What Rock Radio Should Be!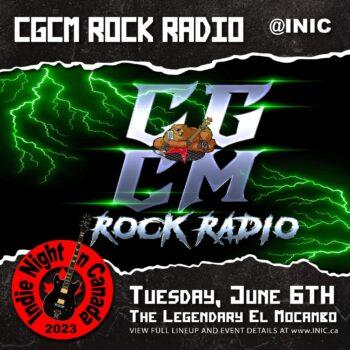 Check out my other reviews/articles here. Wallygator.