Return
UK melodic rockers Iconic Eye return to the scene with an all too brief but spectacular EP.
Entitled Back From Behind the Sun it is the perfect snapshot of what this band is about.
Iconic Eye formed in 2014 and released their debut, Hidden in Plain Sight a year later.
Whilst it was a decent record it was felt by the band that a move to a female vocalist would lift their songwriting to a new level.
How right they proved to be. With Jane Gillard belting out the tunes backed by founder and guitarist/keyboardist Greg Dean, lead guitarist Robin Mitchard, bassist Gary Slater and drummer Paul Emery, sophomore effort Into the Light looked to propel the band into the big time. 
New line-up
But as we know the music biz is never predictable. Iconic Eye has an all new line-up which recorded the Back From Behind the Sun EP. Joining Greg Dean are Neil Hackett on lead guitar, Michael Dagnall on bass and John Cooksey on drums. The diamond here, though, is new lead vocalist Janey Smith. To say her vocals are stunning is doing her and the band an enormous injustice.
Whilst 'only' an EP, Back From Behind the Sun delivers on all levels. Kicking off with the title track you are left in no doubt as to the quality of musicianship and vocals. Janey's vocals genuinely earn the 'spine-tingling' tag. As smooth as silk but with a Mike Tyson punch she is simply glorious.
Not to be outdone, all departments come together as one. Superb riffing, great solos and a rhythm section tight as hell.
Cover
Track two comes in the form of a cover of Jefferson Airplane's "Jane" which is a great showcase for Janey's vocal prowess. The song is brought right up to date with some top guitar effects and I now probably prefer this version to the original classic.
"Ghost Town" follows hot on it's heels and the pace never lets up. This is a melodic fan's wet dream. So pure, powerful and tuneful. Toe-tapping and head-nodding brilliance.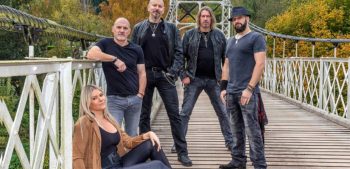 It's more of the same on "Have My Day" which opens with an almost Iron Maiden-esque riff. This riffage leads us beautifully into the song which also contains more exceptional guitar work.
The final track comes all too quickly with "Femme Fatale" but fortunately it is a match for the previous four tracks.
Killer EP
This has probably been said before but the only drawback to this EP is that it is only five tracks long. Never mind, cos they're all winners!
Back From Behind the Sun is a shining light of this genre and I look forward to a full-length album in the future and maybe – whisper it – we might get some live shows in 2021.
The EP is available from the official website, so head there at your earliest convenience.
Official website / Facebook / Twitter
Cheers,
Sparky
Check out my other reviews here
[embedyt] https://www.youtube.com/watch?v=znHme0UHODA[/embedyt]