Merry-go-round
Helion Prime return for the first time since 2018's Terror of the Cybernetic Space Monster.
The lead singer merry-go-round has once again been in operation as the band returns to a female vocalist with Mary Zimmer.
In my opinion, the sound very much suits a female singer and Zimmer fits the bill perfectly.
Captain
The power metal outfit is captained, as always, by guitarist Jason Ashcraft. He is ably supported by Jeremy Steinhouse who has been there from the beginning. Also in attendance are Alex Bosson (drums) and Chad Anderson (guitars) who joined for the previous album. Add to that the aforementioned Zimmer and we have a very strong lineup.
Helion Prime have always been heavily influenced by science fiction/fact and Question Everything fulfills the latter. The first two Helion Prime albums were a mixture of science fiction and science fact whereas Question Everything is mostly based on real-life people overcoming real-life obstacles.
Mercury
We have tracks such as "Madame Mercury" telling the story of Katherine Johnson. Mathematician Johnson overcame racial and sexual prejudice to become a leading figure in early manned space flight.
That is followed by "Prof" about Alan Turing who was persecuted for his homosexuality even after cracking the Enigma Code in World War II. He eventually took his own life, sadly.
Gallileo
To get even more highbrow there's "E Pur Si Muove" which translates to "And yet it moves". This is about Gallileo being forced to recant his belief that the earth moves around the sun. We all know he was proved to be right in the end but shows the barriers that people way ahead of their time were forced to overcome.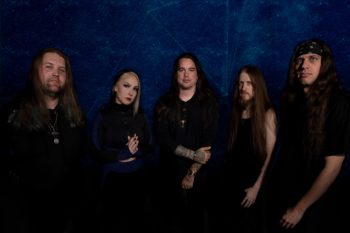 Most tracks tell tales of triumph over adversity and the album title Question Everything is a nod to those subjects who refused to accept what was considered the norm at the time. To not question everything would mean the world getting stuck in the status quo and no progress being made.
Inspiration
It all may sound a bit dry but to me it is inspirational and musically the album rocks big time. Whilst I enjoyed Attack of the Cybernetic Space Monster this album has taken things to another level with the introduction of Zimmer.
Helion Prime is on top form for this outing and has all the constituent parts of a class power metal album. It has pace in abundance with power and depth running throughout. Ashcraft and Anderson make for a great pairing too.
If you've been following Helion Prime throughout their career then I'd recommend this as a great addition. 
And if you haven't heard Helion Prime before, what are you waiting for? Well, October 4th is what you'll have to wait for when the album is independently released. Put it in your diary folks! 
You can pre-order via the official website below.